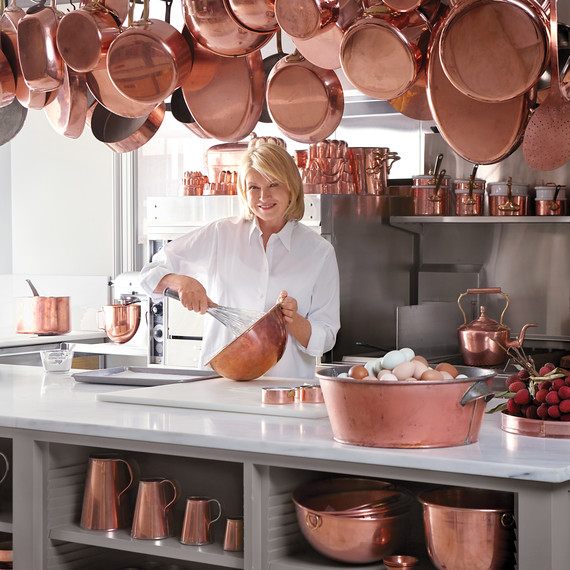 Martha is at once a great admirer of beautiful things and a deeply practical person. That combination of traits may explain why she is so drawn to copper cookware. The gleaming equipment—pots, pans, bowls, and more—is worthy of display but also inherently useful. In fact, thanks to this metal's unique qualities, each vessel may even do its job better than a similar one made of other materials.
Martha bought her first copper cookware in Paris in 1961. She had just read the newly published Mastering the Art of French Cooking from cover to cover, and was eager to take the advice of Julia Child, Louisette Bertholle, and Simone Beck when it came to assembling her batterie de cuisine, or supply of kitchenware. "Copper pots are the most satisfactory of all to cook in," the groundbreaking authors wrote. So off went Martha to E. Dehillerin, the venerable kitchen-supply store, and bought some saucepans. Sauté pans and stockpots were next on her list.
"It really is a different experience to cook in copper," she says. "Everyone should have at least one piece." Indeed, the metal is an excellent heat conductor, which allows for better control and precision. "It has the incredible virtue of diffusing heat in an even way. There are no hot spots," says French chef and restaurateur Daniel Boulud, who has a large display of copper cookware in his DBGB Kitchen and Bar, in New York City. If you have only that one piece, he recommends a sautoir, or straight-sided sauté pan, large enough to cook for four or six people (10 to 12 inches). A square roasting pan is a close second for him.
European cooks have appreciated copper's fine qualities for centuries. Stately home and restaurant kitchens in the mid-19th century were well stocked with copper cookware, as well as intricate and fanciful molds for ice creams, mousses, and jellies. When you buy one of these early pieces today, "you're owning a piece of history," says Susan Stone, co-owner of Eve Stone Antiques, in Woodbridge, Connecticut, from whom Martha has purchased many wonderful old pieces as she added to her collection. "You think, Who was using these in the 1850s? What were they making?" Stone says.
Martha hasn't sought out only the rarest of the rare, however. Over the years, she's also picked up many 20thcentury pieces from tag sales and consignment shops— their luster dulled by tarnish. "People didn't want to polish it anymore, so they sold it for next to nothing," she says.
True, copper requires some upkeep. In addition to being prone to tarnish, the metal is highly reactive: When copper comes into contact with acidic ingredients, a toxic reaction occurs. For safety, copper cookware is generally lined with a layer of tin or, for more recently made pieces, stainless steel. A tin lining wears away with use; when you see copper showing through, the pot needs to be retinned. Exceptions include pots for making caramel and jam, as well as bowls for beating egg whites, since the whites react—harmlessly— with the copper, becoming extra-fluffy and stable.
But once you've fallen in love with copper, putting in a bit of time and money to maintain it is well worth it. "That pink gold," says Martha. "It's just so gorgeous."