There is a special place in my heart for building campfires -- and fireside cooking is an extension of my obsession. For me, the combined smell of wood smoke and food stimulates a primal instinct to socialize, kick back, and celebrate the simple relationship among heat, food, and the community you share it with.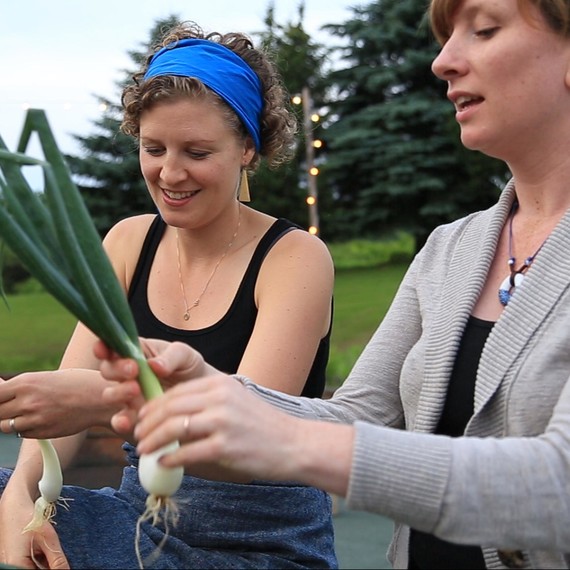 My friends at Early Morning Farm CSA, a CSA (community-supported agriculture) in Genoa, New York, and Firelight Camps, an amazing "glamping" (glamorous camping) hotel in the Finger Lakes region of central New York, have moved the fireside experience into a new realm of classy entertaining. Just check out this salad that they made over a fire!
It was inspired by this beet, kale, and goat cheese salad recipe, and made with all CSA organically grown produce. Chef Emma Frisch (who simply rocks a fire-grilled salad like no one else) uses her fireside magic on the open flame in Firelight Camps goregous outdoor dining room -- making coal-baked beet roots, cast-iron-roasted walnuts, and a reduced cherry sauce made in a New York skillet.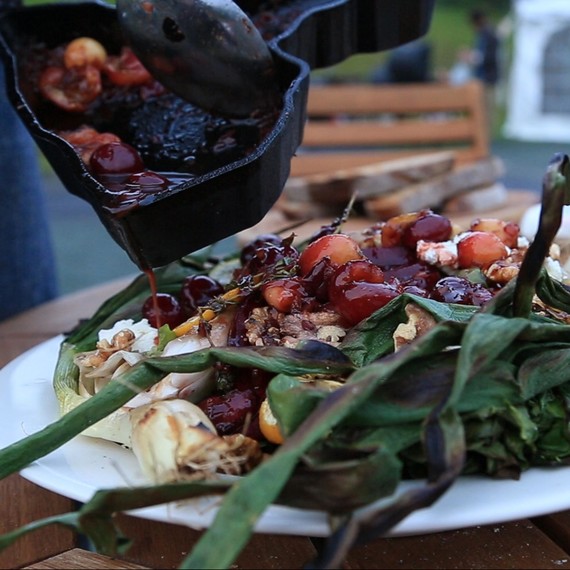 We spend so much time tediously preparing and planning before guests arrive at the party. With a fire involved, the environment is automatically set and the lines between guest and host get blurred -- and often in the host's favor. The casual approach to fireside entertaining offers an exceptional emphasis on all those delicious moments in between the meal, which is at the root of what is inspiring people across America to create simple and beautiful moments together. The fire is central to the way we gather and serve our friends, creating an elevated experience unlike any other.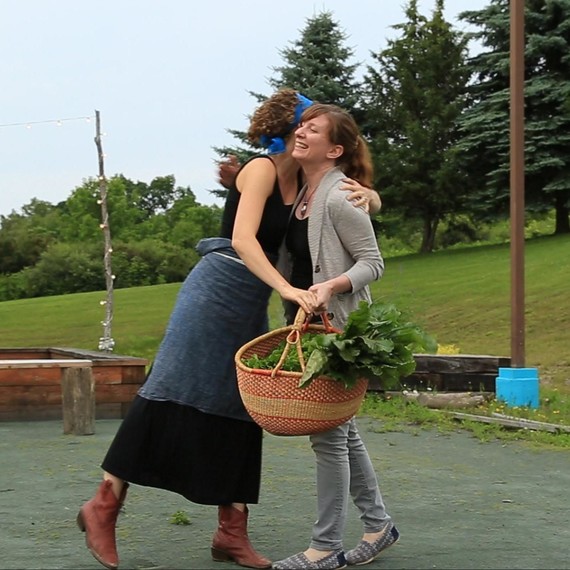 If you're as excited as I am about the next fireside meal but you don't know where to start, here's a way you can get up close and personal yourself -- in collaboration with our friends in upstate New York, we're offering up the chance to warm your hearts around a fire right in the Finger Lakes region of New York. The giveaway package includes a one night stay for two at Firelight Camps, a farm tour and bushel box of organic produce from Early Morning Farm CSA, and any cast-iron skillet of your choice that is available from the American Skillet Company!  Ready to enter? Sign up here! May the odds be forever in your FLAVOR!
Not entering to win? Share your campfire cooking with us @americanskilletco and tag #farmtofireside