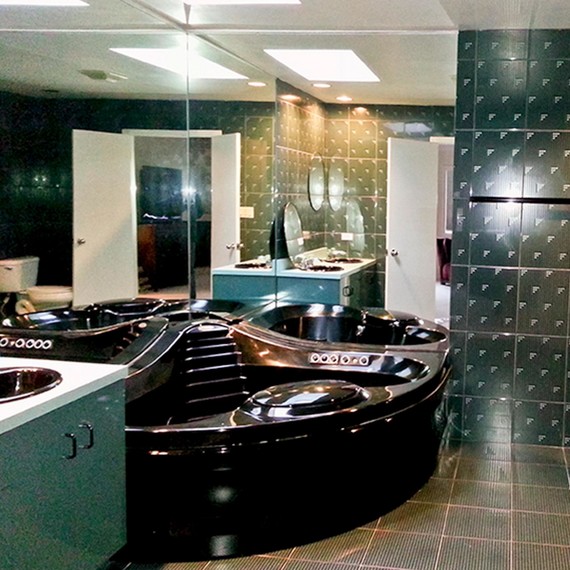 Before: Definitely in need of a style update
1980s design -- with its heavy use of floor-to-ceiling tile, black fixtures, and glam mirrors -- may have been a stunner once upon a time. But trendy looks just don't withstand the test of time. The overall size of this bathroom was good, with plenty of room to enlarge the shower and keep both the soaking tub and double sink vanity. The existing lighting was excellent, with a skylight and plenty of recessed lights already in place. A simple update of the materials and fixtures would have been good enough. However, there were many other features that the homeowners wanted to add to turn this room into a place of real relaxation and luxury.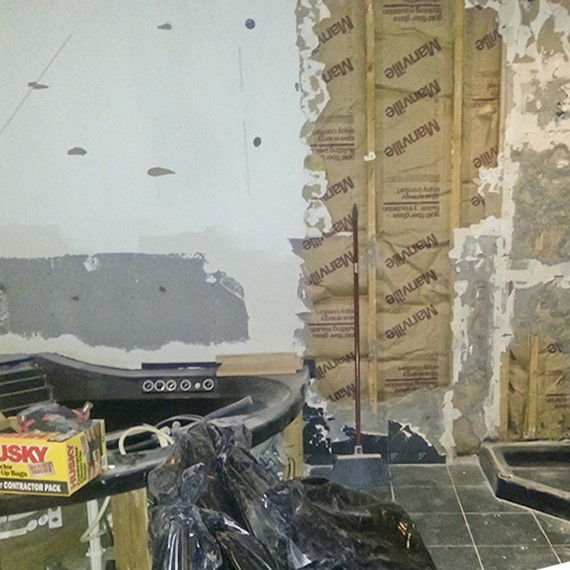 During: Getting down to the studs
Demolishing an entire bathroom, tiles and all, is a messy, dirty job. You can see from the photos that the remodel was extensive, particularly for the new shower with its multiple valves, showerheads, custom bench, and new glass door. The plumbing for the toilet, vanity, and new tub was left in its original location (this can save a lot of time and money for the homeowner). Additions like the five recessed shelves (three behind the new soaking tub and two inside the shower) as well as the wall-mounted electric fireplace ensured that the few wall areas were maximized. In-floor radiant heat coils were installed throughout the bathroom and a new ceiling vent was installed. Many of these features sound easy to incorporate on paper, and are excellent features to add to a bathroom, but when it comes to adding electricity, ventilation, and plumbing, be sure you understand the extra costs for materials and labor.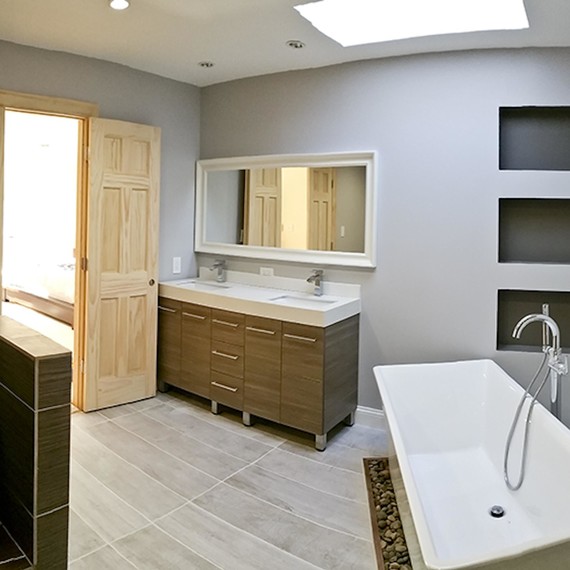 After: Modern comfort
This master bathroom remodel clearly went beyond the typical face-lift. This gorgeous "after" relied upon a decent budget ($35,000 was spent on this remodel), good existing structure, and a team that was present from the initial design to the build-out and completion phases. The colors and materials chosen for the remodel were clean, modern, and in a neutral palette that will remain relevant over time. The 12-by-24-inch tiles that were used throughout the bathroom was a smart choice because they allow for future color influences.
The expanded shower features an oversize rainfall showerhead, plus a standard showerhead and two valves. A custom-built bench seat helped expand the shower area, and a new glass door was added. The new soaking tub is set within a border of polished river rocks, giving the room a truly Zen feel. Although the sink console wasn't made larger, it was given a completely new look with two under-mounted sinks, a high-end quartz countertop and polished chrome taps. New, solid wood doors replaced the older, dated ones and will help with sound absorbency. The clean and modern details are softened with the natural river rock details and new fireplace.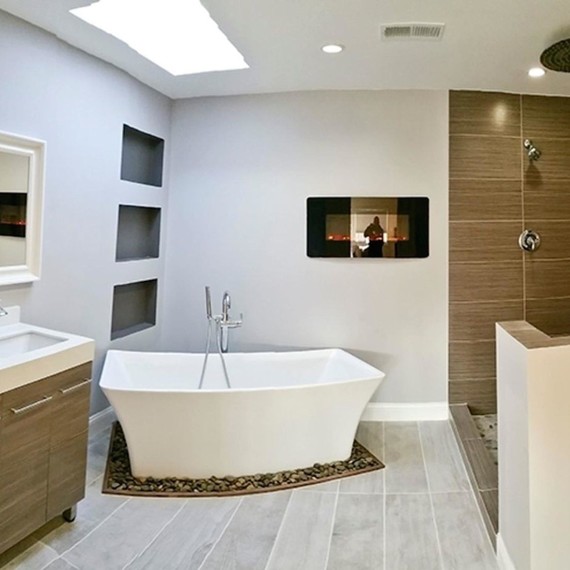 Tips for remodeling your bathroom
With any remodeling project, it's fun to think about the big-picture ideas and desires. But every successful project requires a bit of discipline. You'll definitely want a solid list of must-haves, as well as a general idea of room features and fixtures that may influence the "guts" of the home like electricity, ventilation, and plumbing. Most important, you'll want a very clear understanding of your budget. The average bathroom remodel in the U.S. ranges from about $16,700 to  $54,100, but how much you should spend will depend upon the overall value of your home, the age of your home, and perhaps how long you plan on living in your current home. You'll also want to get an understanding of where your money will go. You can expect to spend about 20% of your bathroom remodeling budget on installation and about 16% on cabinetry and hardware. And the decisions you make regarding specific materials, like ceramic tile versus stone tile, could equate to a lower (or higher) installation cost.
When shopping for fixtures and materials, ask as many questions as possible, such as: Does the material in question require a specialist to install? What is the lead time? Are these fixtures coming from a local source or from overseas? Your budget will need to cover shipping costs, overage fees, restocking fees (if items are returned) and expedited shipping costs. Even if you use a design or build company that tracks all of this information for you, it's a wise idea to keep track of your own costs and expenses and check in with the contractor on a regular basis. This will help keep you informed about last-minute issues that could affect your timeline and your budget.
Want to see more images from this project? Head to 123 Remodeling at Porch.com.
Photography by 123 Remodeling
Watch the video below to see an inspiring home office makeover!