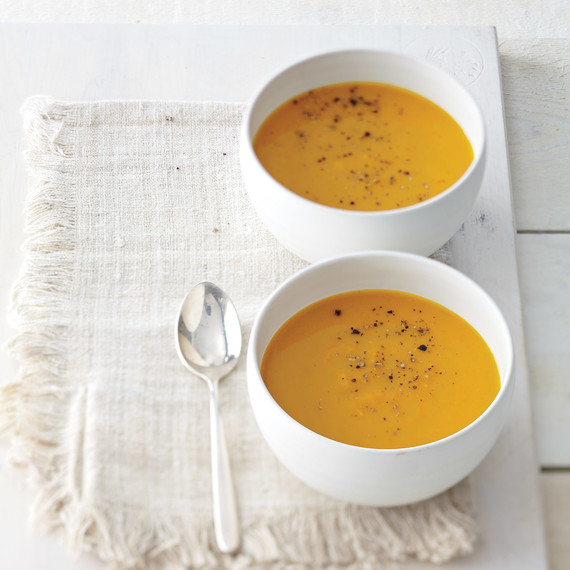 Ingredients
-  3 large sweet potatoes (about 3 pounds), scrubbed
-  2 acorn squash (about 2¼ pounds), halved and seeded
-  3 medium butternut squash (about 6 pounds), halved and seeded
-  ⅓ cup olive oil
-  2 tablespoons salt, plus more to taste
-  ½ teaspoon freshly ground black pepper, plus more to taste
-  1 bunch fresh herbs, such as sage, rosemary, and thyme
-  1 head of garlic (about 10 cloves), peeled
-  4 tablespoons (½ stick) butter
-  2 medium yellow onions, chopped
-  8 to 10 sage leaves, thinly sliced
-  4 quarts vegetable broth
-  4 cinnamon sticks
-  1 teaspoon ground cloves
-  ⅓ cup pure maple syrup (optional)
-  2 cups creme fraiche, plain or with fresh herbs mixed in
-  1 bunch chives
Directions
1.  Preheat the oven to 400 degrees F.
2.  Wrap the sweet potatoes in foil and bake for about 1 hour, or until a fork slides easily into the flesh.
3.  Meanwhile, prepare the squash. Arrange the halved squash on two foil-lined rimmed baking sheets, with the cavities facing up. Evenly drizzle the oil over the squash and sprinkle with 1 tablespoon of salt and the pepper. Distribute the fresh herbs and garlic cloves in the squash cavities and turn them over so that the skin side is facing up -- be sure to stuff in any herbs that are peeking out from under the squash.
4.  Bake the squash in the oven with the sweet potatoes for 30 to 60 minutes, or until the flesh is soft. This cook time ranges widely, given that squash can vary in size and moisture. As with the sweet potatoes, test their doneness by piercing the skin with a knife or the tines of a fork.
5.  Remove the squash and sweet potatoes from the oven and cool until they can be handled. Remove the herbs and scoop out the flesh of the squash, setting aside the garlic cloves. Unwrap and peel the sweet potatoes.
6.  Melt the butter in the stockpot, add the onions and the remaining salt and cook for 8 to 10 minutes, until soft. Add the sliced sage, the roasted sweet potatoes, squash, garlic, broth, cinnamon sticks, and ground cloves. Mince the roasted herbs (fromt he cavity of the squash) and add as desired. Bring the soup to a boil, reduce the heat, and simmer for 30 minutes, loosely covered. Remove the soup from the heat and discard the cinnamon sticks. Puree the soup with an immersion blender until smooth.
7.  If the soup is too thick, thin with a little hot water. Taste and add the maple syrup if desired. Season with salt and pepper.
8.  Right before serving, top with a dollop of creme fraiche and a sprinkling of chopped chives.