When we moved into our 1941 abode nearly four years ago, we definitely had our list of projects. Before we moved in, we replaced the flooring in almost the entire house and painted nearly the entire interior. There have been projects like removing a giant tree and replacing our sprinkler system as well as creating a back patio space, but never before have we ever embarked on a project like this!  
When we updated our kitchen, we really liked the bones of it, so a little paint, a new backsplash, and some fresh accessorizing, and that project felt complete. With our bathroom, on the other hand, we took everything down to the studs and started from scratch. Like any project, there were highs and lows and more decisions to be made than I ever dreamed possible, but I couldn't be happier with the result! Ready to hear the exciting tale of the renovation journey? Here is how the bathroom looked before we began: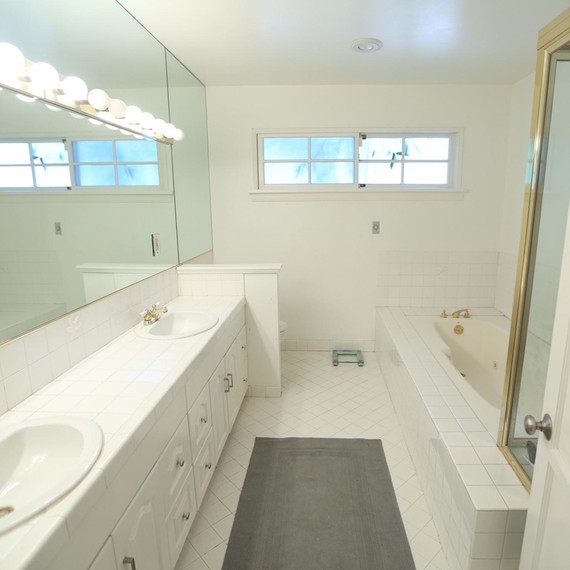 Pretty fancy, right? For me, there was just way too much white, and the space felt impersonal. I had been dreaming of gutting this little space since the day we first got the keys, but this wasn't a small project, so it took some saving, some time, and some prioritizing. Being on the other side of it now, I can say it was well worth the wait and the investment! The positive of the bathroom is that it has a lot of space! Also, the placement of the major pieces worked for us, so we didn't have to do any major plumbing overhauls, just a few tweaks here and there.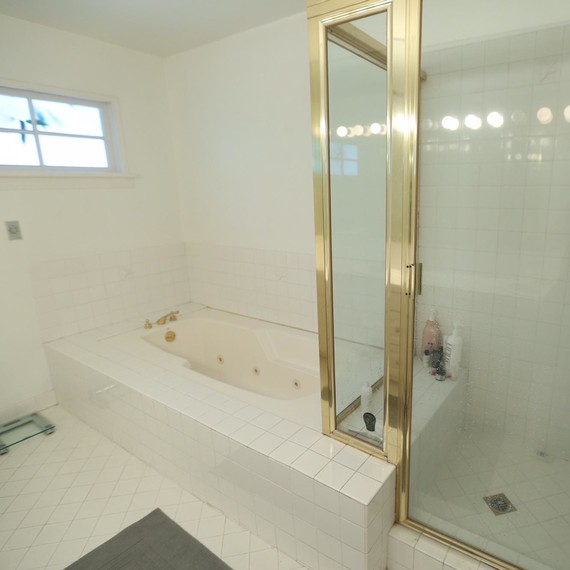 While we had already picked out all of our main pieces, I really had my heart set on installing a hexagon-tile floor in a unique color (so everything else would pop!) and was counting on that to anchor everything else. A few different people recommended Fireclay Tile to me, and I'm so glad they did! It's certainly not cheap, but each of their tiles are serious works of art, and the customer service is amazing! If you're working on a project, you can actually request up to five free samples from the website. When I saw the color of this blue in person, I was sold!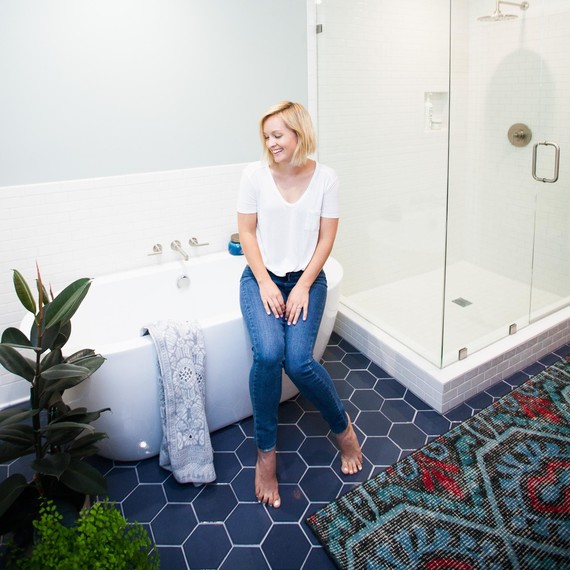 The number-one change we knew we wanted to make was to enlarge the shower and get rid of the oversize jacuzzi bath. Aaron refuses to ever take a bath, so that space is totally wasted on him. And while I do enjoy a bath, no amount of bleach could get me used to a jacuzzi bath that other people had used for decades and decades before we moved in. Is that weird? Call me a clean freak, but I just couldn't get used to the idea. 
This bathtub is just 60 inches wide, which is perfect for me, and gave us an extra two feet to work with in the shower, which now feels amazingly enormous! (Parker, my 16-month-old, can actually climb in while I'm taking a shower and play in the far end without even getting wet! Luxurious.)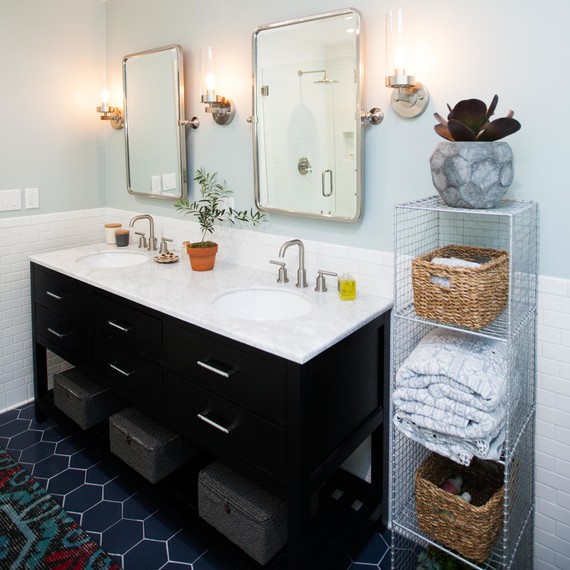 Over on the other side of the world, I was pretty ecstatic to have all of those Hollywood lights ripped out -- along with that entire mirrored wall. The giant built-in vanity was gone too -- while it was convenient, it was really larger than we needed. In order to keep things light and airy, we opted for a freestanding vanity that didn't feel too clunky or heavy. I loved the open shelving at the bottom and the simplicity of the piece overall.
This was hands down the hardest decision to make, and I second-guessed myself right up until the point they were installing it. I had originally wanted something in walnut that had a more midcentury feel, but it was a challenge to find something that checked all of the boxes and had a reasonable price tag. Now that the vanity is in, I love it. I like the dark contrast with all of the white and light colors in the room, and I like the way the black looks with the blue tile.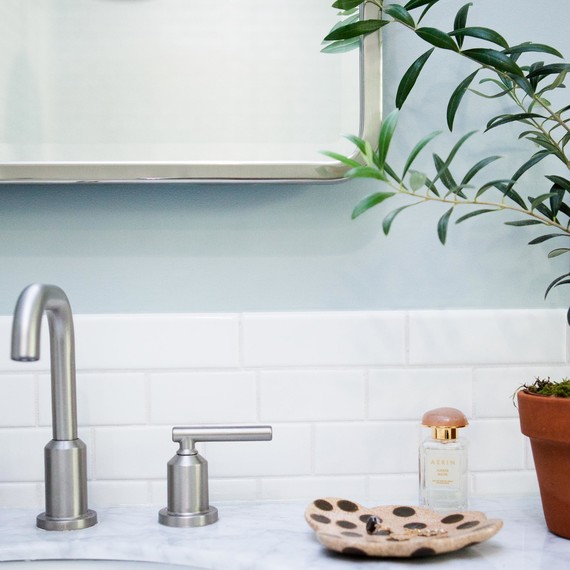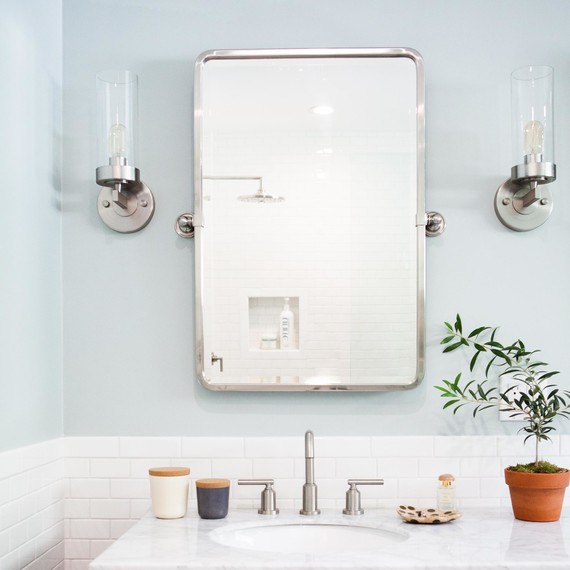 Aaron and I have already decided that if we ever sell this house, we are taking the mirrors and light fixtures with us. We found them at Rejuvenation, and I just don't think I can ever part with them! We had the electrician replace the existing light switches with dimmers, a seemingly small detail -- but it's amazing! It's all about good lighting, am I right? Since we lost a lot of the storage we had in our old built-in giant vanity, we added storage by putting closed baskets along the bottom shelf and this freestanding wire shelving unit next to it. I had originally designed the bathroom to have built-in shelves between the vanity and le toilette, but in the end, opted for something freestanding to stay on budget and to keep the space feeling big and airy.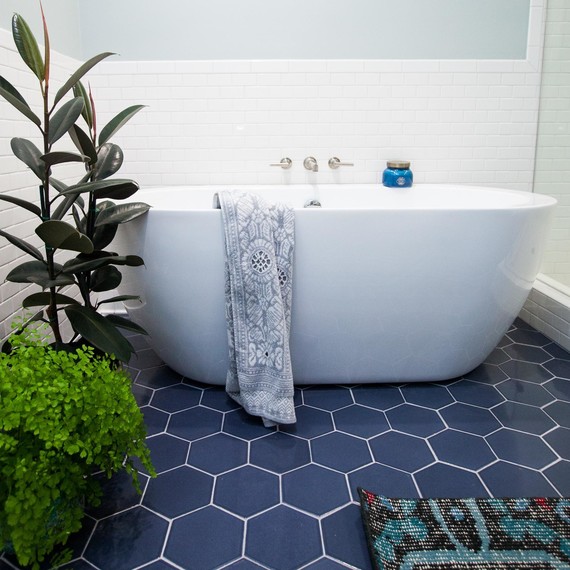 Of course, after all of this major construction work, it's still crazy to me how much the accessories and final details can bring the look all together. I hunted, searched, and investigated every possible rug destination before settling on this runner from Lulu and Georgia. I love that it adds a big hit of color to the space, and the geometric design really complements the floor tile.
The next step was to add a few live plants. There are five in total! One rubber tree, one ferny little number in the smaller pot, a mini olive tree on the vanity, a succulent atop the wire shelving, and a mix of succulents on the lowest shelf. These are some of my favorite details, and they're so inexpensive! Plus, you can move them around the house as you have a need. I also found great accessory details at Anthropologie, like this capri blue candle and dreamy trinket dish.
For more on this project, check out TheEffortlessChic.com or follow me on Instagram!
white wall and shower tile, Lowe's / freestanding bathtub, Lowe's / blue hexagon floor tile, Fireclay Tile / Moen bath faucet,  Lowe's / gray and white bath towels, Anthropologie / Moen rain showerhead, Lowe's / mirrors, Rejuvenation / trinket dish, Anthropologie / sconces, Rejuvenation / rug, Lulu and Georgia / Kohler toilet, Lowe's / vanity, Lowe's / sink faucets, Lowe's / small planter, Anthropologie / large planter, Lowe's / capri blue bath candle, Anthropologie / waste basket, Anthropologie
Photography by Stephanie Godfrey.