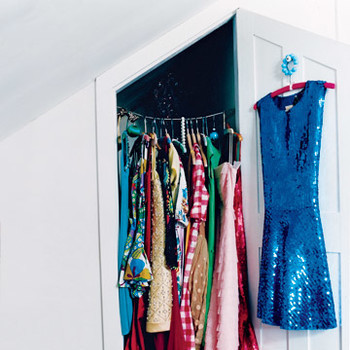 A neat freak's dream closet has wrap-around shelves, drawers, hooks, hampers, shelf dividers, shoe organizers, matching hangers, a stylist sitting inside with your perfect outfit laid out ... the works. But that kind of space is a rarity, so it's time to start working with the closet you have to make it as functional as possible.
Divide and Conquer
The worst thing you can do for your closet is to haphazardly throw things in there. Not everything is meant to be hung. If it's cotton or polyester, fold it and put it in your dresser drawers. If it's something that will wrinkle easily, like a dress or a blouse, hang it up -- it's as simple as that! Bulky items such as jackets and coats should be hung. Consider organizing your clothes by "type." For example, sleeveless blouses can be grouped together, as well as long-sleeve blouses. Fold and stack your sweaters with shelf dividers. This will make your morning routine of choosing an outfit even easier.
Omigod, Shoes
Many of us have this horrible habit of walking into our room after a long day and throwing off your shoes. And you usually forget about them until next month (or until you want to wear them again and can't find them under the pile of last week's shoes). Enough of that! Flat shoes can be organized in a shoe divider on the floor. Heels can be stored on the floor as well, or in a hanging organizer. Try to get in a habit of only keeping one random pair of shoes on your bedroom floor at a time.
The Golden Rules
There are eight things to keep in mind when it comes to keeping your closet ultra-organized and efficient:
Double up on rods. Shirts on top and pants and skirts on the bottom: Genius.

Use adjustable shelves. These will come in handy as your storage needs change from season to season.


Utilize floor space. Racks are great. But even better: cubbies!

Use every square inch. Can you add another shelf up top? Is there room on the sides for hooks for your hats, scarves, belts, etc.?

Keep small items in containers. Repeat after me: Bins are my best friend!

Consider your convenience. Heavy items should be stored below waist level; rarely used items, on high shelves. Stash a step stool inside the closet, especially if there are high shelves.

Illuminate the space. No more dark hidden corners where slippers go to die. Try a battery-operated light.

Reassess regularly. To keep your closets functioning optimally, reexamine them every six months.
For more closet organization ideas, shop the Martha Stewart Living line from The Home Depot.