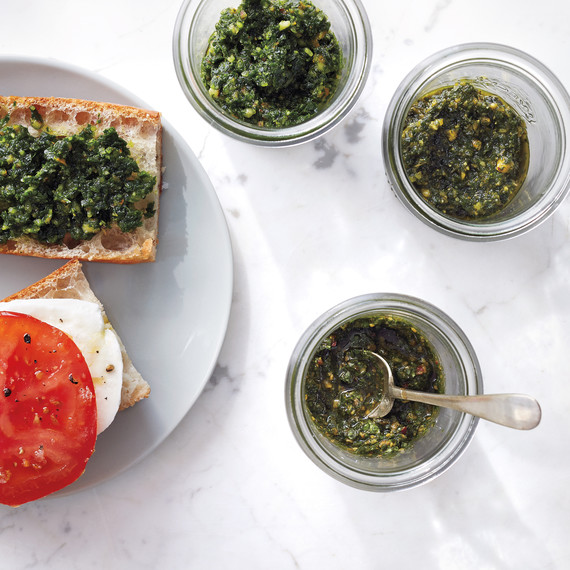 It's easy to swap in other herbs and nuts for the basil and pine nuts in the Genovese pesto we all know as the original. Some versions switch the Parmesan for other cheese, and some omit the cheese altogether to create interesting alternatives to classic Italian pesto. Trade mint for basil, for instance, and you've got a refreshing Greek-inspired sauce.
These are some of our favorite variations, clockwise from top:
Parsley, Almond, and Orange
Stir it into pasta, or serve it alongside fish or chicken.
Mint, Pistachio, and Lemon Zest
This Greek-inspired one is perfect with lamb or blended into a yogurt sauce.
Cilantro, Cashew, and Red Chile
Spoon it over basmati rice or into curries.
And all three of these pestos taste great in a tomato-and-mozzarella sandwich!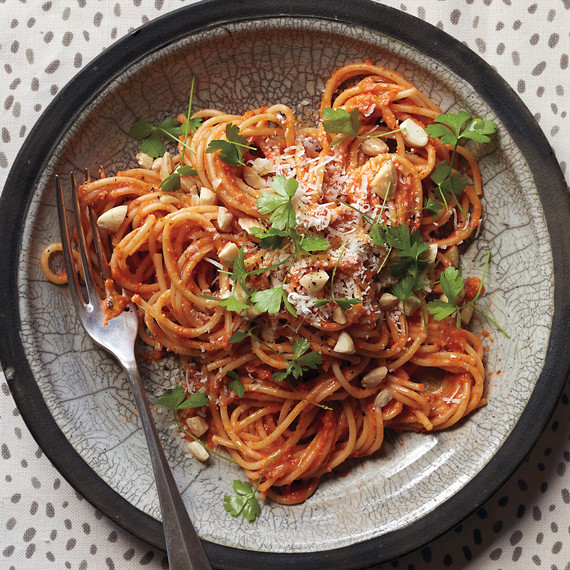 Go South: A Very Different Take on Pesto
Here's another delicious, and totally different, Italian pesto. In Sicily, they use tomatoes—yes, tomatoes—plus anchovies, capers, golden raisins, and almonds. No herb here, but there is cheese. Try this flavorful pesto for dinner.
Get the Spaghetti with Sicilian Pesto Recipe
TIP: Keeping Pesto Green
Fresh Pesto—that delicious basil, garlic, pine nut, Parmesan or pecorino cheese, and olive-oil sauce—quickly turns from green to brown if it is not stored properly. The flavor is unaffected, but the color is less appetizing. To prevent this discoloration, which results from contact with air, pour a thin layer of olive oil over the top, and refrigerate in an airtight container.
Hungry for more recipes and tips? Watch Thomas Joseph make cilantro-cashew-chile pesto, plus learn the best way to freeze pesto: