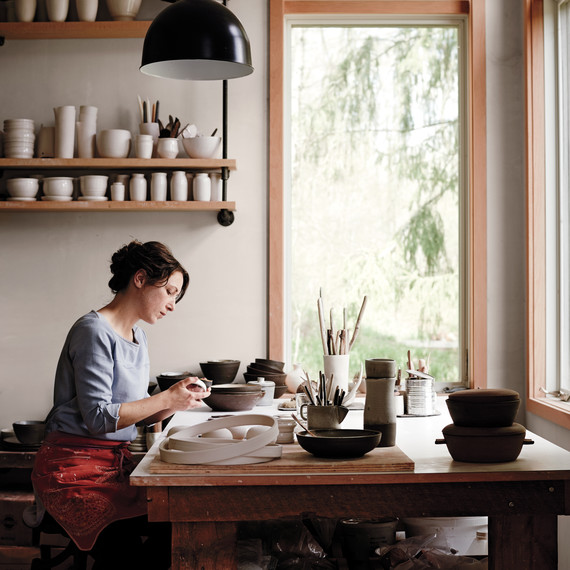 By Catherine Hong
When Kelli Cain and Brian Crabtree bought a two-story farmhouse in upstate New York, it was the land they fell in love with. Open fields, apple orchards, and a forest sprawled across the 35 acres; there was even a big barn—the perfect workspace for Monome (monome.org), the couple's digital-music-hardware business. But the house itself needed work. "The rooms were dark, and the flow was awkward," says Cain. "We knew we had to gut the place and start again."
And so they drew up their plans on SketchUp, a 3-D-modeling software program. After hiring someone to demolish the old structure and install a new frame and insulation, they proceeded to complete the rest of house themselves. Neither had any renovating experience, but, as Cain puts it, "we knew our way around a chop saw and drill."
The two met as grad students at California Institute of the Arts. He was earning a graduate degree in music composition; she, in experimental animation. They became a couple while collaborating on sound-art installation pieces. "That's where we got intense about measuring and precision—two things you need to build a house," says Cain.
But to get your hands dirty—to actually plaster walls, hone concrete, lay bricks for a pizza oven—you need more than that. You need the audacity to push drastically past your comfort zone and, frankly, a blazing sense of confidence. Both of which are the very qualities Cain and Crabtree share.
"We spent lots of time in the library," says Crabtree. "The Internet is great for research, but for depth of knowledge, nothing comes close to a well-written book." They "basically followed directions" from The Bread Builders (Chelsea Green) to install the pizza oven. As they grew more skilled, they added to their project list. Crabtree built both staircases; Cain, a ceramist (kellicain.com), made the tiles for the kitchen backsplash. "We like the idea of learning one new thing every day," she says.
They also adhere to the notion of sustainability. "We didn't want to build something that would be a burden to the universe," says Cain. So they splurged only on select details (such as the windows and lighting) and repurposed materials wherever they could. The massive sliding door separating the work and living space, for instance, was reclaimed wood from the old house's floorboards.
After 18 months, the house was transformed into a space that's airy and loftlike, with pitched 15-foot ceilings, a partial second floor, and colors and textures from nature. As is to be expected, imperfections exist. But there's pleasure in owning those mistakes. "When you shape your space," says Crabtree, "you have a close relationship with every detail"—from the smooth, expertly executed walls most recently plastered to those done earlier, which are checkered with hand marks. "They look awful, but I don't mind," Cain says. "When I see them, I think to myself, 'I did that!'"
A Handcrafted Home: The House Tour