I am originally from NYC, but live in San Francisco. Every year, I am faced with the same problem: Do I choose to join the flocks of travelers who head east for the holidays, or do I stick around? Usually, I end up choosing to fly back home for Christmas, and stay in San Francisco for Thanksgiving. This led to a wonderful new tradition I've been celebrating for several years now and look forward to every fall: Friendsgiving!

Friendsgiving is the celebration of Thanksgiving with the friends who are practically family in your life. At its core, it's a festive potluck dinner amongst good friends. If you love Thanksgiving as much as I do, Friendsgiving is also a great excuse to celebrate more than once -- before or after the actual Thanksgiving -- and have two days of turkey feasts!

Since we've had a lot of practice, we put a few rules in place to keep everything running smoothly:
-  Rule #1: The host or hostess makes the turkey and gravy.
-  Rule #2: The remaining guests are in charge of everything else -- from sides to desserts and even a great playlist for dinner. Delegating the responsibilities is essential so you don't end up with five bowls of mashed potatoes or a bucket of cranberry sauce.
-  Rule #3: You can never have too many desserts.

As you may already know, sides are almost as important as the turkey on the big day. I'm usually in charge of the stuffing, and dare I say, I'm getting better every year. This year, I've decided to make two different stuffing dishes -- traditional cornbread stuffing and a Mexican cornbread stuffing.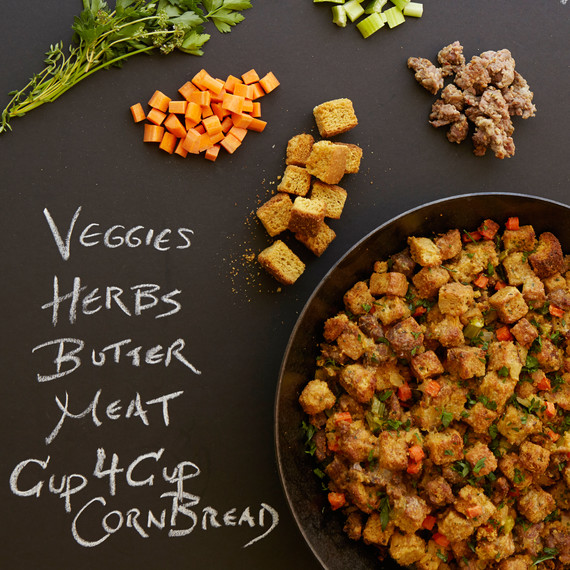 People always appreciate the classics, so making a traditional cornbread stuffing will surely win the crowds over. *Bonus tip: If you are making stuffing for a crowd, don't bake it inside the tukey. Cooking it separately will shorten the cooking time for your turkey and possibly lessen the risk of the ultimate cardinal sin of Thanksgiving: dry turkey!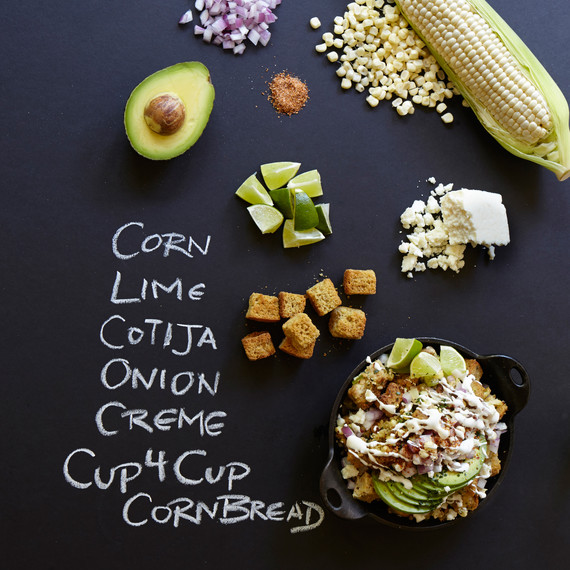 For a bit of variety and a twist on the traditions, try out the Mexican Corn Stuffing. This stuffing was inspired by "elotes," which is a classic Mexican street food dish of grilled corn slathered with chile and lime-spiked creme sauce topped with cotija cheese. Make it gluten free using Cup4Cup Flour!
Lena Kwak's Gluten-Free Cornbread Stuffing
Ingredients
For the cornbread:
-  1 cup cornmeal
-  1 cup Cup4Cup flour
-  1/2 teaspoon kosher salt
-  1/2 teaspoon baking soda
-  1/2 cup butter, melted and cooled
-  2/3 cup granulated sugar
-  2 large eggs
-  1 cup milk

For the stuffing:
-  5-6 tablespoons unsalted butter, cubed, at room temperature
-  2 large stalks of celery, small dice
-  1 medium onion, small dice
-  2 sausages, uncooked
-  2 large carrots, small dice
-  1 1/2 tablespoons finely chopped herbs, such as sage, chives, parsley
-  Salt and pepper to taste
-  1 cup chicken stock
-  1 large egg
Directions:
For the cornbread:
1. Preheat oven to 350 degrees F. Spray an 8-by-8-inch pan with nonstick spray.
2. Combine flour, cornmeal, sugar, salt, and baking soda together in a bowl.
3. Add eggs, milk and melted butter to the bowl and whisk until well blended. Do not overmix.
4. Spread batter into prepared pan.
5. Bake for about 30 – 40 minutes and golden brown. Cool to room temperature.

For the stuffing:
1. Preheat oven to 350°F.
2. Cut cooled cornbread into 1-2 inch cubes. Lay cubes out on a baking sheet and bake at 350°F until cubes dry out and toast.
3. Take sausage out of its casing and brown in a large skillet over high heat. Do not add any additional oil.
4. Lower heat to medium, add butter and melt. Add diced carrots, celery and onion to skillet until tender and cooked through.
5. Add the chicken stock and be sure to scrape all the browned bits off of the bottom of the skillet. Bring to a boil for 1-2 minutes.
6. In a large bowl, mix together the dried cornbread cubes with the sausage, the vegetable mixture and the egg. Sprinkle in the chopped herbs and season with salt and pepper.
7.  Spoon mixture into a 13" by 9" baking pan, bake for 30-40 minutes or until golden brown.
*To make Mexican cornbread:
-  Swap out the diced carrots and celery for corn.
-  Swap herbs for cilantro and lime juice.
-  Use chorizo as your sausage.
-  Add cotija to your mixture.
-  Follow recipe above and garnish with cilantro and creme.