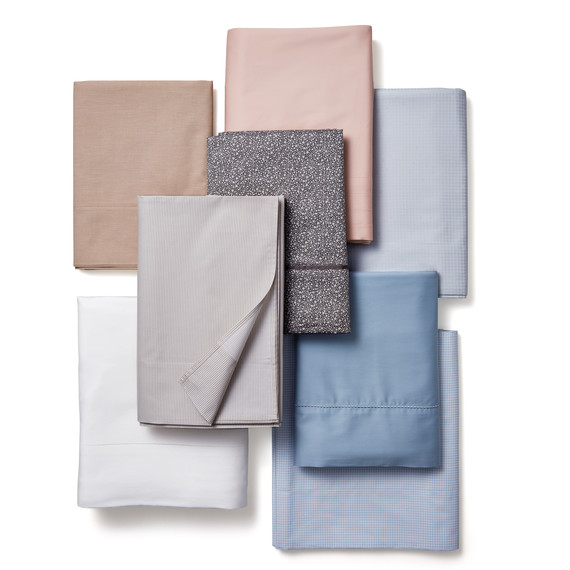 1. What type of cotton is it?
Cottons have either a long or short staple, which refers to the length of the fiber. A long staple makes a stronger, softer fabric than a short one, and it's typically called out on the package: Pima cotton, for instance, has an extra-long staple and is known for its durability. (Supima is the trademark for U.S.-grown pima cotton.) Sea Island cotton, also extra-long, from the West Indies and the islands off the Carolinas and Georgia, is coveted for its silkiness. And Egyptian cotton, if extra-long staple, hardly sheds lint. "Upland cotton" or simply "100 percent cotton" indicates short-staple fibers.
Keep in mind
Not all Egyptian-cotton sheets are luxurious. "Extra-long-staple cotton is only a portion of what Egypt exports," says Jeffrey Silberman, a professor of textile development and marketing at the Fashion Institute of Technology, in New York City. If the price is suspiciously low, chances are it's a shorter-staple Egyptian cotton.
2. What's the thread count?
This refers to the number of threads woven into each square inch of fabric: In general, the higher the thread count, the more lustrous and durable the sheet, and the lower the shrinkage risk. But don't base your decision on thread count alone: A 250-thread-count sheet made of long-staple Egyptian cotton will likely be more supple than a 350-thread-count short-staple cotton.
Keep in mind
Be careful when buying sheets with thread counts higher than 400. Some companies fit more threads into a square inch by using thinner thread. As a result, a "1,000 thread count" sheet may actually feel like a 250-thread-count sheet woven with thicker threads.
3. How is the fabric woven?
The sheet's weave affects its appearance and texture. A plain weave, which features interlacing vertical and horizontal threads, isn't usually touted on the label—unless it's percale, a special subset with a thread count above 180 and a crisp, cool texture. Sateen weaves have a higher proportion of vertical yarns to horizontal yarns, which results in a silky sheen; they also have higher thread counts. (Jersey sheets aren't woven but knit, lending them a T-shirt-like feel.)
Keep in mind
Special finishes can make fabrics feel softer than their weaves suggest, as with cotton that's been combed or brushed. Fabric can also be strengthened with chemical treatments; these are sometimes tagged as "mercerized" but may carry no label at all. If your skin is sensitive, opt for organic sheets marked as "untreated ."
---
Bottom line
Price-conscious shoppers should do fine with plain-weave 200-thread-count sheets. Those who want luxury will likely be happy with 400-thread-count long-staple Egyptian cotton in their favorite weave.
Sources
Clockwise from top left:
Chambray sheet, by Union Square, in Sand, bedbathandbeyond.com.
Satin Tux sheet, in Powder Pink, and Modern Dot sheet, in Mist, by Barbara Barry, bedbathandbeyond.com.
Sateen sheet, by Martha Stewart Collection, in Sky, macys.com.
Luxury Bedding Quadretto sheet, in Light Blue, gracioushome.com.
Percale sheet, by Martha Stewart Collection, in White, macys.com.
Luxury Bedding sheet, in Sand Stripe, gracioushome.com.
Sateen sheet, by Wamsutta, in Grey Pebble, bedbathandbeyond.com.