This tart is straightforward and effortlessly scrumptious: a buttery, toasted walnut crust encasing a succulent peach filling held together by a simple glaze. It's just the right thing to end a summer meal. If you decide to top it with a dab of whipped cream, or a variation such as cashew cinnamon cream or vanilla bean cream, then you're in for a real treat. Make this tart in summer only when the peaches are perfectly juicy, ripe, and at their best. If you don't have peaches, consider substituting ripe nectarines or sliced ripe pears. Either way, as long as the fruit is good eaten fresh, then you can't go wrong.

NOTE: Serve and devour this tart immediately! It should only be served the day it's made, as the moisture from the peaches makes the crust soggy after a day in the fridge.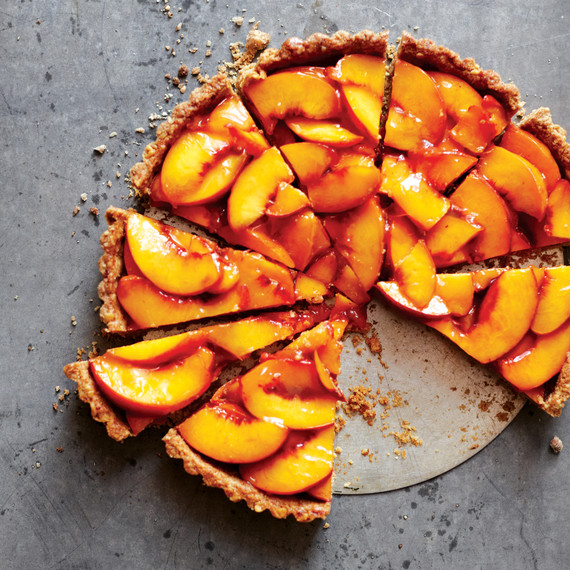 Amy Chaplin's Fresh Peach Tart with Walnut Crust
For best results, make this in a fluted 9-inch tart pan with a removable bottom.

Ingredients
For the crust:
-  Olive oil for oiling the pan
-  1¼ cup toasted walnut halves 
-  ¾ cup regular rolled oats
-  2 tablespoons brown rice flour
-  ¼ teaspoon sea salt
-  ¾ cup whole spelt flour
-  3 tablespoons extra-virgin coconut oil
-  ¼ cup maple syrup
-  1 teaspoon vanilla extract

For the filling:
-  1 cup plus 2 teaspoons apple juice, divided
-  1 teaspoon agar flakes
-  1 teaspoon arrowroot
-  4 ripe medium peaches (1½ pounds)
-  1 tablespoon maple sugar
-  ½ teaspoon vanilla extract
Directions
First, make the crust:
1.  Preheat oven to 350 degrees F. Thoroughly oil tart pan and set aside.
2.  Grind walnuts, oats, rice flour, and salt in a food processor until coarsely ground, about 20 seconds. Transfer to a bowl and stir in spelt flour.
3.  Drizzle in coconut oil; mix with a fork or your fingertips until all flour is moistened.
4.  Add maple syrup and vanilla, and mix until evenly incorporated. Dough should be moist but not sticky.
5.  Wash and dry your hands, then evenly press crust into prepared tart pan to about ¼-inch thickness.
6.  Trim any excess pastry from edge (you will be left with a small handful, enough to make a couple of cookies).
7.  Prick the bottom of the crust with a fork several times, and bake for 18 minutes or until deeply golden and fragrant. Remove from oven and set aside to cool.

Make the filling:
1.  Combine 1 cup apple juice and agar flakes in a small heavy-bottomed pot; bring to a boil over high heat, whisking frequently. Cover pot, reduce heat to low, and simmer for 5 minutes or until agar has completely dissolved.
2.  In a small bowl, dissolve arrowroot in the remaining 2 teaspoons apple juice, and slowly whisk into simmering apple juice and agar mixture. Continue whisking until mixture has thickened and returned to a simmer (you can increase heat to help this happen faster).
3.  Remove from heat; set aside, uncovered, while you prepare peaches or until mixture thickens slightly, but don't let it set. (If it does set, briefly return it to medium heat and stir until liquid again.)
4.  Slice peaches into ¼- to ½-inch slices (you should have about 4 cups). Place in a bowl with maple sugar and vanilla, and toss gently to combine.
5.  Pour warm agar mixture over peaches; working quickly, use a rubber spatula to coat peaches completely.
6.  Immediately spoon into baked tart shell and use your hands to spread them out evenly, gently pressing into tart shell.
7.  Pour remaining juice-agar mixture over peaches (you may not need it all); tilt shell to distribute evenly.
8.  Place in the refrigerator for 30 minutes or until completely set. Serve cold topped with cream of your choice.