Furniture
Before you drag your large, heavy furniture outside, you'll want to take into account your particular climate and outdoor setup. If you have a covered outdoor space, you can probably expect that any furniture you bring outdoors will be relatively protected from the elements, like rain, summer storms, or debris. Or if your summer climate is predictably dry and sunny, you might be able to keep upholstered pieces outdoors for a prolonged period of time. Just be aware that anything left outside for long periods of time (including outdoor furniture) will eventually show signs of wear and tear. 
If you have older pieces of furniture you no longer wish to use indoors, you can actually prepare them to withstand the outdoors. A piece of wooden furniture, like a wooden dining or side table, can be painted with exterior paint (oil or latex based), or covered with a piece of glass for easy cleaning. Metal furniture can get a coat of protective spray paint; add rubber caps to the bottom of metal legs to prevent rust stains on your patio. Keep this furniture looking good from season to season by moving it under the eaves in the off-season or covering it with a protective tarp. Of course, there are also plenty of ready-made outdoor furniture options that can make your patio feel like you're inside.
Rugs
One of the quickest ways to create an intimate "room" outdoors is to lay down a rug. Just like your indoor spaces, a rug can define an area and anchor your furniture. If you choose to buy a rug for your outdoor space, be sure to look for one designed for the outdoors. A good outdoor rug will be UV- and mildew-resistant and will most likely be made from a durable material like polypropylene or coconut fiber. There are many options on the market (like these from the Martha Stewart collection at Home Depot). You can also group several straw, bamboo, or plastic beach mats together to create a casual and colorful floor area. If you choose to use an indoor rug outside, be sure it's in an area that won't be subject to wet conditions.
Lighting
Although traditional outdoor lighting usually includes tiki torches and string lighting, today's outdoor lighting comes in such a wide variety of styles you'll think you're sitting indoors. Outdoor-approved chandeliers, pendants, and sconces can help create a stylish room outside, and some are designed to match indoor lights to create a consistent look. One note about lighting your outdoor space: Keep in mind that when the sun sets, a bright bulb can temporarily "blind" the eyes. It's better to have multiple low-level lights rather than a single, bright bulb. And be sure to properly light pathways and stairs to help with safety.
Drapery
Adding drapes or curtains to your outdoor space can add that soft element that outdoor spaces generally lack. A hanging curtain can instantly cover up an unsightly view, bring visual height to the space, add color or pattern, as well as create needed shade when the sun becomes too hot. Look for drapery designed for outdoor use, like the Martha Stewart outdoor curtain collection at Home Depot. Look for machine-washable material designed to be outdoors. You can also make your own by purchasing outdoor material at your local fabric store. Hang the drapery from a curtain rod or from hooks. In the off-season, be sure to remove your curtains, wash them according to the manufacturer's instructions, and store them in a dry area.
Accessories
Outdoor accessories, like hurricane lanterns, wall decor, and other decorative pieces can be found in the outdoor section of your favorite store. But before investing a lot of money in seasonal objects, look around your home and see which pieces you can bring outside for the summer or for your next outdoor event. You might have an extra mirror, perfect for adding depth and dimension to a blank outdoor wall. Unused trays can be fitted with glass and used outside as a great catchall for sunglasses, a cool drink, or your summer reading list. Candlesticks can be grouped together to create a whimsical and eclectic outdoor lighting scene. There's really no limit to the possibilities!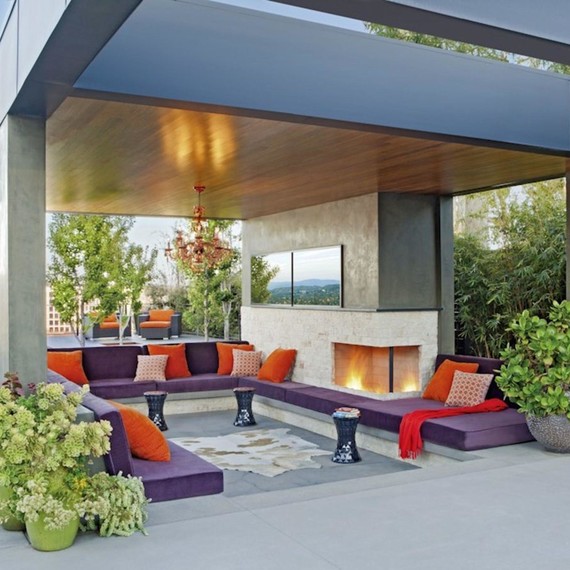 Pillows and Cushions
Over time, fabric doesn't perform well when left out to the elements. That's why most of us choose outdoor-grade fabrics for our outdoor cushions and pillows. Outdoor fabric can be fade resistant, mildew resistant, and water repellent, making it the perfect choice for our patios or pool areas. But don't be afraid to bring some indoor pillows, cushions, or fabric outside as well, just be careful to bring them back indoors when the party's done. They can help soften the sharp edges of your outdoor furniture or stone seating, making cool summer nights much more comfortable. At the end of the season, clean blankets and other materials according to the manufacturer's instructions to remove an errant sap stain, dirt, or food spills.
Tableware
Layering the table with soft fabrics can feel extra luxurious outdoors. Skip the oilcloth or plastic tablecloth and use easy-care cotton or laid-back linen to cover the outdoor table (this works especially well if your outdoor table has seen better days).
Create a beautiful display for your outdoor table with simple ball jar flower arrangements!