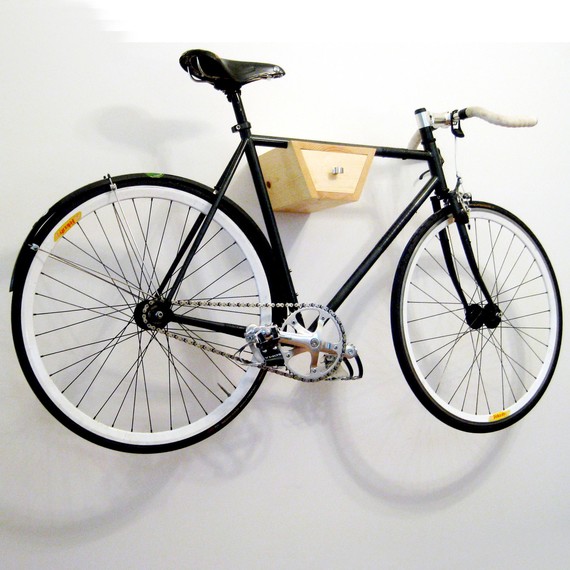 Mount It
Mounted on the wall, the bike acts as a decorative item and stays out of the way. There are tons of great bicycle wall mounts available, with a lot of creative ones on Etsy. You can even find ones that are multifunctional -- like this extra-cool bike rack/wall shelf that gives you easy access to your bike and a prime place to store extra odds and ends. If empty wall space surrounding the bike is a concern, installing beautiful floating bookshelves will not only free up precious floor space but will complement your hanging bicycle nicely.
Get a Bike That Blends
If your bike must stay grounded within your space, a stylish bike that complements your home's color scheme will look purposeful (not like you're just letting it clutter up the space).
Treat Your Bike as a Work of Art
Do as artist Marcel Duchamp did with his modern sculpture "Bicycle Wheel," and frame your beloved hunk of metal as a work of art. Duchamp would agree -- if you view bikes as art, then bikes are art.
Bike in Your Dreams
If you live in a studio apartment and eat, breathe, and sleep biking, this is the storage solution for you. Have sweet bicycle dreams every night by mounting your bike above your bed. You may need easy access to a tall ladder if you want to suspend your bike from the ceiling, but it does add a major dose of cool to any space.
Make it Multifunctional
Nowhere to store your bike? Don't know what to do with your desk lighting? Hang your bike above your desk and use it as a mount for a clip-on desk lamp. If you have a really minimal space, this will add a touch of DIY creativity and by using clip-on lights, you can easily remove them whenever you want to take your wheels for a spin. You can also use your bike as the answer to limited closet space. When executed well, clothes make a great décor accessory. Display your favorite clothing items by hanging them from a bike mounted upside down against the wall.
With these artful ways to store your bike, you'll have some bonus room to add a gorgeous entryway bench or a statement furniture piece!
Want to know the best way to organize a linen closet? Watch the video below!