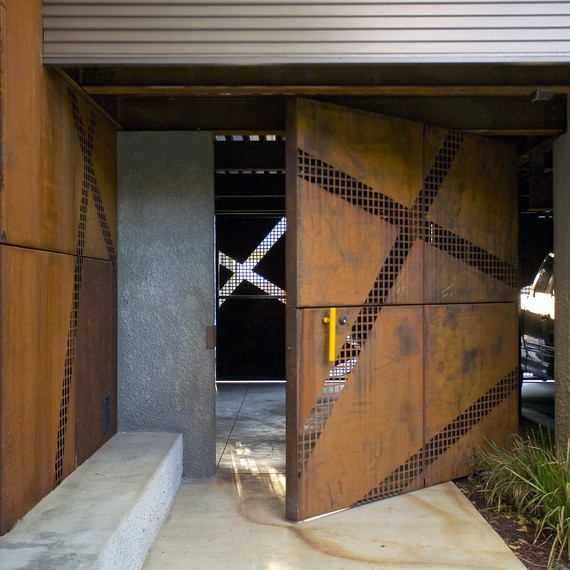 Change Up Your Hardware
Think of your front door's hardware as your home's handshake -- it is literally a turn of your wrist and an entry into a person's soul, experiences, and memories. No one wants to shake a limp and dull hand, so why would you curate your home's greeting in a similar fashion? Rather than paint your door, choose vibrant yellow hardware, and your home will forever give only the most pleasant of salutations.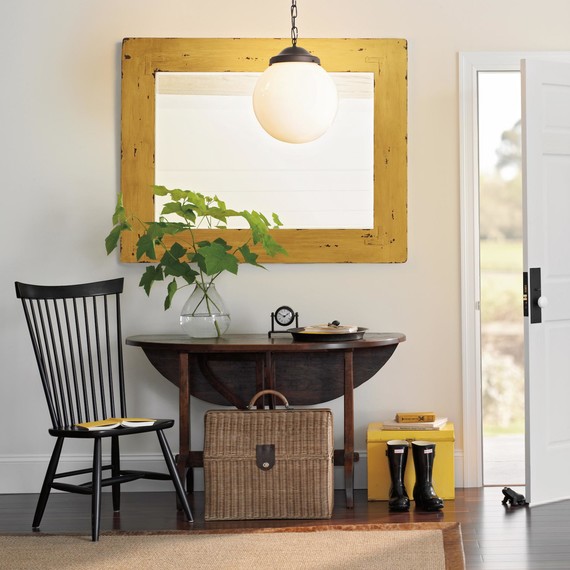 Choose a Bright Mirror
A merry yellow mirror, like this one from Rejuvenation, will not only reflect a positive image, but will make the room jovial and light. Think about a yellow-framed mirror as a piece of art in an entryway, a guest bedroom, or bathroom.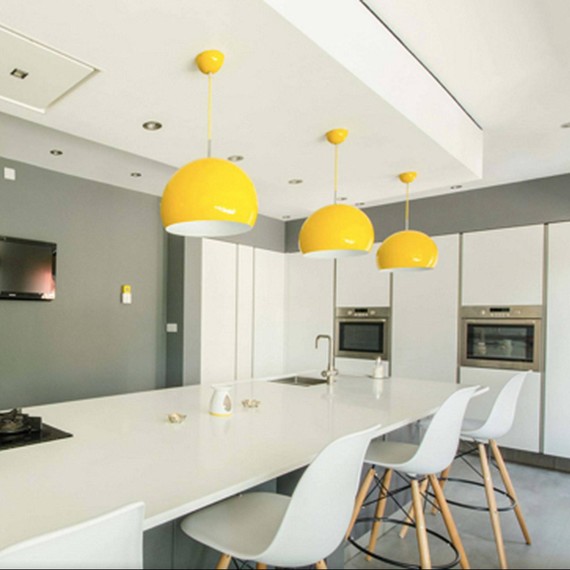 Use Yellow Lights as Accents
Adding unique lighting to a room provides a quick (and many times affordable) face-lift. You only need a few lights to make a huge difference.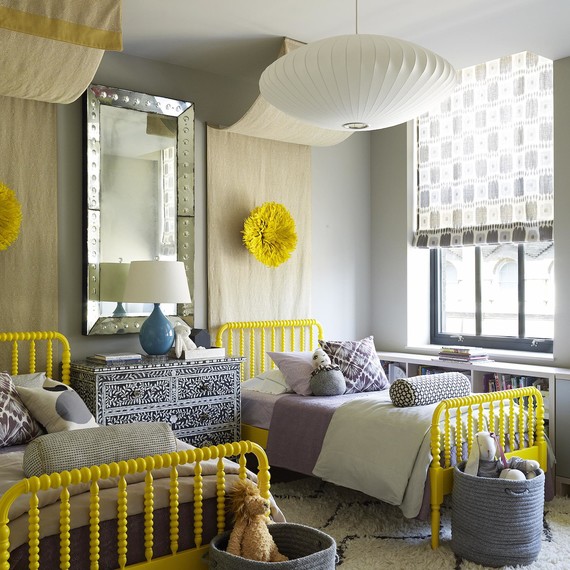 Paint Your Bed Frame
Go off the wall. Try painting furniture instead. A classic bed frame in bright rubber-ducky yellow can bring a cheery glow to any room.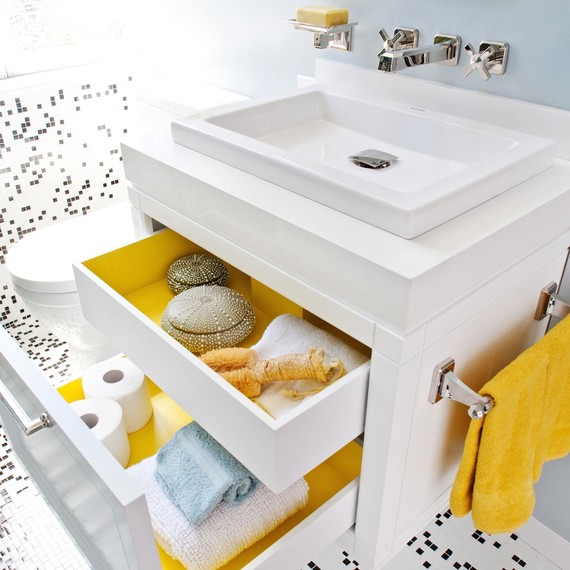 Use It in Unexpected Places
Are you someone whose drawer contents are not always perfectly tidy, with undies lacking folds and shirts not pressed? Not to worry, brighten up your (organized) mess by painting the insides of your drawers yellow! You may be inspired to arrange your clothes to complement the color, or you may be too fixated by the marigold to worry about a thing!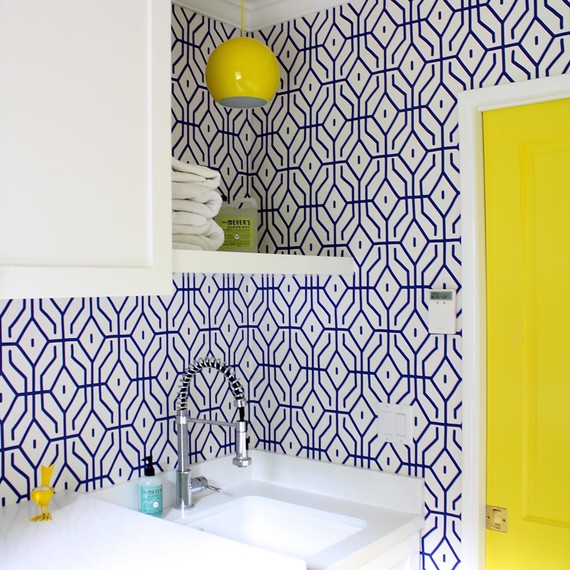 Add a Burst of Color to Any Room
Although I am someone who revels in an extremely organized home, there are many times when laundry feels more like an annoying chore than a satisfying organization task. Perhaps a laundry room (although I don't have one in NYC, but hey -- a girl can dream!) with a lemon-colored pocket door would entice me!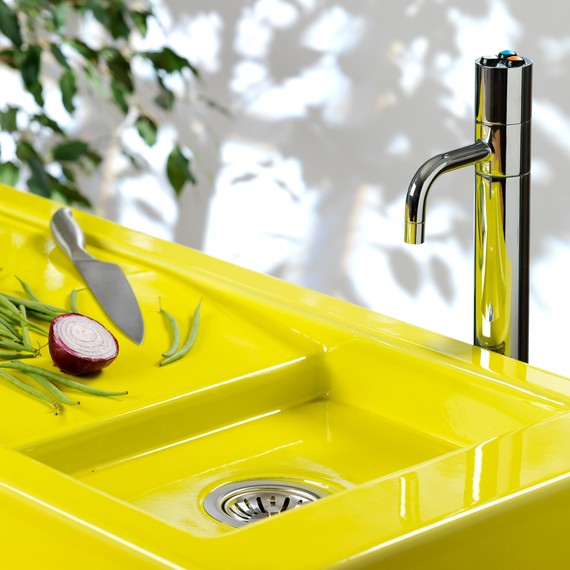 Install a Sunny Sink
Wouldn't washing dishes be so much more fun if you did them in a bright daffodil-yellow sink? When you design your next kitchen, think about a colorful sink to that will bring pleasure to the most mundane of chores.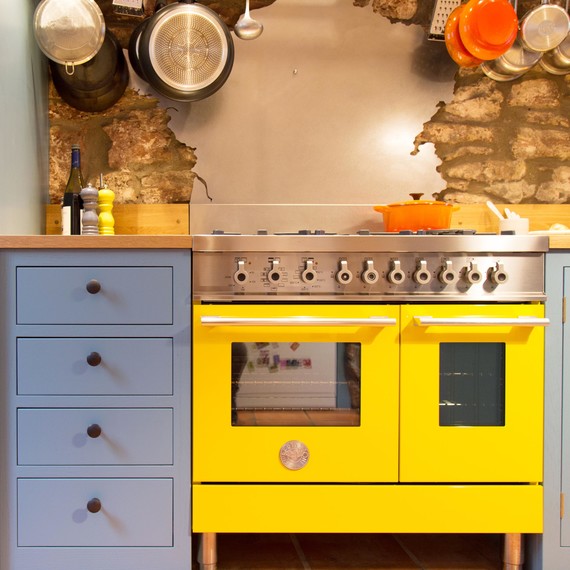 Update Your Appliances
A daffodil-colored kitchen sink doesn't do it for you? What about a stunning canary-yellow oven? Imagine pulling out a perfectly roasted turkey from the mouth of this dazzling appliance. Baking will be less tedious and even more enjoyable with some added color.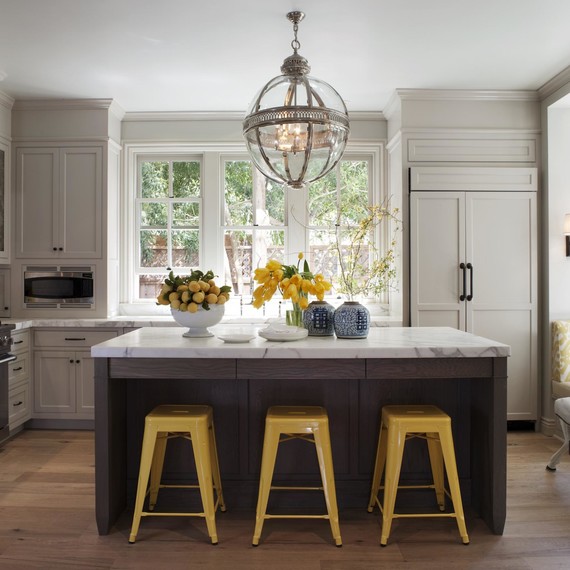 Add Pops of Color with Your Furniture
If you're aiming for more of a classic kitchen, try bringing bursts of color with breakfast bar stools. You and your children will enjoy zesty glasses of freshly squeezed orange juice and buttery croissants atop primrose-colored seating.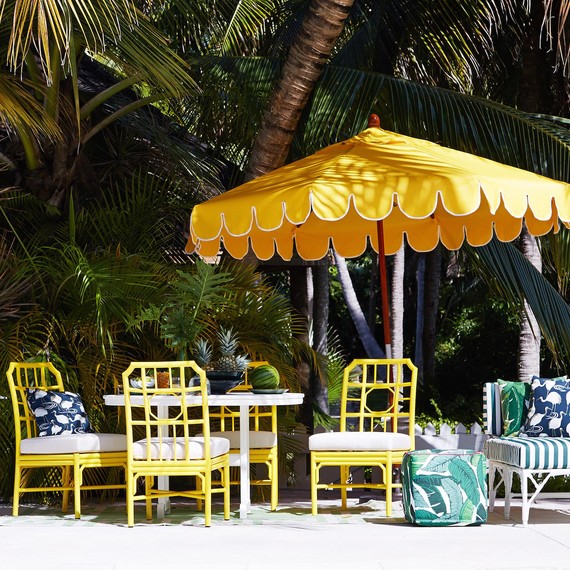 Liven Up Your Outdoor Space
Bring the rays of the sun into your backyard by incorporating a warm yellow in your outdoor furniture. Patios (after closets, of course) are, for me, one of the most important areas of the home and they become even more inviting when they have dots of sunny yellow!
Add a personal touch to your home with a DIY monogram etched mirror!