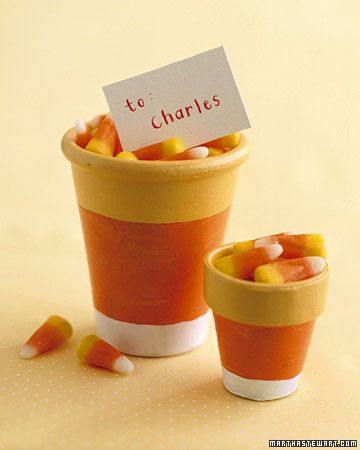 What could possibly be better than candy corn? Try a big-sized candy corn. These clean terra-cotta pots were transformed into candy corn kernels with a few simple craft supplies. We treated with a fresh coat of acrylic paint in yellow, orange, and white -- mimicking the yellow bottom, the tapered orange, and the pointed white end.
Pass them out as party favors: If you're hosting a spooky shindig, these make adorable gifts as a way to say "thank you" to your guests.
Decorate your doorstep: Paint a collection of small pots to decorate your doorstep. Little trick-or-treaters can grab candies by the handful to fill their own bags or grab them in pre-packaged baggies.

Display it front and center: Paint a bigger-sized terra-cotta pot and it makes as a seasonal centerpiece.
Anyway you use it, this idea is perfect for Halloween. When turned right side up, filled to the brim with treats, these pots almost look good enough to eat. Talk about eye candy.