When it comes to redecorating, the bedroom is often on two ends of the priority list. It's either the first thing you want to see transformed or the absolutely last thing on your mind, because after all, you don't spend THAT much time utilizing the space, and no one really sees it anyway, right? But actually, we spend more than one-third of life sleeping, so we ought to have bedrooms that make that sleep as sweet as possible. The bedroom happens to be a space where small updates can have major impact. Three things that will completely change the feel of your room and require the smallest amount of shopping and elbow grease are: art, lighting, and bedding.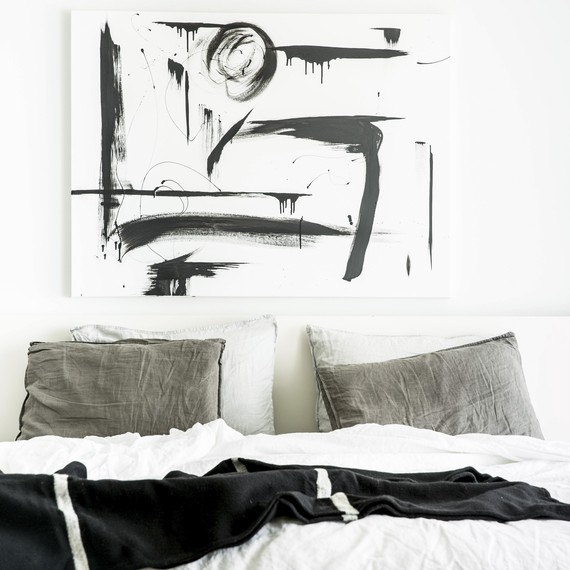 Art
Hanging a big piece of art over your bed can be expensive. Even after doing some research on local upcoming artists in your community and/or rummaging through flea markets for a cool vintage piece of artwork, it can be rather tough to find something affordable that you love. So instead, pull out the paintbrushes and paint your own -- or, better yet, commission a friend to do it. Often times seeing your own "art" is a bit unsatisfactory, so asking a creative friend to paint their feelings on canvas for you is the perfect way to update the wall above your bed! We're really into black-and-white abstract paintings for their calm, modern, and graphic vibe. And remember, size your art to be proportionally balanced with the headboard -- it has to be large in scale. Go big or go home.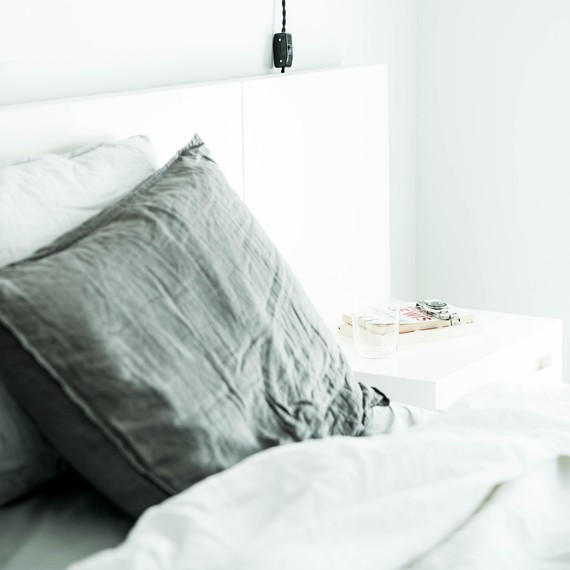 Bedding
Updating bedding can feel a tad overwhelming. You have to find not only a new duvet cover, but also pillow covers, sheets, maybe even a throw? The choices can feel endless and then nothing gets done. But new sheets are like lemonade on a hot summer day -- so refreshing!
We recently discovered super affordable linen bedding ,which makes updating your bedding absolutely guilt free. Linen bedding is wonderful as it stays warm on cool days, cool on hot days and only gets softer the more you wash it. Remember to think outside the set and mix and match. Neutral colors like gray, white, and cream lend for a very relaxed and lived-in look. And we highly recommend making it a weekly habit to throw your bedding in the washer and spray them with a dreamy, fabric scent before putting them on the bed. It makes hopping under the sheets that much more enjoyable!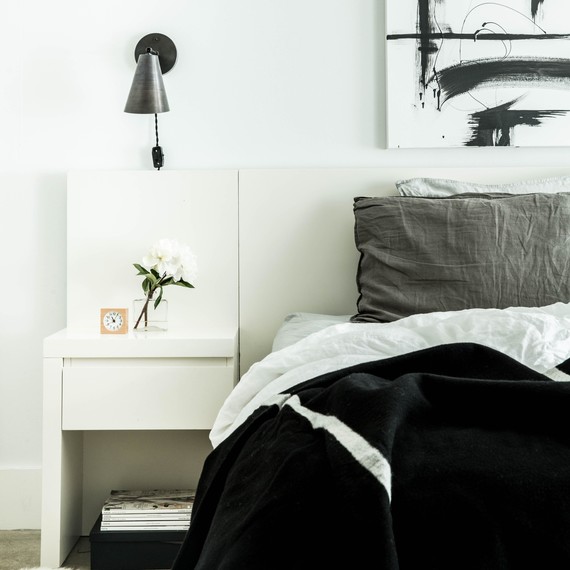 Lighting
Gone are the days of dated bedside lamps from Grandma's house. In fact, your bedside lighting doesn't have to monopolize your bedside table at all! Consider installing sconces or wall lamps in place of traditional table lamps instead. Why wouldn't you want to free up some space on your side of the bed for things like your favorite nightly reads and fresh flowers?
Hang your lighting just 36 to 40 inches above your bedside table, but for good measure, always test out your arm length to get the exact customized height you need to switch your sconces on and off from bed. Not having to get up or reach over four feet to switch off your light at night makes things much more comfortable and luxurious feeling. Not to mention, wall lamps are an easy way to provide both ambient lighting and visual interest to your walls! 
What are some of your favorite ways to update the bedroom? A bench at the end of the bed? Perhaps a new plant in the corner? We want to hear how you refresh your space!  
Want to learn how to make the most comfortable bed? Watch the video below!