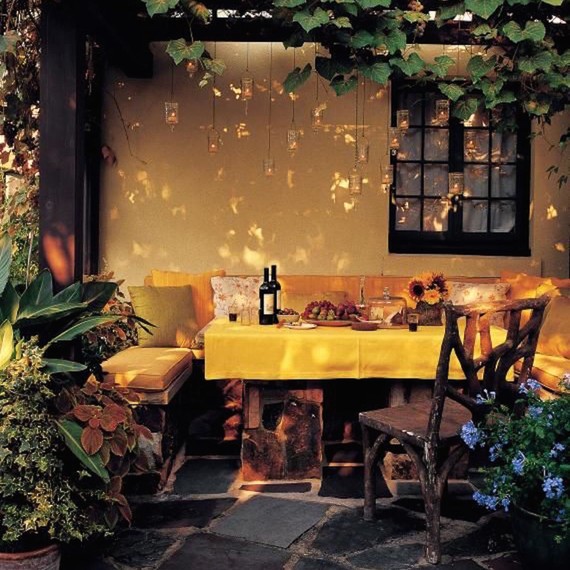 Reimagine Your Space
The first step to outdoor decorating is identifying an area in which you want to place the focus. If you have a lot of space outside, think of that area as an actual room and decorate as you would your living room or den. Create an intimate gathering space -- complete with a wicker patio sofa, a few chaise longues surrounding a coffee table or fire pit or, if you really have the space, add a table, set of chairs, and a free-standing umbrella to shield the sun on those really scorching summer days. 
Mix and Match Patterns and Colors
Summer is all about being bold and bright, so take some risks and decorate with a mix of patterns and colors. For example, pair a striped tablecloth with floral seat cushions. Use yellow, hot pink, and teal all at once. When decorating outdoors you have a little more leeway with pattern and color mixing. 
Add Comfort and Unity with a Rug 
Keeping a rug outdoors may sound like a crazy idea, but it helps to unify an outdoor space. This decorating trick works best on a patio, balcony, or hard surface rather than grass where it can easily get dirty. The rug should fill the space, which will add an element of comfort. Try stripes or another geometric print in neutral colors and watch how quickly this little addition transforms your outdoors.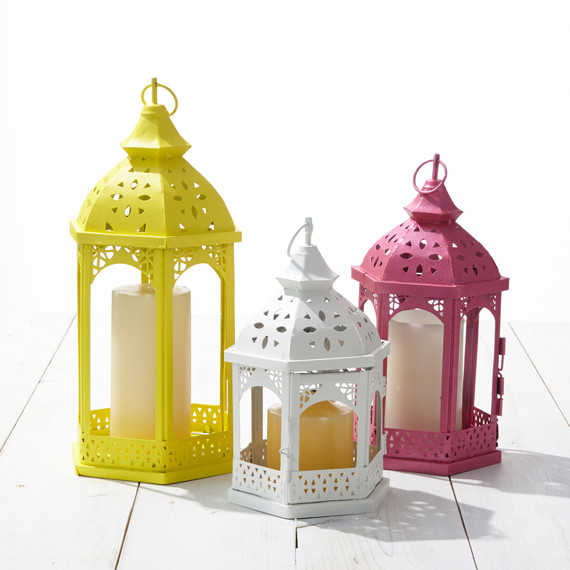 Lots of Lighting 
Lighting is an important aspect to consider when decorating outdoors. If you plan on dining outside in the evening or want to light the way for visitors, proper lighting is a must, and luckily, there are plenty of options. If you have a covered patio with a dining table, consider using a chandelier. String bulb lights along fences and walls, use lanterns to light walkways and tiki torch lights to scare away bugs and give off a romantic, tropical vibe. Paint cute hanging lanterns in fun colors to add a personal touch to your outdoor lighting situation.  
Perfect Your Potted Plants
Whether you have a lush garden or not, potted plants really add to an outdoor space. Fill your patio with plants or designate a corner for palm leaves and succulents. A wall of hanging planters looks great in a small space and a few pots at the door of your home adds an inviting, natural appeal. Turn your plants into a fun DIY and paint terra cotta pots in bright shades with metallic details using acrylic spray paint.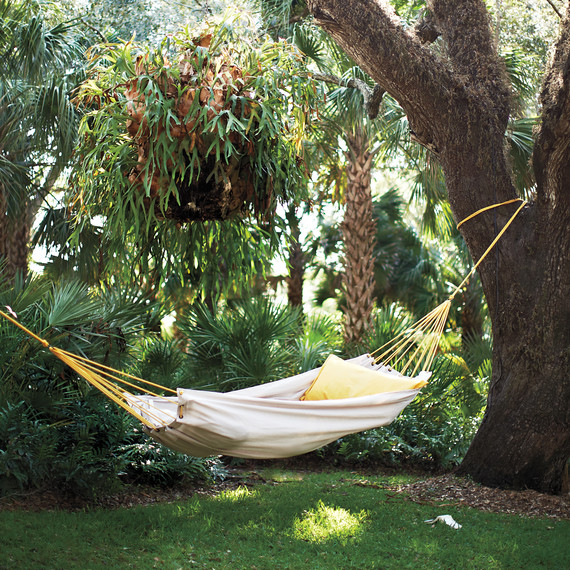 Hang Out in a Hammock
Everyone loves a hammock. It makes a great space filler and gives an outdoor area that perfect, relaxed summer vibe. 
Make It Work with Rattan
Rattan is pretty much the choice material for outdoor decorating. This plant comes from a variety of palm species and has been woven into just about every furniture and decor item available. A full patio set with sofa, chairs, and table looks great in rattan but you can also use smaller additional pieces such as side tables, planters or even hanging chairs to get this durable look in your outdoor space.
Cover Your Space in Candlelight
There are so many amazing candle DIYs that make perfect decorations for an outdoor space. Citronella oil lamps are both pretty and easy to make and help keep insects at bay. Here's what you'll need: mason jars with lids and rings, Citronella torch fuel, 1/8-inch lamp wicks, a nail, and a hammer. Sand-filled hurricane glasses are another easy DIY that will give your outdoor area an earthy, coastal vibe. Simply place tall, cylindrical candles in the glasses, add sand, and voila -- you've created the perfect candles to complement the outdoors!
Change up Your Table Decoration
Changing up your tablescape regularly is one of the simplest ways to refresh an outdoor space. Sure, you probably don't want a full set of napkins and dishware sitting out at all times but switching up the tablecloth, adorning it with your DIY candles and a succulent or small flower pot will give your table a purposeful appearance.  
Decorating outdoors does not need to be an overwhelming, time-consuming project. With these simple decorating tips, you'll be well on your way to an outdoor space so gorgeous, you'll never want to go inside.
Need a way to carry your ice cold beverages outside? Make this DIY Hawaiian print tray!