For most of us, an upside-down cake is not what comes to mind when we think about classic summer desserts. I would venture to guess that it's not because you need to turn on the oven to bake it, as we more than willingly heat up the kitchen for a blueberry pie or a fruit galette. Perhaps it is because a good pastry seems like a better choice of vessel to hold an abundance of summer fruit than a cake batter might be? That's what I would have thought -- that is until now.

After I made this cake, I was surprised by how delicious the soft-baked fruit tasted against the vegan cake batter. This batter is made with plenty of ground coconut along with almond meal and spelt flour, which gives it a flavorful and delicate crumb. A healthy dose of freshly ground cardamom provides a heady fragrance and when paired with maple, coconut oil, and tangy baked apricots, it's nothing short of exotic. Suddenly I wanted to apply the method to peaches, nectarines, and cherries and if I could find some Italian plums, I would try them too (other varieties of plums can be too watery for a vegan cake batter). I think the key is that the batter isn't too high, which gives you a good fruit-to-cake ratio. I also recommend that you squeeze in as much fruit as possible to cover the base of the pan entirely -- that way no batter will make its way through and cover the fruit once it's flipped over.

This cake is perfect for morning or afternoon tea and tastes incredibly good with a dab of coconut or Greek yogurt. For the best results, grind your own cardamom by adding about a tablespoon of cardamom pods to an electric spice grinder. Grind until fine and sift through a strainer before measuring.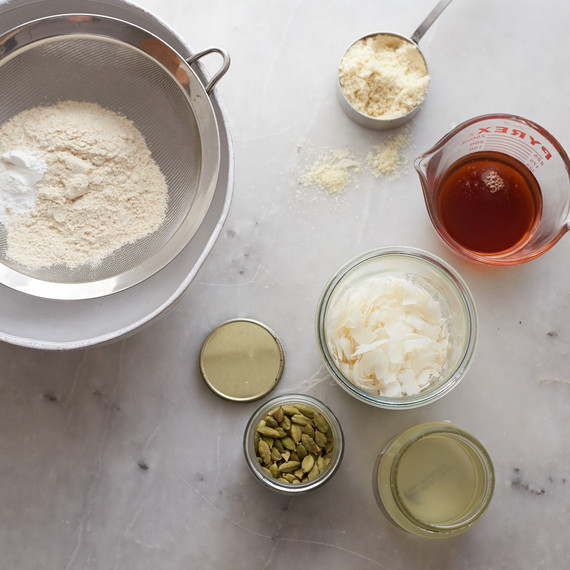 Amy Chaplin's Vegan Upside-Down Cake with Apricot, Cardamom, and Maple
Ingredients
 - ¼ cup melted extra-virgin coconut oil, plus 1 tablespoon for pan
- ¾ cup maple syrup, plus 1 tablespoon for pan
-  18-20 small apricots (1 quart), halved and pitted
-  3 cups large flaked dried unsweetened coconut
-  1 ¼ cup whole spelt flour, divided
-  1 ¼ teaspoon ground cardamom
-  ¾ teaspoon baking powder
-  ¾ teaspoon baking soda
-  ½ cup almond meal
-  2 tablespoons ground flax seeds, preferable golden flax
-  ¼ cup water
-  2 teaspoons vanilla extract
-  2 teaspoons raw apple cider vinegar
-  ¼ teaspoon sea salt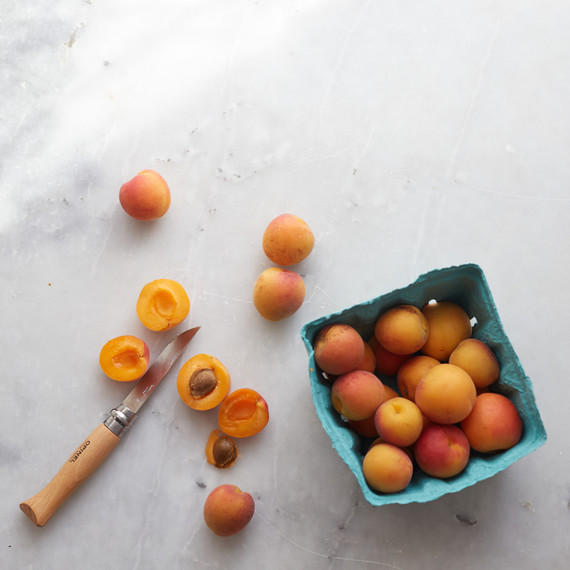 Directions
1.  Preheat oven to 350 degrees Fahrenheit.

2.  Line the bottom of a springform pan with parchment paper -- do this by flipping the base over and placing a larger square piece of parchment on top of it. Attach the sides, keeping the paper flush against the base. Turn it upside down and fold paper into the center.

3.  Add 1 tablespoon of coconut oil and use your hands to spread it over the bottom and up the sides of the pan. Add 1 tablespoon maple syrup and spread it over the bottom of the pan.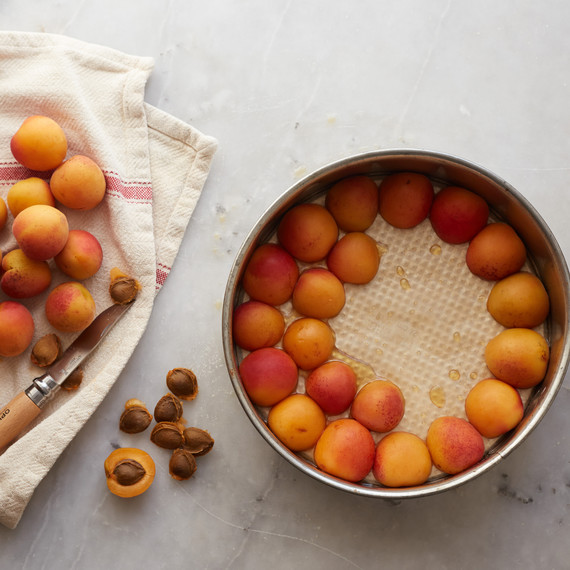 4.  Arrange apricots in circles, cut side down on the bottom of the pan. Set aside.

5.  Add coconut to a food processor and add a handful of the spelt flour. Blend until coarsely ground and set aside. Sift remaining spelt flour, cardamom, baking powder, and baking soda into a medium bowl. Add almond meal and ground coconut, stir to combine, and set aside.

6.  In another bowl, whisk together flax seeds and water, then add maple syrup, oil, vanilla, vinegar, and salt and whisk again. Pour into dry mixture and stir until just combined. Pour over apricots and gently spread batter evenly over the fruit. Place cake on baking sheet and bake for 45 to 50 minutes or until a toothpick comes out clean.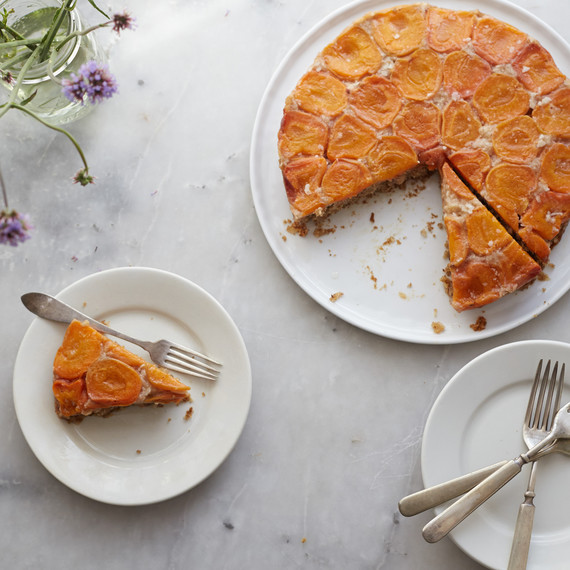 7.  Remove from the oven and allow to cool for an hour before running a knife around the edges of the pan and removing the sides. Place a cake plate over the top of the cake and swiftly flip it over. Remove the cake pan base, carefully peel off the parchment paper and serve.
Enjoy!
Watch the video below for a delicious rhubarb-raspberry crumble recipe!