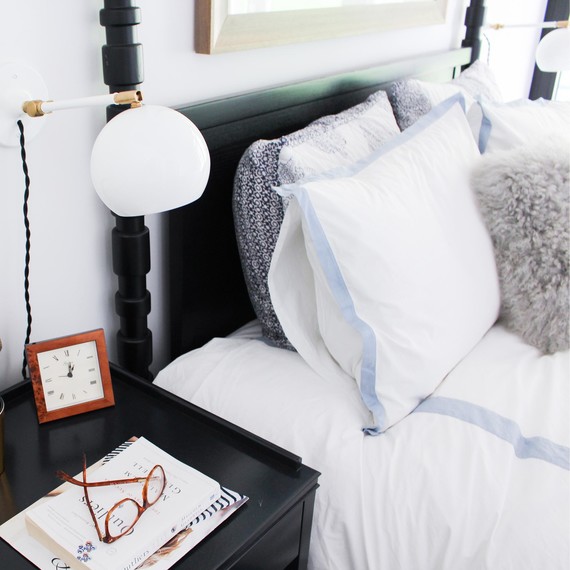 I've basically lived in every shared-living situation under the sun. I've moved nine times in the past eight years across two continents. I've lived with a boyfriend, in exchange-student shared housing, with my best friends, and even with an out-of-town roommate who just needed the occasional pied-à-terre (win!). I've also lived alone on a couple of other occasions. 
This apartment however, was the first one where I was mature enough to say: I'm decorating from scratch. No more hand-me-downs, no more Ikea; only things I truly love. My bedroom was the first room I tackled upon moving into my small high-rise apartment.
I wanted my bedroom to feel really comfortable, cozy, and put together; like a boutique hotel guest room where I could really unwind in at the end of a long day. The first piece I set my sights on was the bed: a four-poster bed from West Elm. And best of all, it was 70 percent off! I was inspired by a hotel room I stayed in at the Ludlow Hotel on NYC's Lower East Side, which had a similar black four-poster bed.
I always had a thing for canopy and four-poster beds, because they draw the eye upward and make a room feel more dynamic, as opposed to all one height. This was especially important given that my bedroom was essentially a small white box that I couldn't paint or wallpaper. The painting, which I "borrowed" (begged for) from my parents, also helped draw the eye up and trick the eye away from the "white box" look.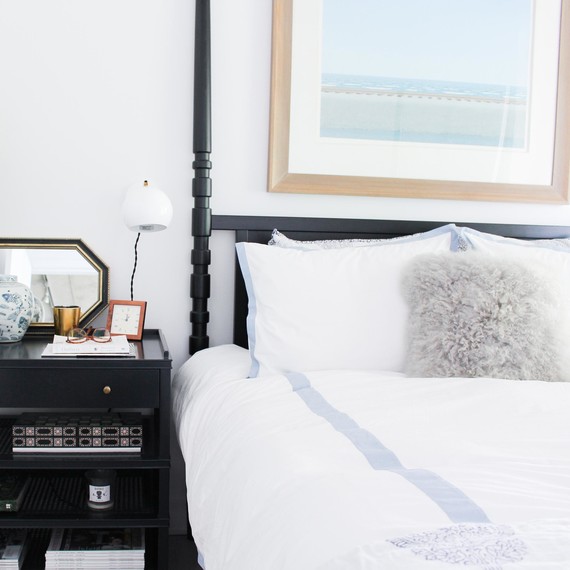 Like any good boutique hotel, I also needed crisp white bedding. I opted for percale sheets with a small blue border from Matouk. They were a splurge, but considering the amount of hours one spends in a bed, it was entirely worth it. Having pricey sheets encourages me to take good care of my bedding. I matched my sheets with a paisley coverlet and furry pillow from West Elm.
I've never been a girly-girl, so a palette of blue, black, and white was much more up my alley than pinks and purples. A Mongolian lamb pillow was my version of a feminine touch.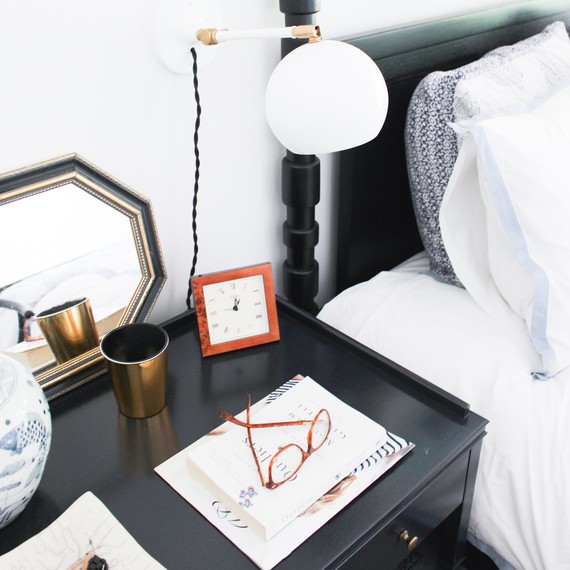 The other design element I had set my sights on was a pair of sconces. I've always preferred them to traditional bedside table lamps, probably because of the hotel-room feel they lend. Because I live in a rental, I needed to find a pair of sconces that I could plug in and install with just a few screws -- no electrical work required. I found the perfect sconces at Schoolhouse Electric. 
Because my bedroom is wider than it is long, the perfect storage solution was to have larger bedside tables with plenty of storage. It's common to think that you should buy small nightstands for a small bedroom, but I tend to decorate with the biggest ones that will fit the space. It's worked really well for me so far and has helped with my overall limited storage solutions. 
My bedroom might be simple and pared back, but it's filled with quality pieces that will follow me for years, which I think is the most important thing to consider when choosing pieces for a temporary bachelorette apartment. 
Doing some home renovations? Watch the video below to learn how to choose and install the right drapes.