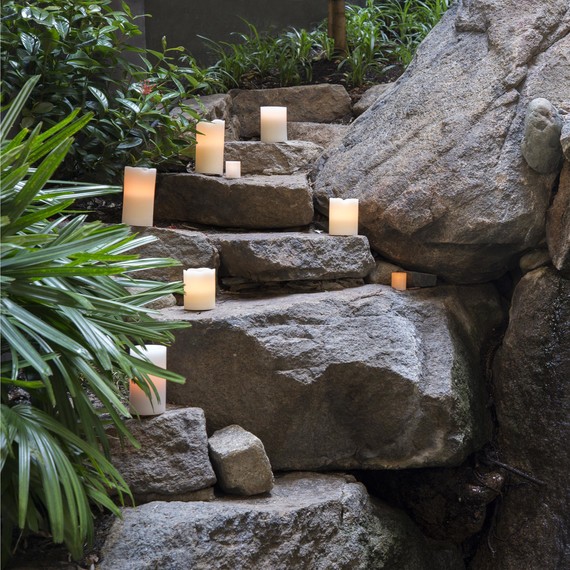 Balmy nights, food cooking on the grill, and friends and family spending quality time together in the backyard or around the pool ... what can be better? These three fire safety tips will help contribute to your peace of mind so you can make fun a top priority.
1. Use caution whenever open flames are involved: The most popular ways to create the perfect ambience are with patio (tiki) torches, portable outdoor fireplaces, candles, and sky lanterns -- all of which use a flame as their light source. While they're beautiful, these outdoor decorations can pose an increased risk of spreading fire. When it comes to outdoor lighting, the majority of fire-related injuries and home damage occur because:
•  Candles or patio (tiki) torches fall or are knocked over
•  The flame is too close to something that could burn
•  A flaming sky lantern lands on a rooftop, in the yard, or on trees, and is ignited before the flame was fully extinguished
2. Heed basic safety tips and guidelines around open flames. When you host your next outdoor event, consider the following:
•  Use candle holders that are sturdy and won't tip over easily.
•  Have an adult present at all times when a portable fireplace is burning.
•  Keep children and pets as well as anything that can burn at least three feet away from open flames.
3. Opt for faux flames: Take fire safety to the next level by using battery-operated flameless candles and solar-powered patio (tiki) torches in place of an open flame to create a safe and beautiful glow. Flameless candles come in all colors, shapes, and sizes -- and many are nicely scented. They even look and feel like the real ones. Sky lanterns, while often used to celebrate, are actually prohibited by NFPA code requirements. Use kites, streamers, or even flags -- they're all great and safe alternatives.
Make sure you brush up on fire safety tips and valuable resources before your next outdoor event.
Ready to start grilling? Watch the video below for our must-have tips!