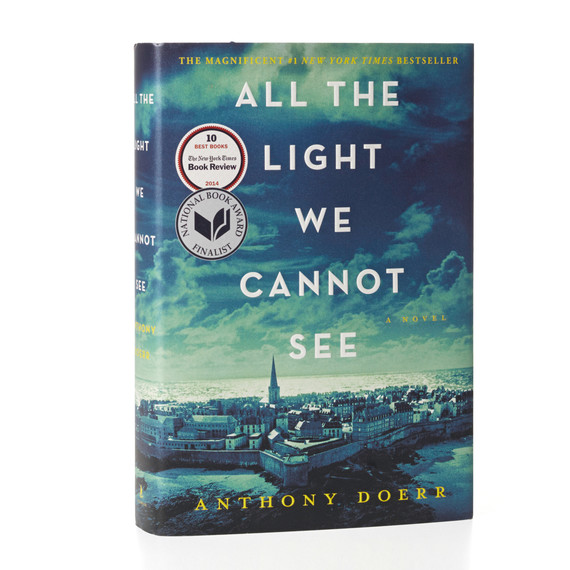 When deciding the lineup of our summer reading list, we like to pick novels that reflect varying tastes and preferences. For our historical fiction fanatics, "All the Light We Cannot See" by Anthony Doerr is the perfect beach read this summer. 
Set in France during World War II, this fascinating novel tells the story of how a blind French girl and a German boy's paths cross while battling the destruction of the war. You'll grow attached to the two main characters as the novel progresses, and the historical backdrop will keep you hooked chapter after chapter. Even though World War II isn't the first topic that comes to mind when you think "summer beach club," we promise you won't regret diving into this book.
FROM THE PUBLISHER
Marie-Laure lives with her father in Paris near the Museum of Natural History, where he works as the master of its thousands of locks. When she is six, Marie-Laure goes blind and her father builds a perfect miniature of their neighborhood so she can memorize it by touch and navigate her way home. When she is twelve, the Nazis occupy Paris and father and daughter flee to the walled citadel of Saint-Malo, where Marie-Laure's reclusive great-uncle lives in a tall house by the sea. With them they carry what might be the museum's most valuable and dangerous jewel.
In a mining town in Germany, the orphan Werner grows up with his younger sister, enchanted by a crude radio they find. Werner becomes an expert at building and fixing these crucial new instruments, a talent that wins him a place at a brutal academy for Hitler Youth, then a special assignment to track the resistance. More and more aware of the human cost of his intelligence, Werner travels through the heart of the war and, finally, into Saint-Malo, where his story and Marie-Laure's converge.
As mentioned above, we love to include a little bit of everything on our summer reading list. What's your favorite genre of novels during the summer months?
Want to know what else we are reading this summer?
The Living Book Club is always a fan of a good read about food! Which is why J. Ryan Stradal's first novel, "Kitchens of the Great Midwest," is the next pick on our summer reading list. It takes us through the life of Eva, a young woman from Minnesota, who becomes a globally renowned chef. The trials and tribulations of her life are told from the perspective of eight people, through the recollection of bake sales, eating contests, and delicious dishes.
Now out in paperback, Dan Barber's "The Third Plate: Field Notes on the Future of Food" takes a critical look at the food sustainability movement while entertaining the reader with Barber's captivating narrative. We can't wait to take a bite out of this thought-provoking nonfiction work. Who said you couldn't learn something new during summer?!
Summer definitely is the season of rest and relaxation, but that doesn't mean your summer reading list can't pack a punch with a thought-provoking, unforgettable novel. Nobel Prize winner Toni Morrison's "God Help the Child" transports us into the life of a beautiful woman named Bride.