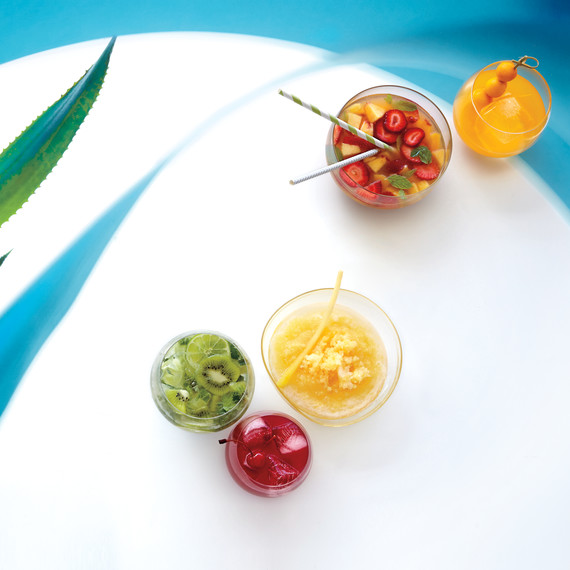 Rejiggering can be fun -- and fruitful. In that spirit, we've taken liberties with just a few of our all-time favorite cocktails (including some tiki-bar standbys) and upgraded them to better suit today's tastes. What's out: any trace of canned mixes, powdered flavorings, and syrupy-sweet liqueurs. What's in: fresh juices and fruits, along with some of-the-moment kitchen staples (see "Fresher Refreshers," below). The upshot: five new summer coolers that pack a big punch.
Fresher Refreshers
Fruit juices bring unbeatable flavors -- tart, sour, sweet, and such -- to mixed drinks in place of grenadine and other traditional fruity mixers (and without all that added sugar). Fresh citrus juices taste better and brighter than bottled options; when buying mango or cranberry juice, seek out unsweetened varieties.
Fresh fruit adds flavor and texture -- and not just as a garnish. We chopped berries and peaches for floating in a tiki bowl (and enjoying at the end with a spoon!), sliced kiwifruit for mojitos, and pureed pineapple to make a granita for our take on the pina colada. (The only jarred fruit we used was maraschino cherries; look for red dye–free varieties such as Merry.)
Coconut water (along with a little coconut oil) makes a lighter substitution for cream of coconut, while honey and agave syrup are natural alternatives to flavored syrups and other refined sugars.
Try these fresh ingredients in our new spins on classic cocktails:
A fresh take on the mojito, with cilantro standing in for mint, and lime and kiwifruit amping up the ultra-green factor.
Get the Kiwi Crush Recipe
Remember the mai tai? Our new spin on this iconic tiki drink gives it a Manhattan accent and plenty of fresh juice.
Get the Cherry Bomb Recipe
If you like pina coladas.... Well, this rum drink with a fresh pineapple-ginger granita that gives it a slushy texture is sure to appeal. The granita is also delicious on its own as a dessert.
Get the Pineapple Express Recipe