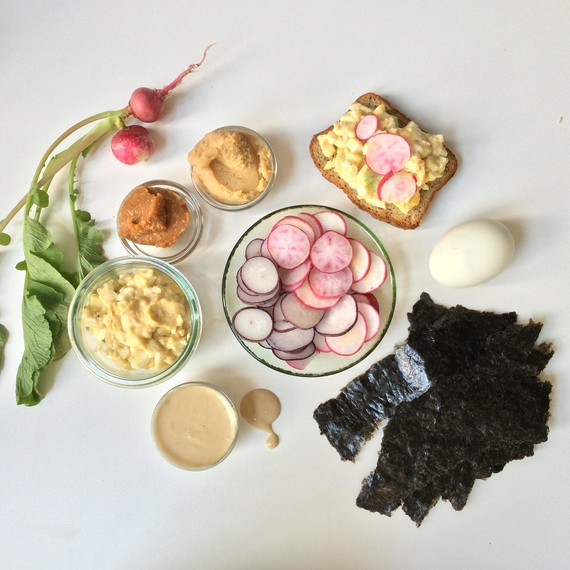 If you've ever eaten at a sushi restaurant, you've probably had miso soup. Miso is a Japanese broth that derives its name from the fermented soybean paste that acts as its base. In Soup Club, we consider miso soup a "soup of assembly": In other words, we chop, sort, measure, and deliver the ingredients and give our club mates the freedom to strike their own ideal balances of heat, salt, and umami.
Imagine you are the happy recipient and find yourself post-soup party with a few remaining tablespoons of miso paste. What to do? Play around! Miso's incredible umami flavor will add savory depth to any dish. And you can use it on anything.
Try these ideas:
1.  Use it as a marinade for fish, steak, or kebabs (salmon is especially good).
2.  Mix it with walnut or olive oil for a quick salad dressing.
3.  Go one step further and give your dressing a citrus flair.
4.  Mix it with butter and use as a condiment on sandwiches.
5.  Stir it into peanut butter, spread it on bread, and add cabbage or sprouts for an easy, healthy bruschettta.
6.  Use it to flavor your deviled eggs.
7.  Make a quick sauce for veggies or grain bowls by blending it with carrots, ginger, sesame oil, and water.
8.  Make a pizza! Just miso and sesame seeds would make a pretty delicious bread to snack on. Add vegetables and chicken and make it a meal!
What are your favorite ways to use miso?