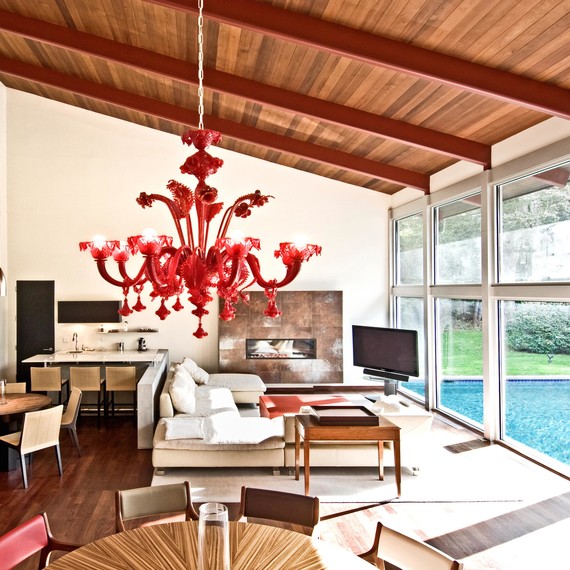 Lighting
Nothing makes a strong statement like bold lighting. Why not create a daring space with a red art deco chandelier, a beautiful standing lamp, or even some red lampshades?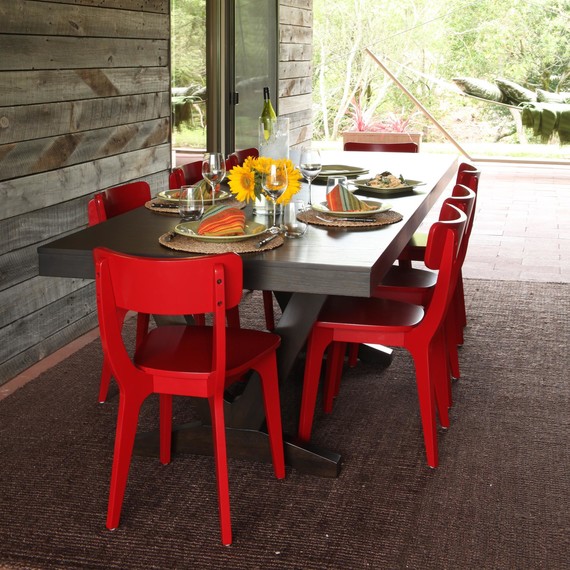 Chairs
Incorporating red into your dining table can sometimes be tricky. No one wants a very busy eyesore of a space! But I love the look of red chairs with a wooden table and the rustic outdoors.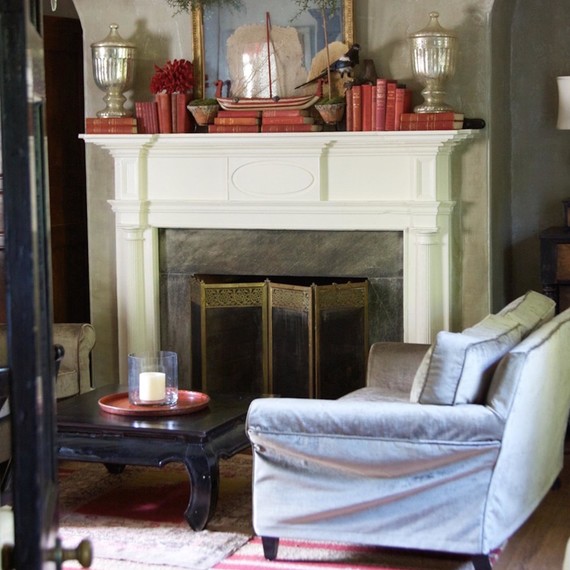 Books
Books are a coveted item in the home and are a beautiful and simple way to make your home look even more cozy. Decorating a library with red leather-bound antique books is an elegant and classic way to bring some color into your space.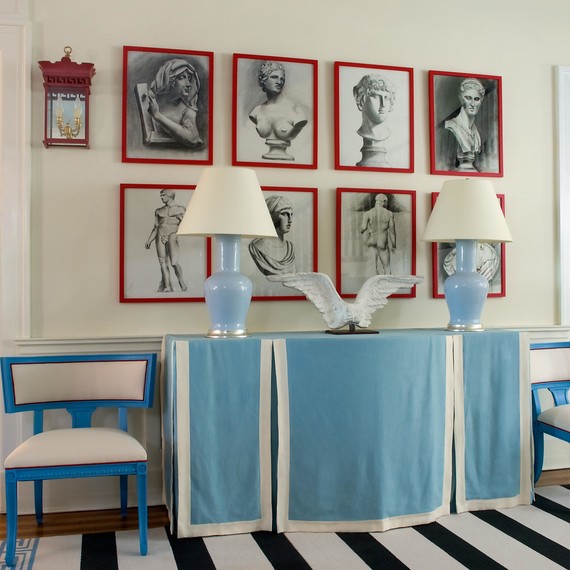 Picture Frames
Adding a touch of color to your picture frames creates a whimsical and fun dimension to your home, especially when framing black-and-white prints. Next time you're at your local framer, I urge you to go bold, rather than the classic black, gold, or silver leaf.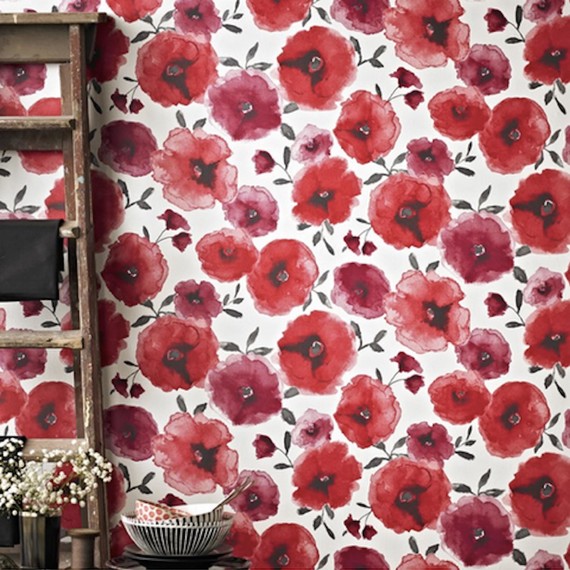 Wallpaper
I am incredibly fond of patterns, and am probably guilty of cramming too many into one space. However, if you want to add some pattern and color to your home, there's no better way to do it than with some beautiful wallpaper. Use bold patterns in small spaces, but err on the side of caution when wallpapering a large room -- no one wants to be sitting in a living room that makes them dizzy!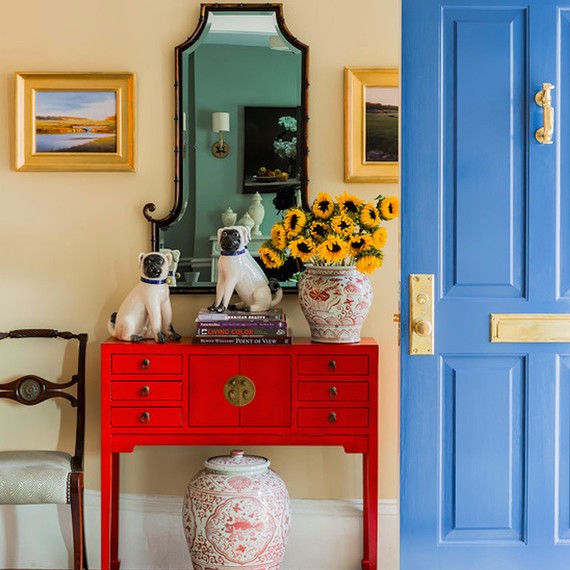 Entry Tables
An entry tables is, metaphorically speaking, a home's embrace. It welcomes you and bids you adieu, and if styled correctly, always reminds you to bring your keys! A red entry table makes your welcome and good-bye that much more vibrant!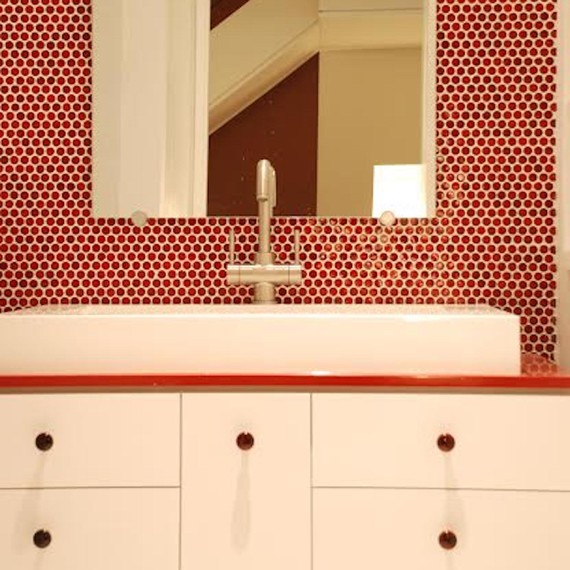 Tiles
Although a white bathroom certainly looks crisp and clean, a red-tiled bathroom adds a sophisticated element. You can use unconventional shapes like circle or hexagonal tiles to add an even more interesting touch!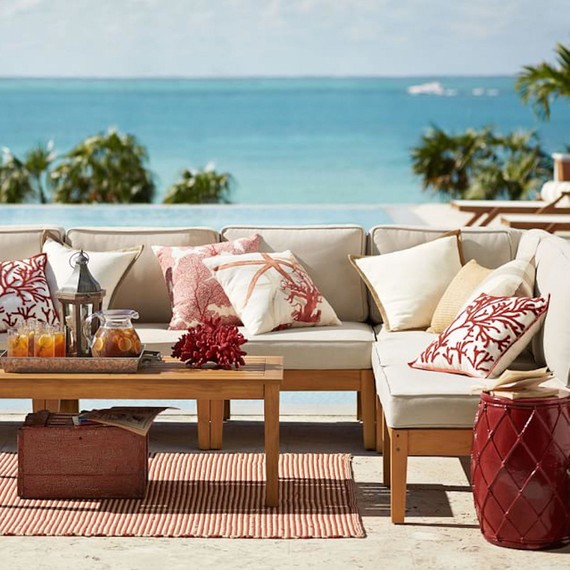 Dots of Color
The easiest way to incorporate red (without investing too much or drastically changing your space) is to add red accents in your decor. Pillowcases, garden stools, even faux coral decorative elements will liven up your space very quickly!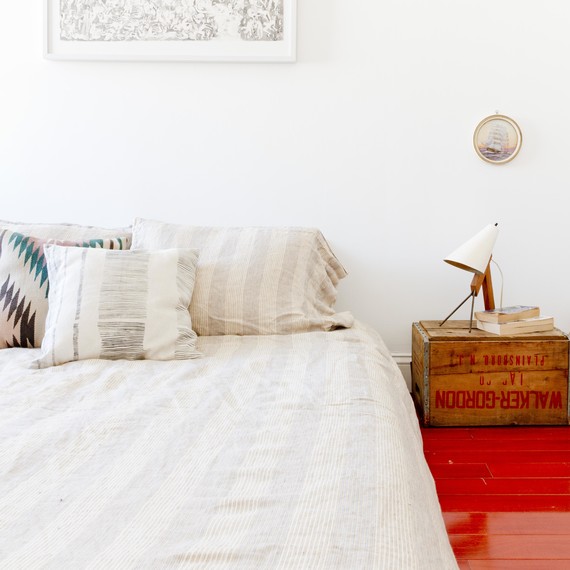 Floors
Yes, adding a gorgeous red carpet will enhance your living space, but what about painting your wooden floors red? Such a unique idea and a fabulous look.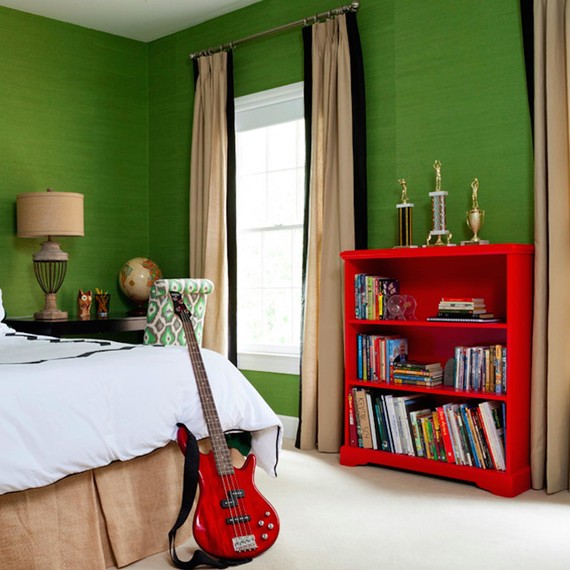 Shelving
Paint your shelving red -- even if you're unsure of using such a bold color -- I can guarantee you that the results will be stunning! This green boys' room looks even more elevated and fun with the bright-red bookshelves, and by choosing the right hues it doesn't look like Christmas.