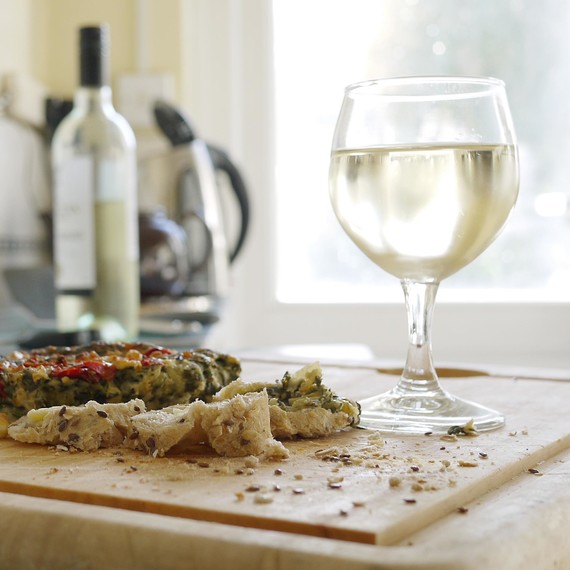 Muscadet
If you're seeking a French white at an incredible value, Muscadet is your ace in the hole. Made from the Melon de Bourgogne grape on the western edge of the Loire valley, Muscadet is characterized by its pure, stony mineral qualities and very lean, clean citrus flavors. Look for one that says "Sur Lie" on the bottle -- this indicates a process in which the winemaker lets the dead yeast cells, called "lees" -- a natural byproduct of fermentation -- mingle in the barrel with the aging wine throughout the winter before being bottled. This gives the wine added depth of flavor and a softer, richer texture. And because the lees can also trap a little carbon dioxide, they may add a touch of sparkle to the wine!
Ones to Try: Domaine de l'Ecu Muscadet Sevre et Maine Gneiss 2014, $18; Muscadet Sevre et Main Sur Lie, Dom. de la Pepière 2014, $14; Jo Landron Domaine de Louvetrie Muscadet Sèvre et Maine 'Cuvee Domaine' 2014, $12
Pair It With:Oysters on the Half Shell with Watermelon Granita
Vinho Verde
Vinho Verde -- translated as "green wine" -- is from northwest Portugal. It's not literally green; instead, it's named after the lush vegetation that characterizes its region. Vinho Verde is usually made from a blend of indigenous grapes, and it's universally light, fresh, and slightly effervescent. A reliable "cheap and cheerful" sipper, it tastes like summer in a bottle. Even after dark, this festive wine will keep the sunshine vibes shining at any gathering.
Ones to Try: Vinho Verde "Passaros" Loureiro, A. Mendes 2014, $10; Vinho Verde Loureiro, Aphros 2013, $15; Vidigal Vinho Verde 2014, $10
Pair It With: Fish Tacos with Salsa Verde and Radish Salad
Assyrtiko
Impress your more adventurous friends with this exciting wine from the Greek island of Santorini. Assyrtiko (pronounced: ah-SEER-tick-oh) is an aromatic, bone-dry wine with rich honey and melon aromas, crisp acidity, and a savory, earthy mineral finish from the volcanic soil in which the vines are grown. Some of them even have a pleasant echo of seaspray brininess. One sip will take over your senses and transport you to a yacht on the Mediterranean.
Ones to Try:Domaine Sigalas Santorini 2014, $16; Santo Wines Assyrtiko Santorini 2013, $16; Athina Tsoli Santorini Assyrtiko 2011, $11
Pair It With: Seafood Salad
Gruner Veltliner
Although Austrian Gruner Veltliner ("GROON-er velt-LEEN-er") may not ever be able to touch Riesling in regard to popularity, it's Austria's most widely planted grape variety and an extremely versatile wine for food pairing. Available in a range of styles, the spicier and richer varieties could be a cooling counterpart to red meat and pork, while the lighter-bodied ones are great with vegetables and seafood. Grüner has an expressive, bright, spicy, aroma (think white pepper) with citrus, stone fruit, and some cool vegetal tones on the palate. Pick up a few bottles and discover your favorite.
Ones to Try: Birgit Eichinger Gruner Veltliner Hasel 2013, $15; Franz Etz Grüner Veltliner 2013, $15 (1 Liter Bottle); Gruner Veltliner "Gobelsburger," Schloss Gobelsburg 2014, $14
Pair It With: Grilled Sausage with Arugula Pesto
Soave
When most people think of Italian wine, their minds immediately wander to reds. But Italy is home to some fantastic white wines as well, and most of them are very friendly on the wallet. Enter Soave: the most important white wine from the Veneto region. Soave wines are based on the Garganega grape, sometimes blending in Trebbiano and Chardonnay. Sleek and silky, these wines are packed with concentrated flavor (unlike Pinot Grigio, for instance, which tends to be watery). Notes of almonds, herbs, tropical fruits and citrus swirling around on your palate make Soave a sublime summertime pick.
Ones to Try: Soave Classico Pieropan 2013, $16; Ca 'Rugate Soave Classico Monte Fiorentine 2013, $15; Inama Soave Classico 2013, $16
Pair It With: Pasta with Roasted Summer Vegetables and Basil