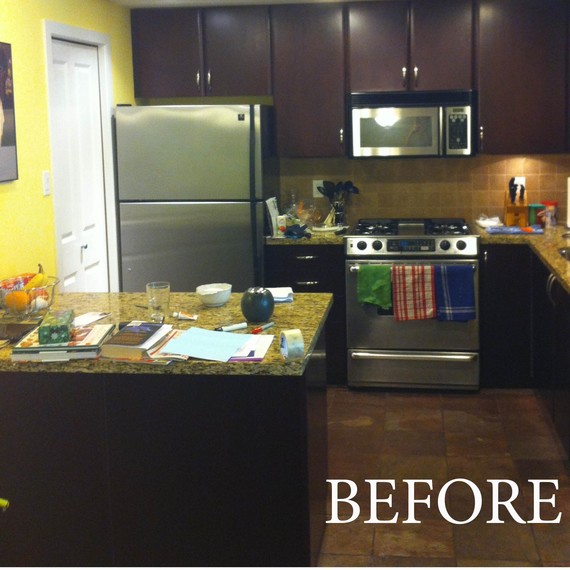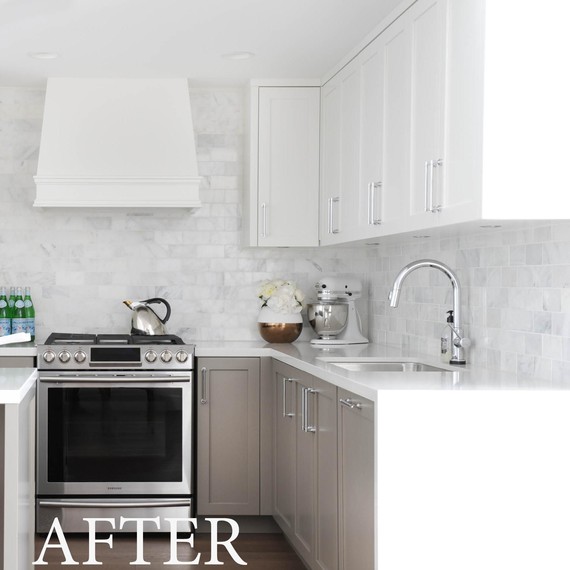 One of our first orders of business was to white out the space. With only one window on the main level (where the kitchen, living, and dining rooms are located), we painted the walls white and installed a two-toned kitchen (white uppers and gray lowers) with a beautiful carrera backsplash to help reflect light. One of the most dramatic changes was the removal of the over-the-range hood vent/microwave combo. Every space needs a "wow" moment, and a beautifully detailed hood is a great opportunity for a focal point.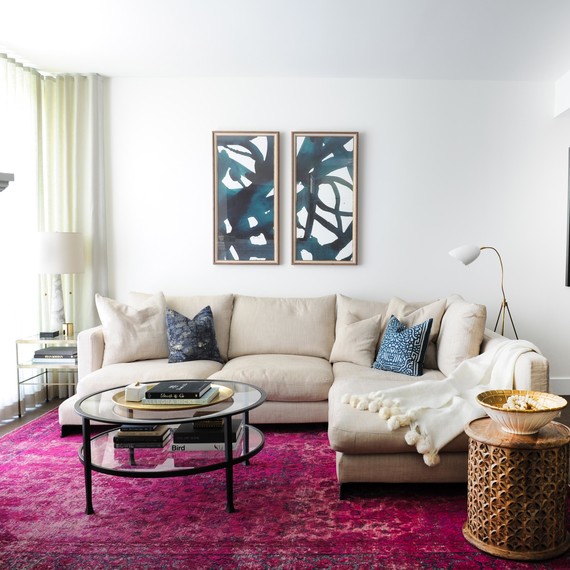 Another challenge we faced in this project was how to incorporate color. My clients loved bold colors (navy blue and fuchsia in particular) so we needed to find a way to include these in the design while still keeping the space light and airy. Our starting point was a beautiful overdyed Persian rug. With a raspberry pile and navy blue backing, the rug provided us with our instant color palette.
Tip for working with bold colors: Use repetition so that the color story makes sense throughout the space, and make sure to carefully spread out where you place it to create balance.
In this project, we incorporated navy and fuchsia accessories and art. The "Love Is Everywhere" painting by Allan Switzer seemed to be the perfect piece for a newly married couple in thier first home, and I loved how the photograph above the dining table, "Plates" by Brian Howell, brought in drama with the blue and pink printing press shown on a black background.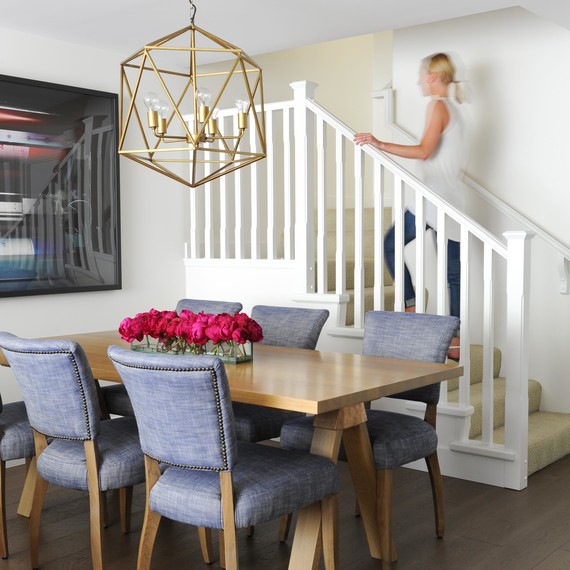 Tip for creating a focal point: Areas with high contrasts such as the black art on the white walls will immediately draw your eye in!
Throughout the renovation process, we also tried to find ways to marry the modern with traditional. Take the fireplace transformation for example....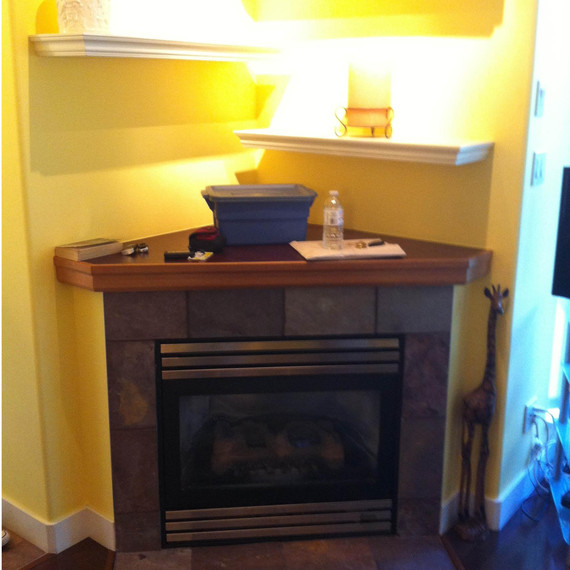 Before it felt heavy and somehow crowded the space...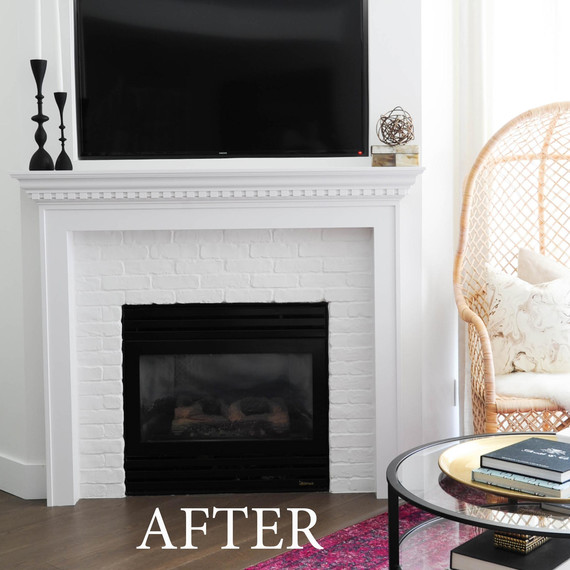 After, the room felt much more open, yet the fireplace remains central to the room. The more traditional mantle was painted a crisp white and paired with modern accessories (all available through Provide Home), creating an unexpected yet beautiful juxtaposition -- which is something I always love to do in my projects.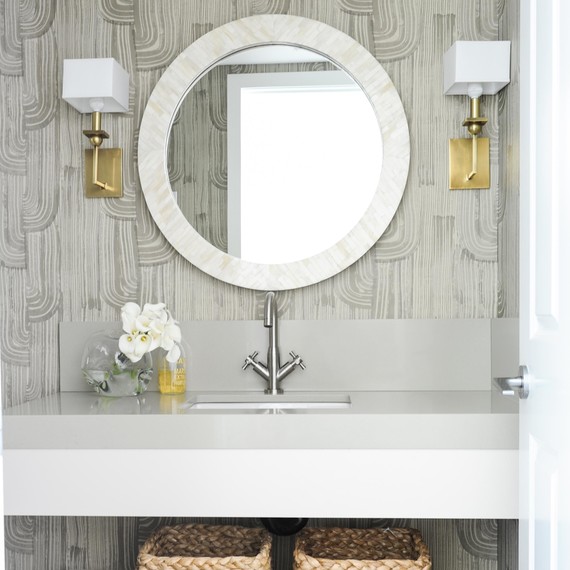 On to the bathrooms! To tackle the dark, dated powder room, I went with brass accents and bold wallpaper. The brass warms up the space, while the dynamic print creates texture.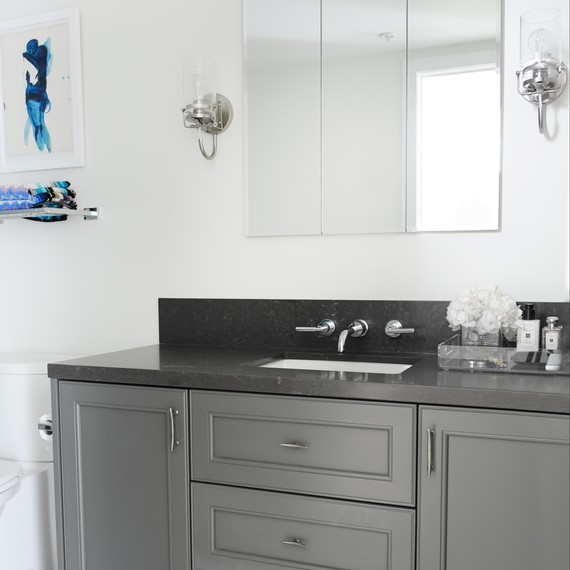 In the upstairs bathrooms, we used a mix of materials to create a comfortable and luxurious feel.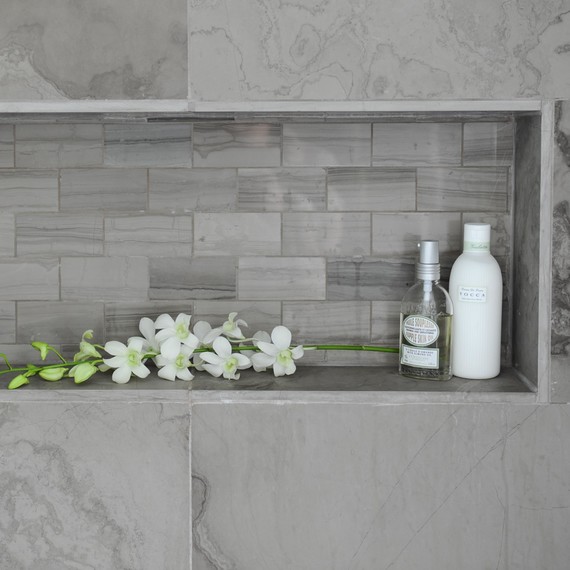 More rustic elements like pebble flooring and wood-grain millwork combine with luxurious marble and natural stone to give the feeling of relaxed refinement.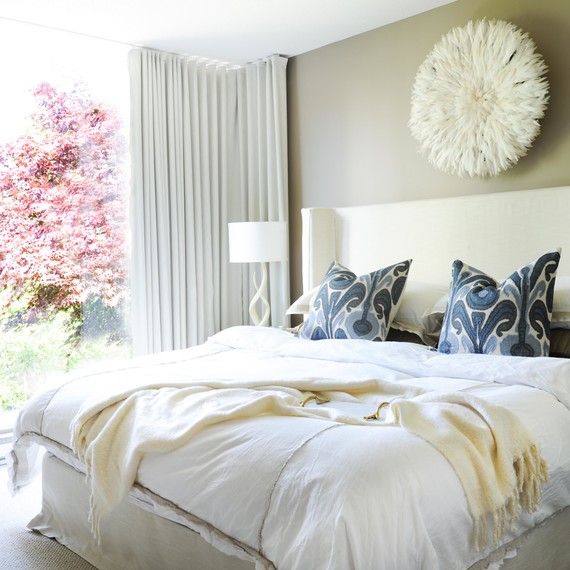 Maintaining a more neutral palette upstairs with just hints of our navy blue helps create a peaceful and relaxing master retreat. Feeling inspired to incorporate more color into your own home? Pick colors that make you feel good! Whether it's a red that energizes you or a green that calms you, trust your instincts. If you're feeling nervous, select neutral tones for your walls and investment pieces (like a really nice throw or bureau) and use statement colors in your art and accessories. That way you can move things around if you decide it's time for a change!
Photography ("after" photos) by Tracey Ayton Photography.
Art: "Plates", "Love Is Everywhere," and "Hug" available through Winsor Gallery.
Accessories available through Provide Home.
Flowers provided by The Flower Factory.
See how Kevin Sharkey transformed a bathroom in the video below!