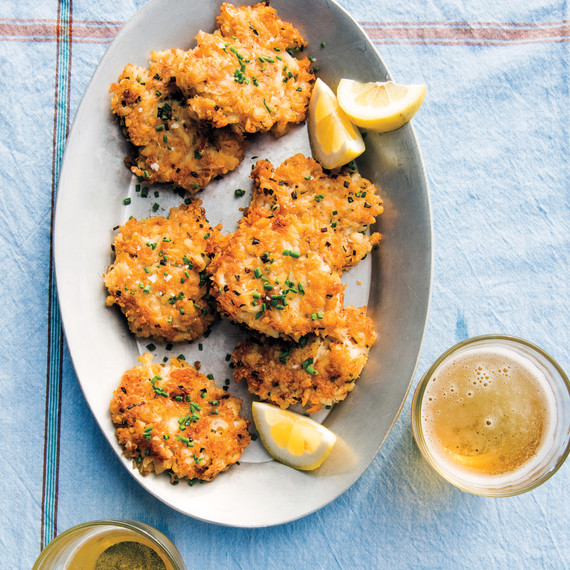 Our food editor Shira Bocar has perfected the classic summer dish (click here for her recipe) and has strong opinions about what makes a good, tender crab cake. Curious?
1.    Start with the freshest crabmeat you can find. Shira and her husband go crabbing and steam their catch as soon as they're back on land, but you can get quality crabmeat at a store, too. "Just make sure you go to a reputable market and check with the fishmonger about the freshness of the crabs."

2.    Go heavy on the lump meat. The large chunks of meat that come from the crab's body are more succulent than the leg meat. Shira likes to use all lump meat in her crab cakes.

3.    Add mayonnaise. All crab cakes need something to bind the ingredients together. Shira has experimented with egg, mayonnaise, and a combination of the two. The winner: "I like to use just mayonnaise. It offers flavor and a nice amount of fat."

4.    Crush up some oyster crackers. In lieu of soda crackers or breadcrumbs for the starch component, she uses crushed-up oyster crackers. "Their subtle saltiness plays along nicely with crab. I like my crab cakes to taste crabby."

5.    Kick it up with mustard. Along with Worcestershire sauce (a flavor-boosting all-star), add mustard to the crab mixture for a hit of tanginess.

6.    Don't overmix. In fact, "keep the lump meat as whole as possible. I like to mix everything else, then fold in the crab meat."

7.    Skip the breading. A lot of recipes call for coating the cakes with breadcrumbs before frying them. "That coating, I think, interferes with the fresh crab flavor. I just put the cakes directly on a nice, heavy-bottom skillet, preheated with vegetable oil."
Get Shira's Crab Cake Recipe