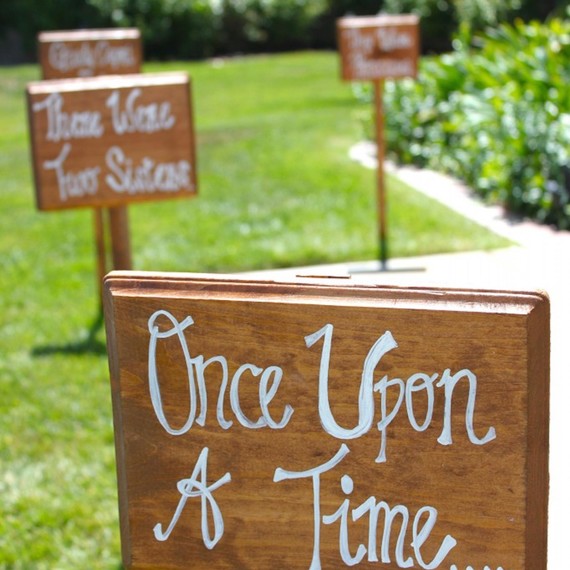 Having three daughters, you can imagine that we live, eat, and breathe anything princess. There are always princess dresses to be worn and tiaras in every room of the house.
When it came time to plan their birthday party (luckily their birthdays are really close to each other!) it was pretty easy to decide what theme the girls wanted: a perfectly pink princess party!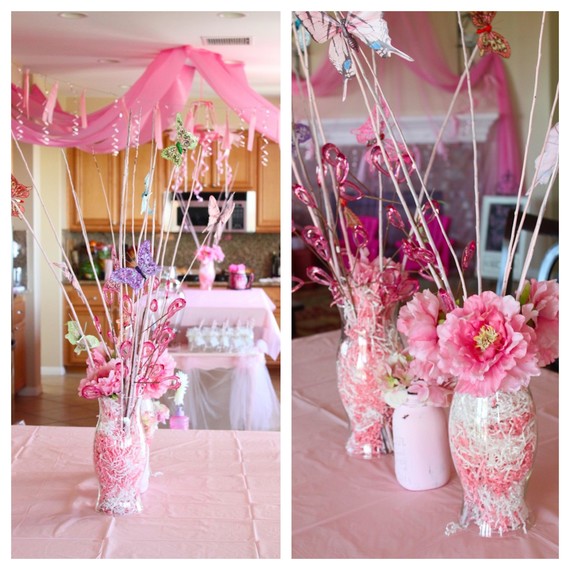 My idea for this party was to really make it feel like a fairy tale. The main color would be all shades of pink, mostly because it's the girls' favorite color. I raided the party-supply section of stores for princess goodies and stocked up on pink plastic tablecloths.
The first thing I did was drape pink tablecloths on the ceiling using pushpins to give the appearance that we were in the girls' "castle." Then I strung sliver and pink streamers across the ceiling. It really gave a whimsical feel to the party and made the room, well, really pink! I also used pink tablecloths on all of the tables being used. Just in case I wasn't clear, I was going for pink.
The next thing I did was add fun centerpices on every table. I used clear glass vases and stuffed them with pink and white crinkled gift wrap filler, then added big pink flowers in the vases. Also in the vases were pink spray-painted sticks with glittered buttflies glued to them. I wanted the centerpieces to feel fun and girly, and I love how they turned out! I also placed pink spray-painted mason jars filled with flowers through out the party.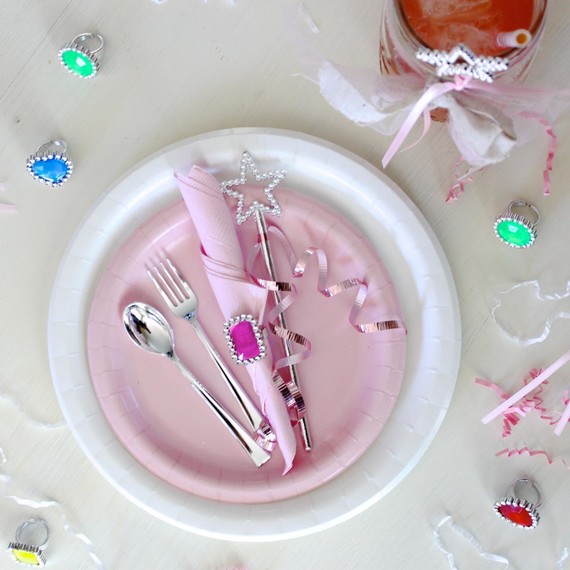 One thing kids love (and parents hate) are little party trinkets! I stocked up on princess wands, jewlery, and mini crowns. At the place-setting table, I threw handfuls of jewels and wands around their plates so the kids could dress themselves up and feel like royalty.
Get as whimsical as you want with your decorations and have a little fun! Little details can really make a party. For example, I used rings to wrap their napkins -- definitely an easy touch to make each place setting look fit for a princess!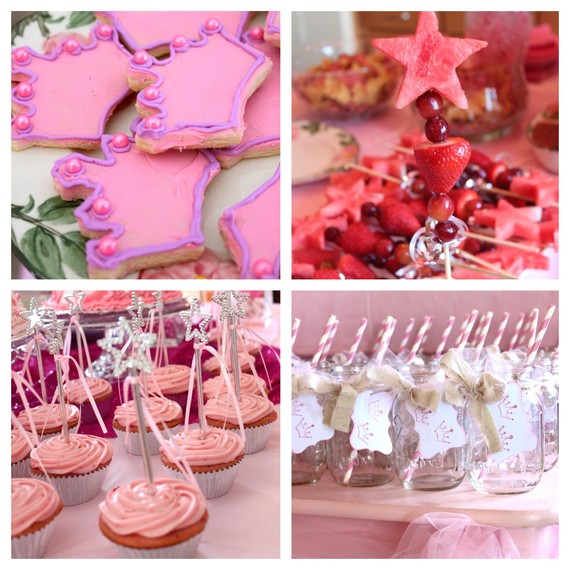 Just in case there wasn't enough pink, I really wanted every item of food to have some sort of pink color to it. Not too difficult right? We had red tortilla chips with salsa, a strawberry chicken salad, a green salad with raspberry dressing, blackberry crostini bread, and pink fruit "princess wands"! We served everything with pink lemonade in mason jars that had princess tiara tags, ribbon, and pink straws.
To top it all off, we had pink cupcakes with princess wands, as well as tiara-shaped cookies.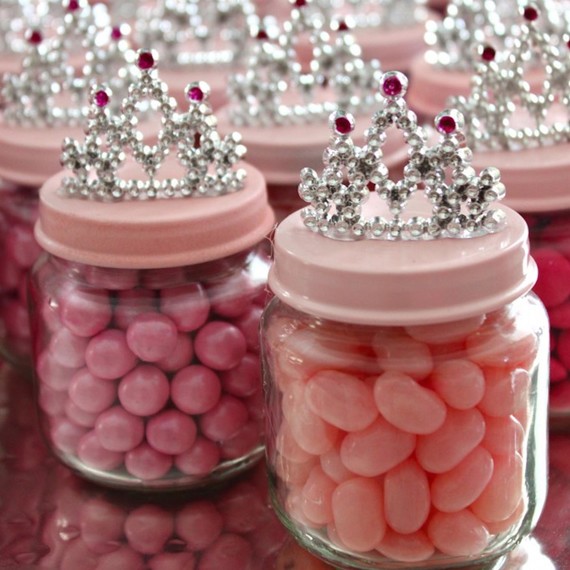 Probably my favorite part of the party were these adorable party favors that each of the guests took home. They were little glass jars (baby food jars to be exact), that had spray-painted lids with glued-on mini crowns. Inside were pink jelly beans and chocolate candies. Each little girl took one home with excitement, hoping to fill it with some of her own goodies later on.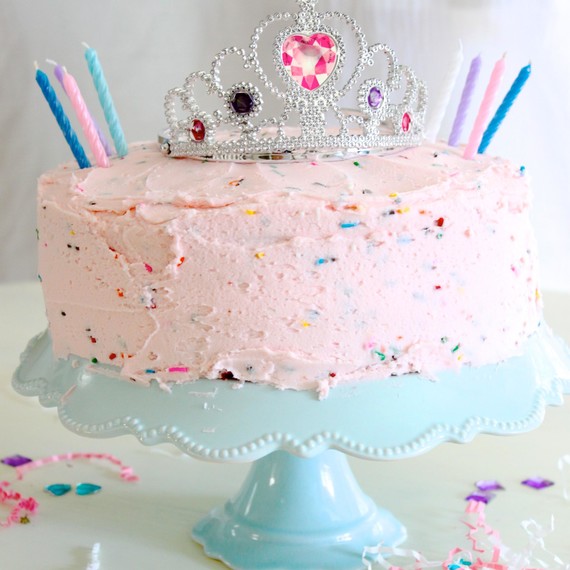 Last, but probably the most important, was the cake. I took my daughters' favorite crown and put it right on top of a simple pink frosted cake. Then I placed that cake in the center of all of the food and treats, so it was the focal point.
Needless to say, our little princesses were thrilled with everything. Wouldn't yours be?!
Want more inspiration? Watch the video below!