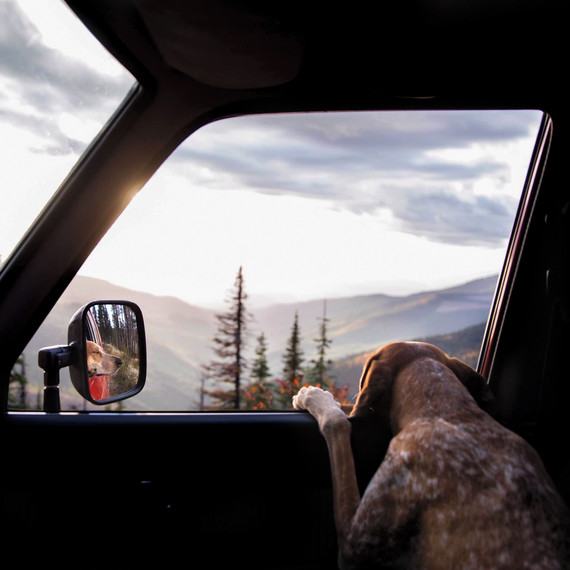 Take a Hike!
If exploring nature with your pooch is on your summer to-do list, keep in mind that many national parks only allow leashed pets in parking areas, in campgrounds, and within 100 feet of roads. Good news: There are a few major vacation spots and a slew of off-the-beaten-path destinations that are just as scenic. Start with these suggestions; for more ideas, go to petfriendlytravel.com/national_parks.
Grand Canyon National Park permits leashed dogs on a number of trails along the southern rim, including Shoshone Point, with its unmatched panoramic vistas.
Dogs can explore the entire terrain at Arizona's Petrified Forest National Park, which boasts one of the world's largest collections of petrified wood, ancient plant and animal specimens, fossils, and petroglyphs, as well as the watercolor canvas of the Painted Desert.
At Shenandoah National Park, in the southern Appalachian Mountains, dogs can roam free on all but about 20 of its 500 miles of trails, complete with dense forests, wooded hollows, rock walls, rambling rivers, quartzite formations, and waterfalls.
Dogs are allowed on 100 miles of trails and 45 miles of carriage roads (and even on the porch of the Jordan Pond House) in Acadia National Park, on the Atlantic coast of Maine. The scenery can't be beat—rock cliffs, forests, ridges of granite, and lakes.
Deemed "the Grand Canyon of the East," Letchworth State Park in upstate New York has waterfalls, million-year-old rock formations, 28 hiking trails, and 600-foot-high rock cliffs—all open to dogs.
Just Add Water
There are many beaches around the country where you and your pooch can go for a swim. Generally, beaches permit dogs on a leash during certain hours or in certain areas (go to the locale's website for specific rules), but there are exceptions (see below). Bring a current dog license and proof of up-to-date vaccinations. For more options, check out petfriendlytravel.com/dog_beaches.
Pups can run free from 7 a.m. to dusk at Fort Myers's Dog Beach, in Florida, where you can wash off sandy paws at the doggy showers.
Leashed dogs will find miles and miles of cliffside beaches along the Cape Cod National Seashore. Just steer clear of any areas that are lifeguard-protected and of any posted locations during shorebird nesting periods.
At Chicago's Montrose Dog Beach, pups can romp off-leash from sunrise to 9 p.m. Be sure to pick up a Chicago Park Dog Friendly Area tag from a local vet.
Splashing off-leash is encouraged at these spots, too: Canine Beach at Bozeman Ponds in Bozeman, Montana; the town beach in Duck, in North Carolina's Outer Banks; and San Diego's Coronado Beach.Five Dog-Friendly Hotels in the U.S. So grab your best buddy and lap up some fun in the sun!
For tips on safer (and more comfortable) air travel with your pet, check out this video with Martha and animal breeder Marc Morrone. The trick is getting your pet used to the carrier -- "once the unknown becomes known, she has nothing to worry about." As Morrone points out, no one is really truly happy on a plane. It's all about making the best of your situation.