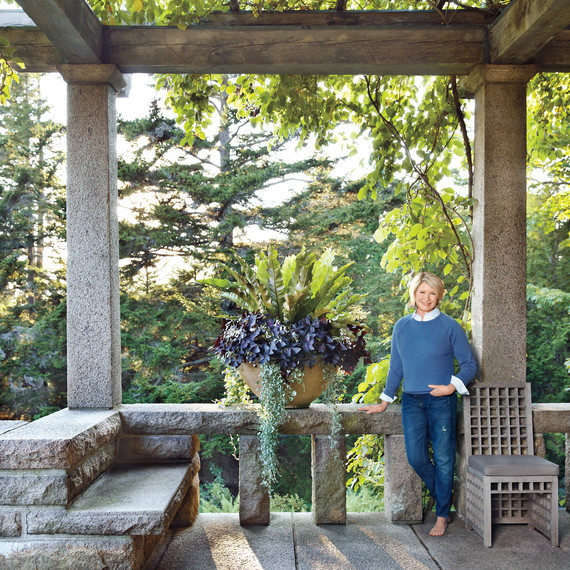 The views through the evergreens down to Seal Harbor and the islands beyond are spectacular. But you don't need to look past the edge of the terrace at Skylands, Martha's home on Mount Desert Island, in Maine, to appreciate the beauty of nature. The 1920s house itself is grand, with a vast terrace facing south. "It needs something to break up the expanse," says Martha. "Instead of furniture, I chose planters."
The vessels, a mix of large-scale vintage and newer pieces that she has collected over the years, are overflowing with plants combined in unexpected ways: There's spiky and soft, upright and trailing, lacy and leathery, all in Martha's signature color palette. "I prefer greens, chartreuse, silver, dark burgundy, and even bluish and black tones," she says.
The striking contents look right at home on the stone terrace—though, like Martha, the plants spend most of the year in Bedford, New York. Every spring, one weekend in late May is designated "planting weekend." The plants are carefully moved from the Bedford greenhouse to Skylands, where Martha and some helpers—her gardeners and a few friends—spend a couple of busy days preparing the terrace for the summer. "She makes an event out of it," says Ryan McCallister, Martha's Bedford gardener, who makes the trip with the plants he has helped tend over the winter. "It's really fun."
When Martha and the crew arrive, the pots are empty and waiting. Several of the most prized vessels are the century-old works of Eric Soderholtz, a Swedish-born architectural photographer who moved to Maine and devised a way to make reinforced-concrete pots that could withstand the region's rough winters. His travels though Europe influenced his work: His massive, simple bowls and urns evoke classical designs. Other vessels are from Lunaform, a coastal-Maine pottery making all-weather concrete planters that are also reminiscent of those found in Greek and Roman gardens. Still others are French antiques and fauxbois pieces that Martha has sought out at garden and antiques shows.
The planters are prepared with a protective plastic lining and filled with a good potting mix, a blend of sterile soil, well-rotted leaf mold, and compost. The tropical and perennial plants—including many agaves and ferns—are chosen for their interesting shapes and textures, but also because they are "so easy and lowmaintenance," says Martha. Many of the plants have been propagated from cuttings of ones she already has, an economical way to expand the collection. They may start out small in May, but they fill in beautifully over the summer. Martha mixes up the compositions in the pots every year, creating new combinations that celebrate the contrasts among the plants. After two days of lugging and digging and designing and potting, the terrace is transformed. What began as a post-winter bare expanse is on its way to becoming a lush oasis, the perfect spot to relax and enjoy those unbeatable views.
Click Here to Tour Martha's "Skylands' Garden"