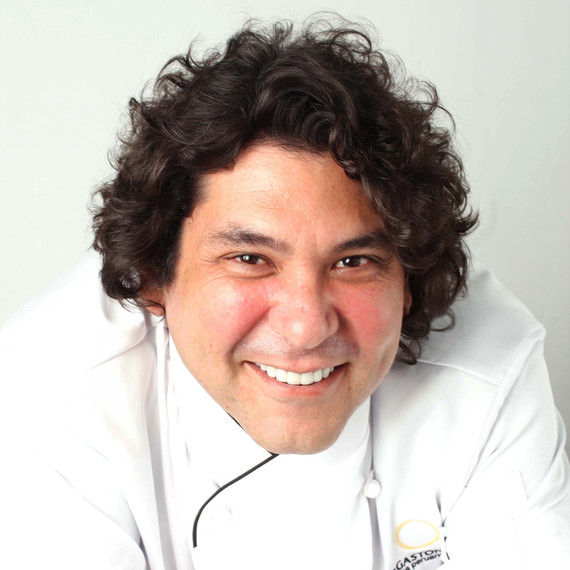 Acurio has opened 33 restaurants in 12 countries, has published 20 books (including his most recent, Peru: The Cookbook – his first book in English), hosts a weekly cable TV show, and operates a world-class culinary school for underprivileged youth. His Lima restaurant Astrid y Gaston has ranked at the top of the list of San Pellegrino's lists of Latin America's 50 Best Restaurants and The World's 50 Best Restaurants list for several years running.
When he was last in New York, he took some time out of his breakneck schedule to talk to us about his greatest passion: Peruvian cuisine.
How would you explain Peruvian cuisine to an American who doesn't know much about it, besides maybe having had ceviche a few times?
Peruvian cuisine has three big and very important ingredients -- our biodiversity, our cultural diversity, and the pride that Peruvians have for food in their lives. With biodiversity, it's a long story that started 7,000 years ago. We began to cultivate potatoes, then came corn, tomatoes, beans, strawberries, pumpkins, grains like quinoa. You will find 3,000 varieties of potatoes, 400 varieties of chiles, 300 varieties of corn. For a chef, it's like the Magic Kingdom. The second thing is cultural diversity. We've been receiving for the last 500 years cultures from all over the world. Instead of getting insulated in certain areas of the city, they joined together. The first one was Spain and the Inca culture. The second one was the African, followed by Chinese, then Japanese, and finally Italian. These people arrived in Peru with their memories, their ingredients, their techniques, and they started mixing with the locals. And the third thing is the sense that when you go to Peru, you will feel in everybody that the most important thing to them is cooking and food. In Brazil it's football. In Peru, it's food. So when you arrive, you get this vibrant sense of food as an act of sharing, as an act of celebration, not a sense of competition and ego or vanity, which is kind of usual in this very foodie world we're living in, no?
If you were to prepare one meal for someone who didn't know anything about Peruvian cuisine, what would you serve them?
Oh, for sure, first ceviche. And a basic one. Lime, red chiles, red onion, and the freshest fish you can get, so you can get the spirit of our Peruvian food. Then, for sure I would serve lomo saltado [a traditional stir-fry that combines beef, tomatoes, French fries, and rice], which explains the influences of Peru. It's kind of a little bit of China and Italy and Inca and Spain in one dish. And then I would serve picarones. They are a kind of pumpkin-and-sweet-potato beignet. Like doughnuts, but very light. And they sell them in the streets. There is a lady shaping the dough with her hands, making the hole with her fingers, and then drizzling with some honey. It will show you how humble but great at the same time street food is. So you have this balance of these three dishes that show you how diverse Peruvian food is. Oh, and pisco sours to start.
Can you talk about the cooking school you opened for disadvantaged youth?
We understand Peruvian food as a peaceful weapon to promote our culture in the world, to promote our products to the world, and to promote our country as a destination, so we need to help with that wherever we can. And in education, we still have a lot of talent that we lose because they don't have opportunities. We have this underprivileged area called Pachacutec where we could build an amazing cooking school -- amazing, not just, "Hey, okay, let's put a cooking school here," but a GREAT cooking school, with great chefs from all over the world -- Ferran Adria, all these guys coming to the school to support the students. Right now we already have 300 kids working in the industry who graduated from the school, and we have 300 more enrolled -- but with a huge talent for being chefs. And maybe if we didn't build that school, maybe they'd be doing something else.
You have so many pursuits -- you've opened restaurants all over the world, you have the cooking school, the TV shows. What is it that drives you? What are you most passionate about?
I was born to be a chef actually. There are two things that drive me: my nature, which is, being a chef, and being a chef means doing things all day; doing new things all the time. My nature is as soon as you finish one thing, you have to start another. Sometimes it's a recipe, sometimes it's a book, sometimes it's a restaurant. And of course the second thing is the challenges of my country. I am a member of a movement, of a moment. We have the greatest opportunity for our country, to solve its historical problems of the last 200 years, and put it on the map as an amazing, inspirational, creative country that we can share with the world, and bring in pride, honor, and opportunities to our people. And food can be one of the good weapons for that. And chefs are a part of that. Food is a great ambassador.
I laughed when I read that you dropped out of law school to go to culinary school and become a chef, because it seems to be a huge phenomenon here in the U.S. too -- people giving up careers as lawyers to get into the food business. What do you think the connection is?
The connection with me, anyway, and with some lawyers -- their success is only possible if they are defeating somebody else. If somebody loses, you win. It's not nice. On the other hand, what is the job of a chef? Make everybody happy. Maybe if you're arriving home from your job as a lawyer, and you think, "I won, but I didn't win." And you discover food is like, everybody wins.