The summer menus we look forward to the most usually involve at least one of the following:
•  grilling outside
•  easy meals featuring the delicious produce we've been waiting for all year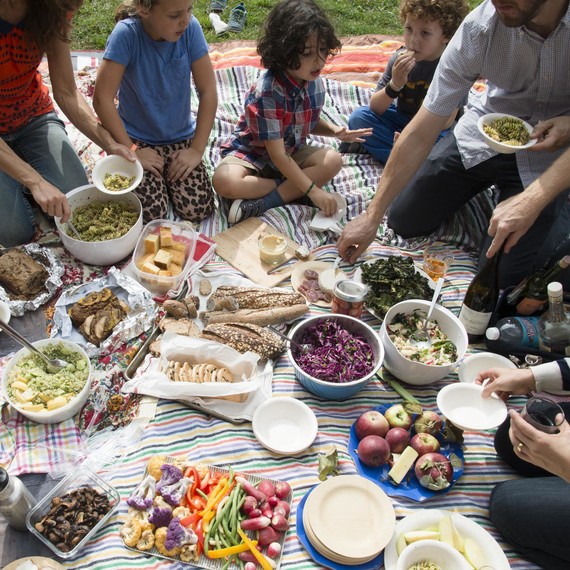 A lot of these meals involve (what else?) soup! Yes, soup in the summer!
The first and most important thing to do when making summer soups is to plan ahead. Chilled soups need several hours to chill out, so prep your ingredients the night before, and assemble/blend them in the morning. Then stash your soup in the back of fridge until you're ready to serve. Cold mutes flavors, so be prepared to add some more salt, lime juice, hot sauce, etc. before you serve it up.
When it's time to serve, add some last-minute finishing touches to your soup. Save some of your ingredients to top off each serving. A pinch of fresh cilantro goes a long way, as does a hint of something acidic, whether it's a squeeze of fresh lime juice, or fancy balsamic vinegar.
Don't know what to serve as a side with your soup? Fish -- chilled, grilled, or otherwise -- makes a perfect side for cold soups. You can serve a side of grains like rice or quinoa salad with chopped- up herbs and roasted nuts. It's even better if you make it a day ahead of time! Another great option is a green salad -- of course! Throw those herbs on some green leaves and voila! When in doubt, add some bread! Grill or toast some thick slices of sourdough bread, then rub with the cut side of a garlic clove, then the cut side of a tomato.
If cold soup isn't your thing, don't rule out hot soup just because the temperatures are soaring outside. A spicy, brothy hot soup like hot and sour shrimp soup can take the chill off in an over-air-conditioned office or set the stage for a cool second course of noodles. Asian-inspired soups like pho or tom yum can be simple and surprising. Making hot soup in the sumer is also a great way to make the most of your summer produce, and you can freeze it and enjoy in the colder fall months.
 
Learn how to make Martha's Mother's borscht by watching the video below!