Perhaps surprisingly, I've always found vegan baking easier than traditional methods, where dairy and eggs are staple ingredients. Once you get accustomed to using flax or chia seeds to bind the batter, it is actually quite simple -- which isn't to say that I haven't failed now and again. But generally there is no special technique required with vegan baking, and you can swap out flours and flavors fairly seamlessly. Things get tricky, however, when you want to bake something that is not only vegan but also gluten free.

Dairy-free, gluten-free baking is pretty straightforward as the butter, milk, or cream can be replaced with oil and nut milk. But there is a reason there are usually lots of eggs in gluten-free baking -- eggs help replace the binding qualities of gluten, leaven the batter, and keep it light and moist. In these banana-oat muffins, I use chia or flax seeds to help bind them and I also add a little baking soda -- and a splash of vinegar to activate the baking soda and give the batter an extra lift. Packed with oats, these are a perfect hearty breakfast muffin or one that you can stash in your bag to snack on when you're on the go.
Amy Chaplin's Vegan Gluten-Free Banana-Oat Muffins
Ingredients
-  2 tablespoons ground chia or flax seeds
-  1/3 cup plain almond or soymilk
-  1 ½ cup gluten-free rolled oats, divided
-  ½ cup almond meal
-  ½ cup gluten-free oat flour
-  2 teaspoons baking powder
-  ¼ teaspoon baking soda
-  1 teaspoon cinnamon
-  4 medium bananas, mashed
-  ¼ cup melted extra-virgin coconut oil
-  3 tablespoon maple syrup
-  2 teaspoons vanilla extract
-  1 teaspoons apple cider vinegar
-  ½ teaspoon sea salt
-  sliced banana to garnish
Directions
1.  Preheat oven to 350 degrees Fahrenheit.
2.  Line a standard muffin pan with 12 paper liners and set aside.
3.  In a medium bowl, whisk together ground flax and almond milk and set aside for 10 to 15 minutes to thicken.
4.  Place 3/4 cup of the oats into a spice grinder or food processor and grind until you get coarse flour. Place in a medium mixing bowl and add remaining ¾ cup oats, almond meal, oat flour, baking powder, baking soda, and cinnamon. Stir to combine and set aside.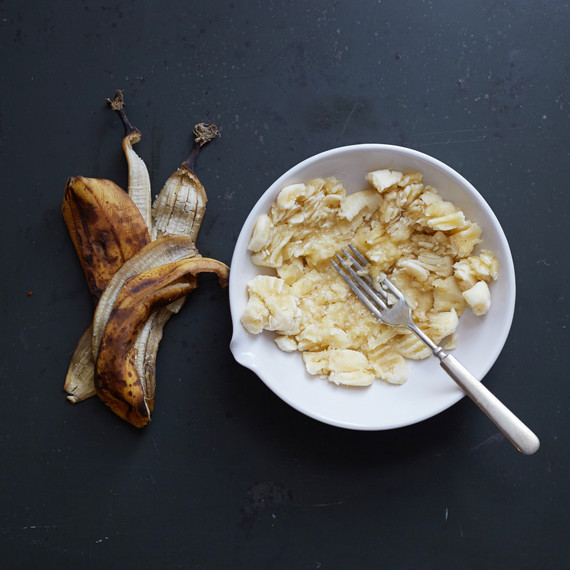 5.  Measure out 1 ½ cups mashed banana and add to the chia mixture along with coconut oil, maple syrup, vanilla, vinegar, and salt. Whisk to combine and pour into dry mixture, stir until just combined.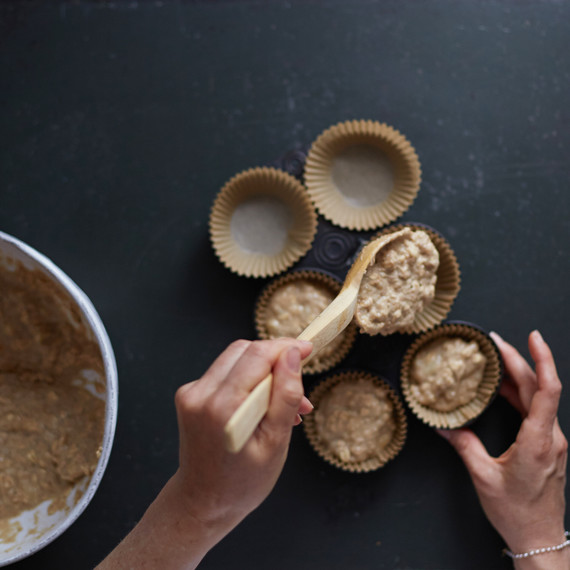 6.  Spoon into prepared muffin pan.
7.  Top each muffin with a banana slice and bake 35 to 40 minutes or until a toothpick comes out clean.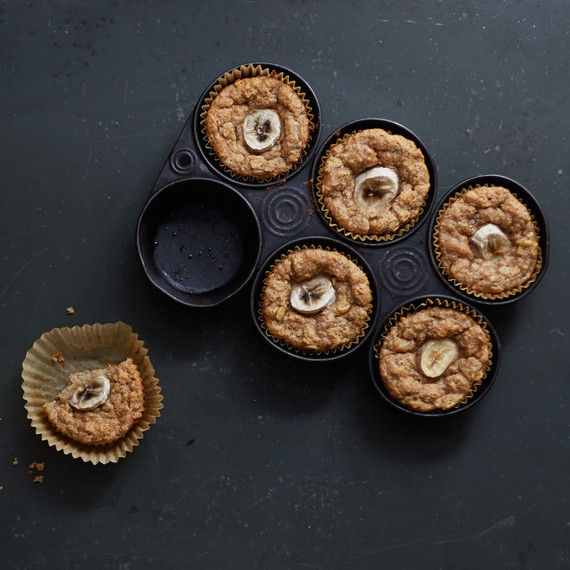 Allow muffins to sit for 5 minutes, then remove from pan and place on a wire rack to cool. Let muffins come to room temperature before serving, and store any leftovers in an airtight container in the refrigerator for up to three days. Enjoy!