There comes a time in the lives of many when cohabitation with a significant other seems like the next step in the game of life. While it all sounds like the ultimate good time in the beginning (living with your best friend and lover, woo!), there are many challenges couples meet when they make this big leap. One of the greatest is how to make their new shared home reflective of both their individual lives and personalities.
When Jen moved into her boyfriend's three-bedroom Santa Monica condo with a dog and fish in tow, they inevitably agreed there were changes to be made. The two decided to join "cohabitation nation," as Jen calls it, when she lent a visiting friend her apartment for a month and realized she didn't really miss it.  Previous to the makeover, the space was your typical man cave -- complete with a multitude of TVs for optimal football viewing and a giant sectional sofa. "He pretty much disliked all the furniture at my place, I disliked most of his. From there, we found Laurel & Wolf to blend together what we didn't sell.… It was our design mediator," Jen told us. Luckily joining forces with one another was fairly easy for the couple as they realized they shared a similar vision for the space. Both wanting to channel the beachy vibes of their Santa Monica neighborhood, they selected the serene ocean-oriented design board interior designer Kimberly Valente had prepared for them. The process culminated in a cozy yet modern beach-house vibe that also provides an excellent space for entertaining, an aspect important to both members of the cohabitation party.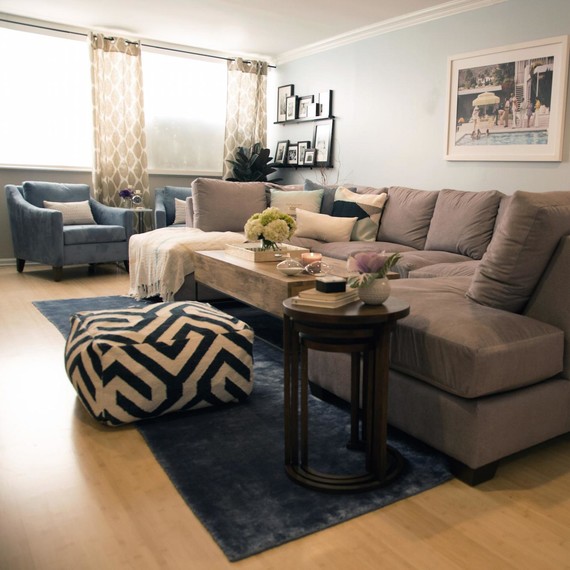 Valente helped freshen up the somewhat drab living area and transform it into an oasis of ocean-blue accents and sandy neutrals. The sofa was already a new addition and meshed well with the color palette, so it kept its place as a focal point in the room, but was complemented with decorative pillows, a throw, and a geometric-patterned ottoman. The couple explained that they often eat while watching TV, so the Rustic Storage Coffee Table from West Elm was the perfect transitional piece for optimizing storage space and providing them with an elevated eating area. The carpeted riser by the living room windows was a less-than-favorable detail to Jen, so that was eventually transformed into an additional seating area with a pair of ocean-blue suede club chairs. The floating shelves on the back wall hold an assortment of nostalgic black-and-white photographs of beach scenes, contributing to the coastal aesthetic.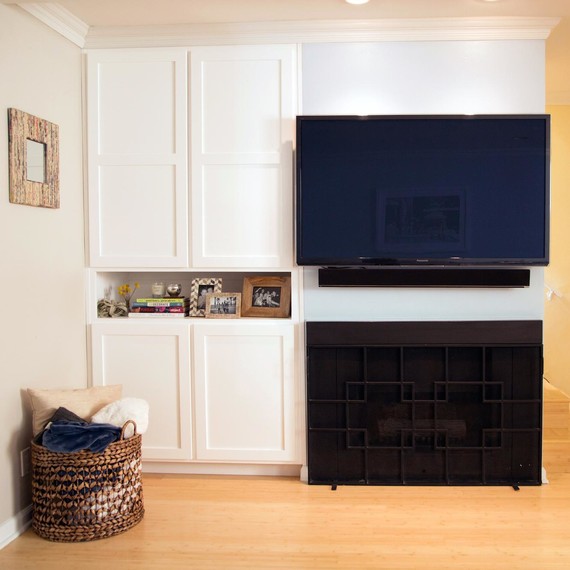 While the multiple TVs are there for only about six months out of the year (football season, naturally), the couple was definitely in need of improved storage and display methods in the entertainment department. The red accent wall where the TV and fireplace sit was repainted a soft blue for a cleaner ambience, and the tangle of gaming consoles, speakers, and DVDs were replaced with a built-in shelving unit. "I think we actually selected our design board because Kimberly Valente had a pic[ture] of the exact type of built-in [shelving] we were looking for already; a great sign for us and common ground, which was important," says Jen of the altered entertainment unit.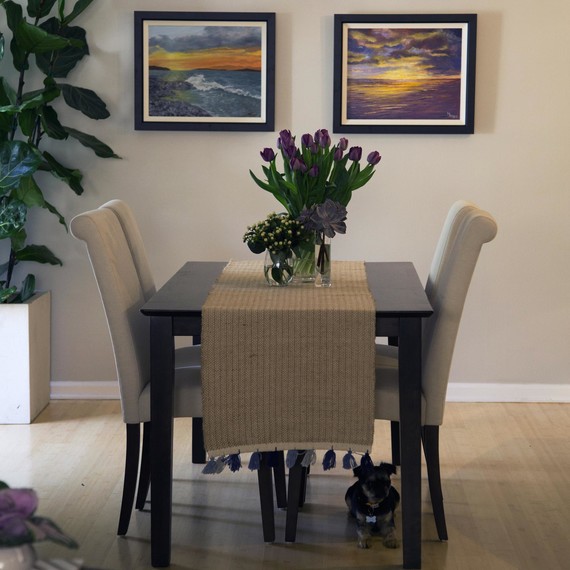 The built-in bar was an aspect the couple wanted to keep for obvious reasons, but the dining room table and chairs were replaced with an elegant, contemporary set. A group of simple bulb pendant lights took the place of an outdated ceiling fan and two painterly images of the ocean at sunset hang on the wall, helping to express the ocean oriented aesthetic of this Santa Monica beach haven.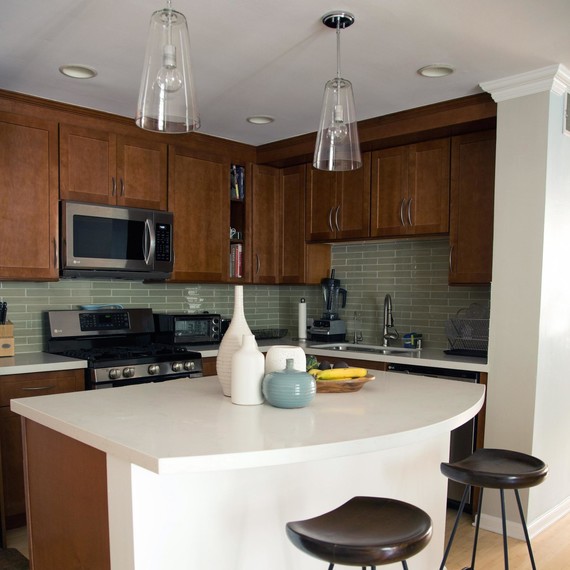 The kitchen received a significant makeover as all countertops were replaced with off-white Caeserstone, while the backsplash was tiled with sea-foam-tinted glass. Two glass pendant lights hang above the island, which is expertly detailed with a group of decorative vases, while a set of modern hairpin barstools with dark mahogany seats tie the whole look together.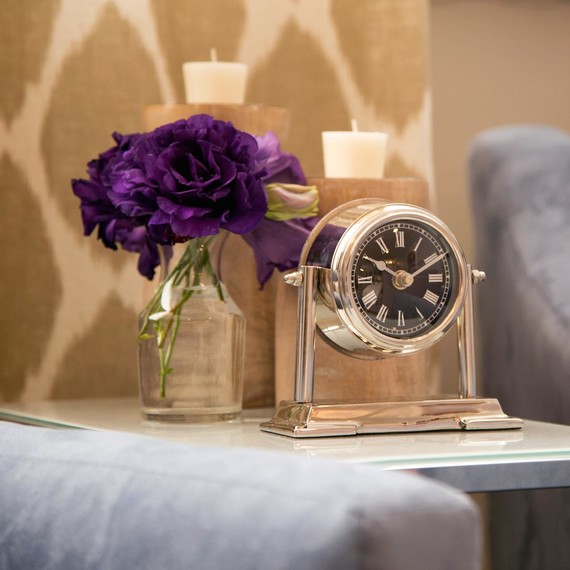 With the help of Kimberly, both Jen and her boyfriend both got what they wanted from the space, making cohabitation a smooth transition. "This was a calculated risk for both of us, but the timing couldn't be more spot-on," says Jen of the completed calm, serene, ocean vibes of their shared Santa Monica condo. Cohabitation is a big, sometimes frightening step, but incorporating one another's styles into a newly shared space can make a big difference and, as Jen pointed out, is a great test for learning how to work together.
If you and your significant other are planning on joining "cohabitation nation," don't forget to check out the Laurel & Wolf blog for tons of tips, tricks, and inspiration to transform your home into the space you both deserve!
Interior Designer: Kimberly Valente of Brick + Beam Studio