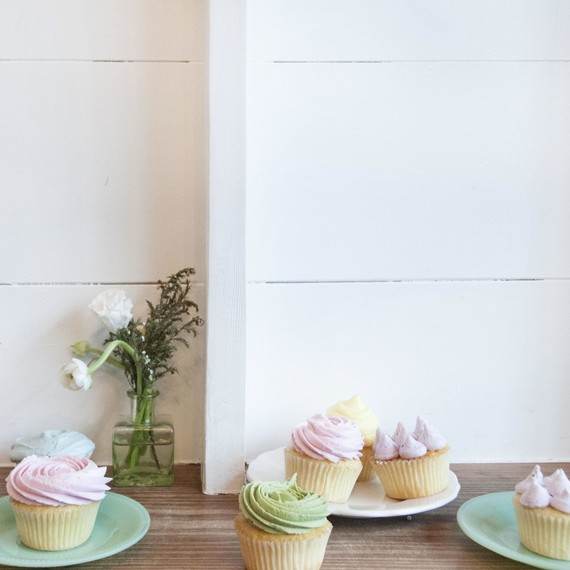 We can think of no better way to spend an afternoon than sipping on a cup of Stumptown Cold Brew and indulging in a gluten-free peanut butter cookie at Ovenly.
Founders Agatha Kulaga and Erin Patinkin just published a cookbook titled "Ovenly: Sweet and Salty Recipes from New York's Most Creative Bakery." The cookbook itself is heavenly, and they shared with us their favorite way to dye their buttercream frosting -- using all natural ingredients. Yes, beet juice, matcha powder, orange juice, turmeric, hibiscus iced tea, blueberries, and even cabbage, can create imaginative, colorful dyes to adorn your darling baked goods. Here's how.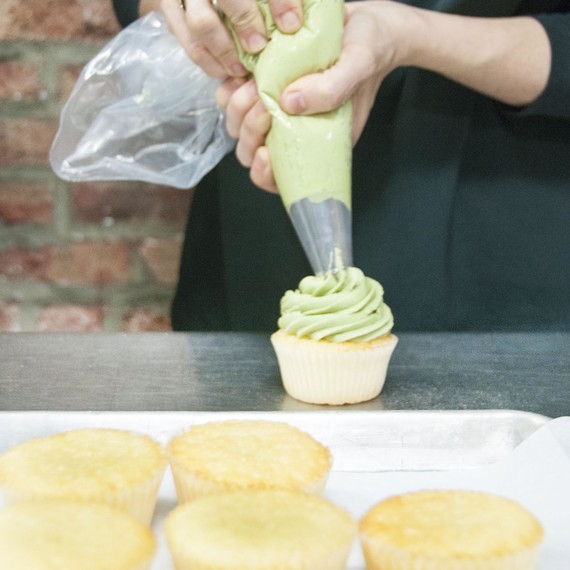 To create all of these frostings, start by making a plain buttercream base, and stir in the natural dyes. If you need more than a ½ cup of frosting, simply multiply the amount of frosting and the amount of the dye by the same factor (i.e if you need three cups pink frosting, multiply the frosting base and the beet juice by a factor of 6).
Pink
½ cup base frosting + ½ teaspoon canned beet juice
Green
½ cup base frosting + ½ teaspoon matcha powder + ½ teaspoon orange juice concentrate, defrosted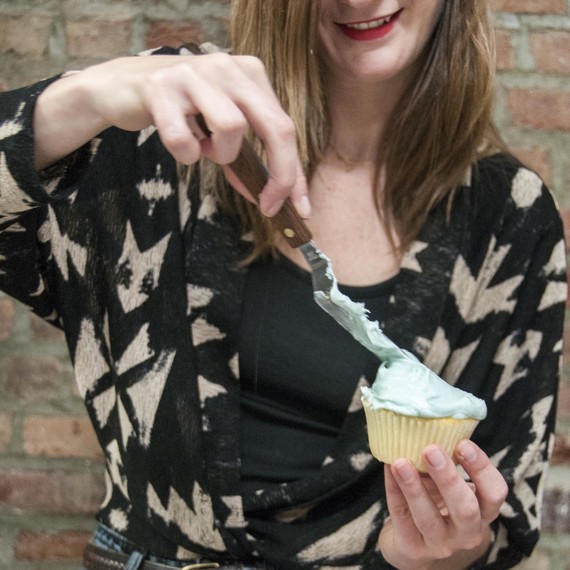 Blue
Cover ¼ head sliced red cabbage with 1 cup water and simmer on low for 15 minutes or until the liquid has reduced to about 1/3 cup. Strain liquid and cool. Discard solids. In a small bowl combine 1/3 cup cooled cabbage juice, 1 tablespoon powered sugar and ¼ teaspoon baking soda. Mix ½ cup base frosting + 2 ½ teaspoons prepared cabbage dye.
Purple
Use the back of a spoon to mash together 1 tablespoon hibiscus iced tea (or water) and 1 tablespoon freeze-dried blueberries until gooey. Strain liquid and reserve. Discard solids. Then mix ½ cup base frosting + 1 tablespoon strained liquid.
Yellow
½ cup base frosting + ¼ teaspoon turmeric + ½ teaspoon orange juice concentrate, defrosted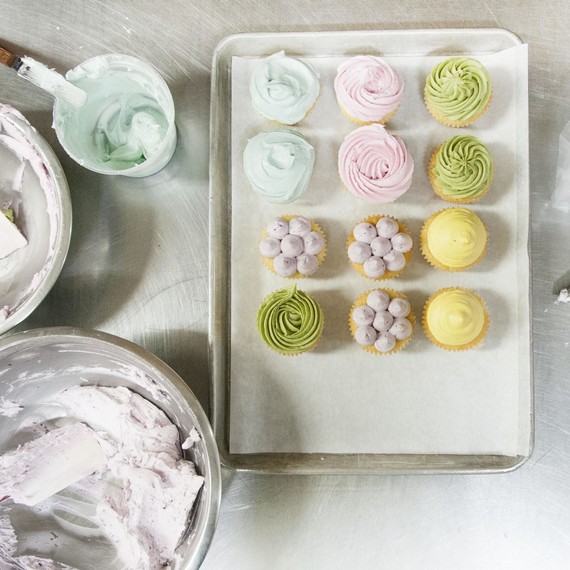 Bonus: 4 tips for better frosting
1.  Let butter come to room temperature before whipping, but don't let it get above 65 degrees Fahrenheit.
2.  If using powdered sugar, sift before using for lump-free frosting.
3.  Whip frosting for the full time required in the recipe (until very light and fluffy) -- it's worth the wait.
4.  If the recipe calls for cream, use the highest-quality cream you can find. If possible, buy pasteurized and not ultra pasteurized. The better the quality, the better the taste!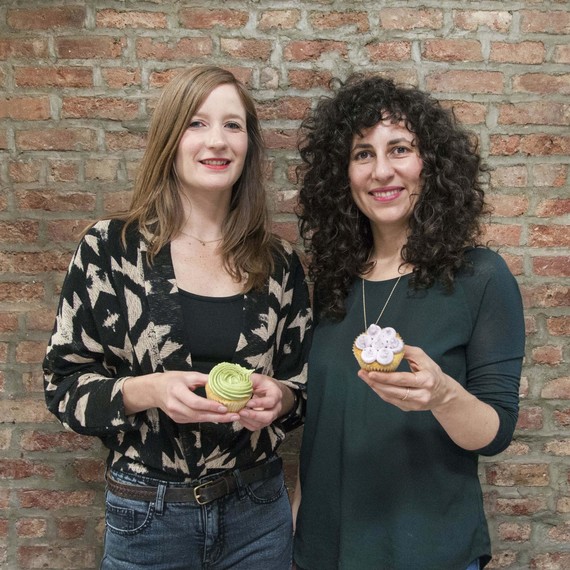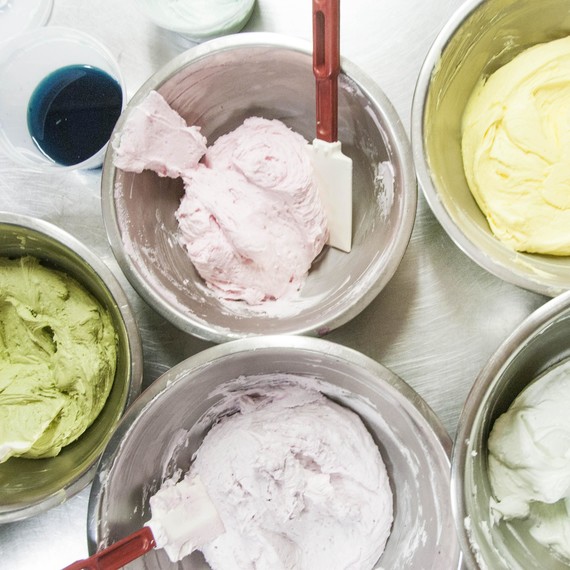 What is your favorite naturally dyed frosting?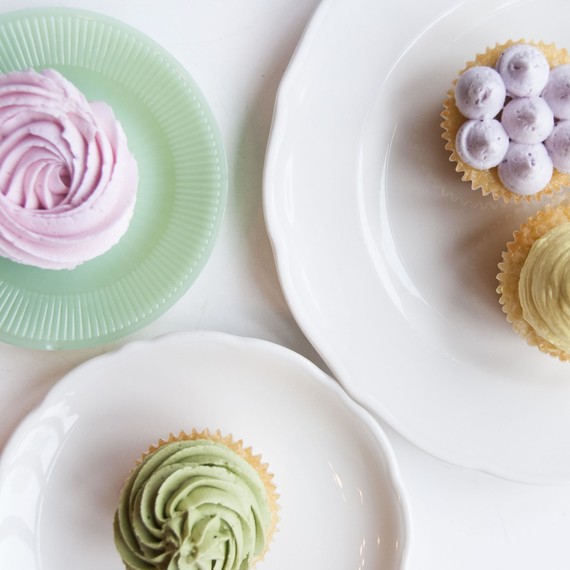 "Ovenly" is writtenby Agatha Kulaga and Erin Patinkin, featuring photography by Winona Barton-Ballentine. Published by Harlequin Nonfiction, copyright 2014.