When it comes to vegan baking, I prefer recipes made with whole-grain flours and without refined sugars. These vegan blueberry muffins fit the bill. Not only are they made with 100 percent whole-grain spelt flour, which gives them a deliciously nutty flavor, but they are also lightly sweetened with pure maple syrup. The maple syrup provides the perfect balance of sweetness without overpowering the delicate flavors of vanilla and coconut oil, making these muffins ideal for breakfast. If you like a sweeter muffin, say for afternoon tea, the recipe is flexible; simply reduce the almond milk and increase the maple syrup to suit your own tastes. When berries are at their peak, feel free to up the blueberries to 2 cups. You can also use cut strawberries, raspberries, or blackberries in their place.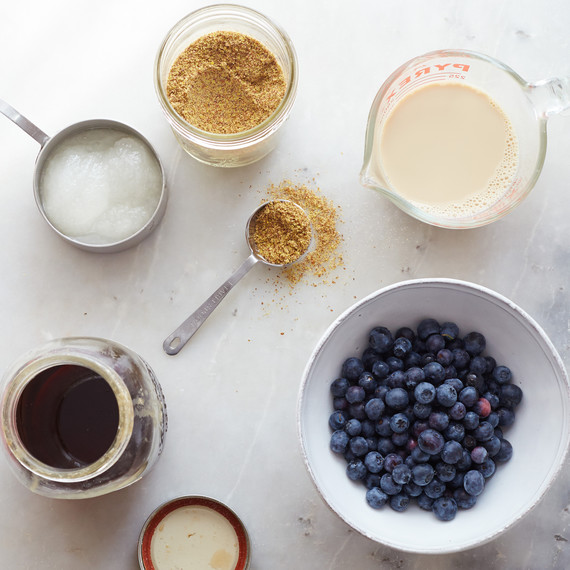 Amy Chaplin's Vegan Whole-Grain Blueberry Muffins
Makes 12 muffins
Ingredients
•  1/4 cup ground flaxseeds
•  1 1/3 cup plain almond or soy milk
•  1 3/4 cups whole spelt flour
•  1 tablespoon aluminum-free baking powder
•  1/2 cup almond meal
•  1/2 cup pure maple syrup
•  1/3 cup melted extra-virgin coconut oil
•  1 tablespoon pure vanilla extract
•  1/4 teaspoon sea salt
•  1 1/2 cups blueberries
Directions
1.  Preheat oven to 350 degrees.
2.  Line a standard muffin pan with 12 paper liners and set aside.
3.  In a medium bowl, whisk together ground flax and almond milk and set aside for 10 to 15 minutes to thicken.
4.  Sift spelt flour and baking powder into another medium bowl, add almond meal, and stir well with a whisk to break up any lumps.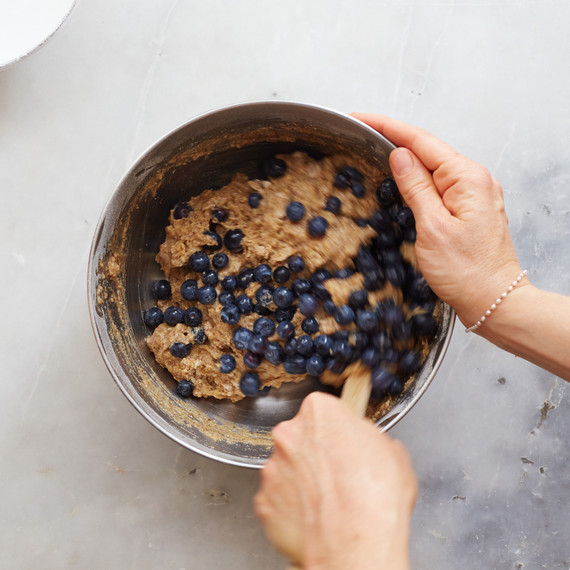 5.  Add the maple syrup, coconut oil, vanilla extract, and salt to the flax mixture and whisk to combine. Pour into dry mixture and stir with a spatula until just combined. Fold in blueberries.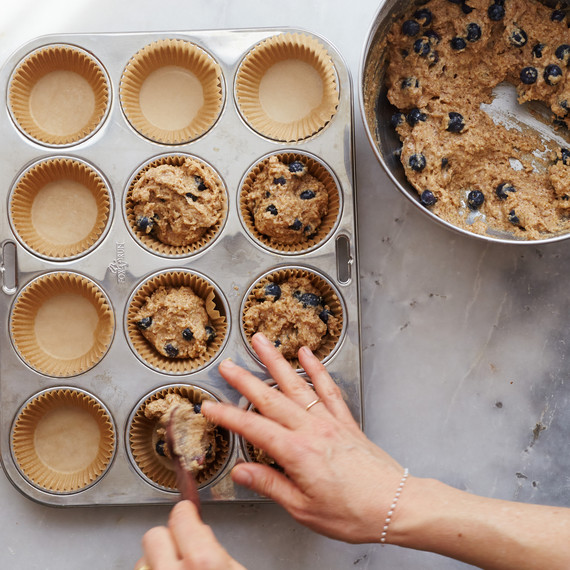 6.  Spoon into prepared muffin pans.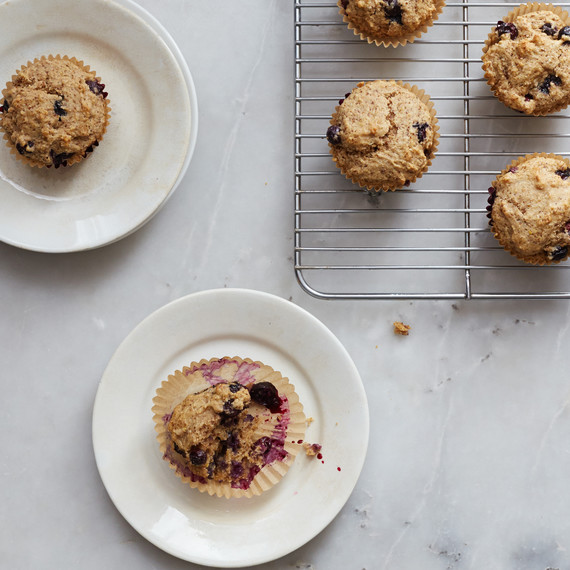 7.  Bake for 25 to 30 minutes or until a toothpick comes out clean. Allow muffins to sit for 5 minutes, then remove from pan and place on a wire rack to cool. Store any leftover muffins in an airtight container in the fridge for up to 3 days. Allow muffins to come to room temperature before serving.