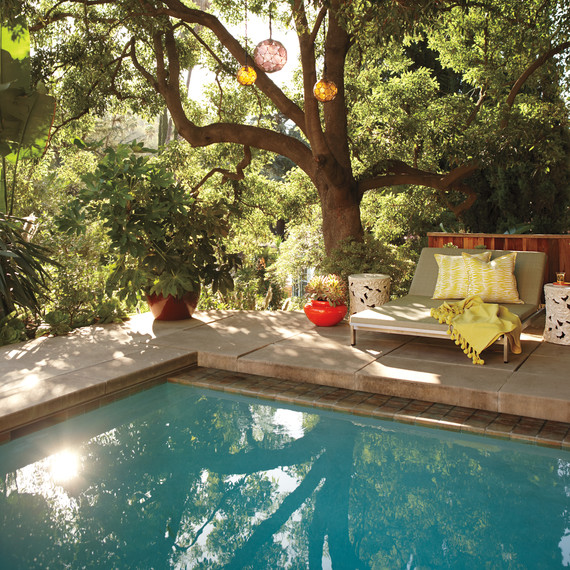 Keep the walking area clear. This includes everything from inflatable toys to broken glass and leftover debris from a barbeque.
Secure your pool. The perimeter of the pool area should be enclosed with a fence (4 feet high or more) that includes a self-latching gate. When not in use, the ladder or slide should be removed to prevent access, and a safety cover should seal the water's surface; choose one that meets the safety requirements set by the American Standards for Testing and Materials (ASTM).
Have life-saving equipment. This includes life rings, floats, or a reaching pole. Store them within easy reach in the case of an emergency.
Cover the drains. The vacuum effect is powerful enough to cause a swimmer to become stuck underwater, otherwise known as drain entrapment. To prevent this, consider installing anti-entrapment safety drain covers. These can typically be purchased at your nearest pool supply store.
Set up an alarm. There are several different types depending on your budget and style of pool, including ones for your gate, ones for your door or window (if the pool is affixed to the house), ones for the perimeter (powered by a laser), and ones designed to detect motion in the water itself.
Never swim alone. That goes for adults too! For the kids, appoint an adult supervisor and ensure that they are instructed on the rules. Additionally, discourage them from dangerous games such as breath-holding contests.
Clean up your pool water. This means monitoring it for proper chemical levels, and filtration, and adjusting accordingly should it become cloudy. The bottom of pool should be clearly visible at deepest depth. This helps to prevent recreational water illnesses (RWIs).
Lastly, have a first-aid kit on hand. It may seem like an extra precaution, but you can never be too safe even in the summer months! Stock it with everything here.