Given how much time we spend in our kitchens, it makes sense that they are considered the most critical selling point of a house these days. And when a kitchen space doesn't immediately fit your vision, it becomes the leading item on the "renovation dream list." As amazing as a brand-new kitchen sounds, anyone can tell you that renovating a kitchen is far from a walk in the park -- the time, energy, and costs can be so high that it can prevent the entire project from happening.
But don't let this stop you from doing anything at all! A few small adjustments will bring you closer to cooking in the kitchen of your dreams! It's amazing how simple tricks and tips can instantly bring an updated look to your space when a full-blown renovation just isn't in the cards. Read on for a few of our favorite quick fixes -- they are sure to spruce up even the most dated of kitchens.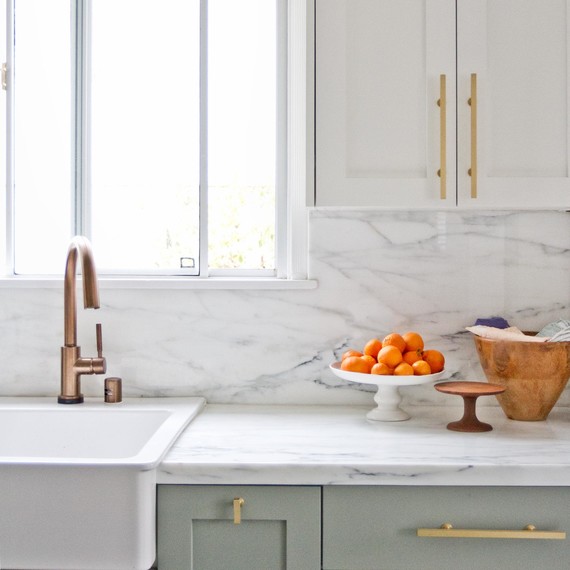 Switch up the hardware
This isn't anything new, but wowza! Does it make a huge difference! Try swapping outdated knobs and drawer pulls with more modern versions -- right now brass and leather are having a moment. We're obsessed with the brass fixtures Sarah Sherman Samuel used in her kitchen update. Hardware stores carry some chic options like from the Martha Stewart Living line at The Home Depot, or you can also find fixtures at a place like Schoolhouse Electric or Anthropologie. This idea is perfect for renters because it's ridiculously easy to switch the old hardware back come the end of your lease!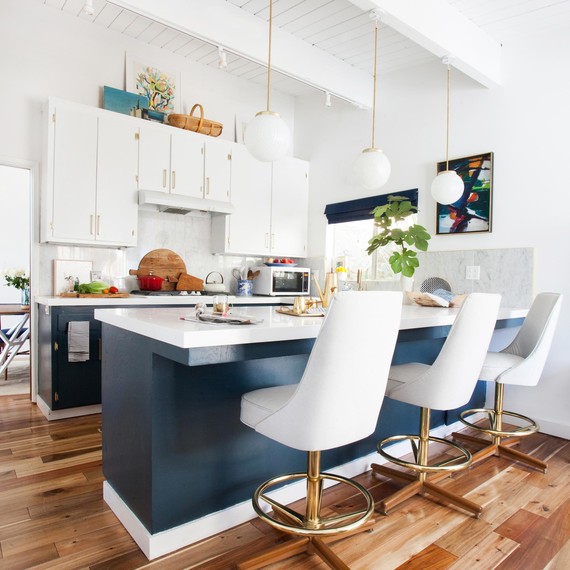 Give your cabinets a face-lift
Does your kitchen look straight out of a '90s sitcom because of those dated wooden cabinets? A fresh coat of paint on just the cabinets is guaranteed to help you shake the "Tanner Family look!" White will always brighten up and modernize an otherwise drab space, but we're also digging the look of two-tones--much like the approach Emily Henderson took with her eye-catching kitchen update. Painting the bottom cabinets in a dark color like navy or sage and keeping the top cabinets a crisp white will give your kitchen a super gorgeous and contemporary feel.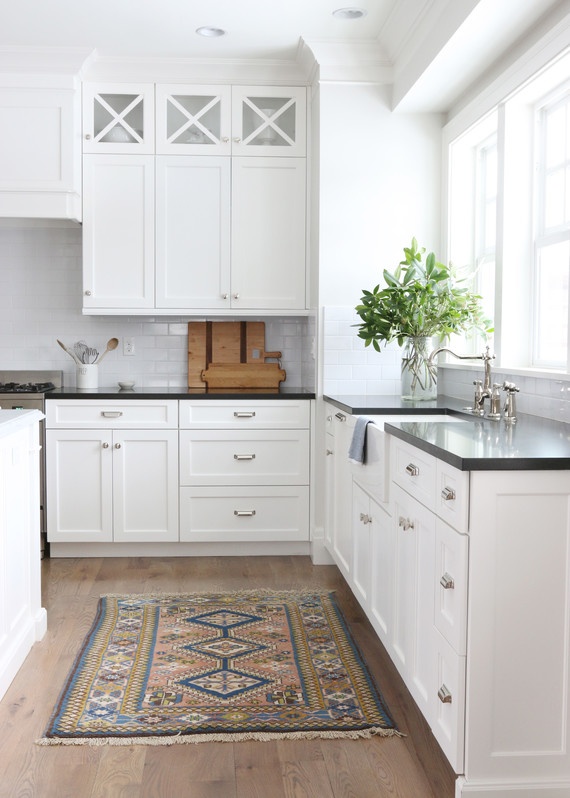 Add some character
The kitchen is a place of congregation and bonding -- why not treat it as such?! Give the kitchen some character by adding unconventional and unexpected flair to it. Try adding some warmth with a vintage rug like in this beautiful kitchen by Studio McGee. Display some non-kitchen-related decor elements to the shelving and countertops. Have a funky piece of art that you have yet to find a place for? Why not try it out in the kitchen?
These are just the tip of the iceberg when it comes to creative ways to update your kitchen without breaking the bank. Don't be afraid to experiment! You'd be surprised at how a few small changes can make such a huge difference when it comes to decorating.