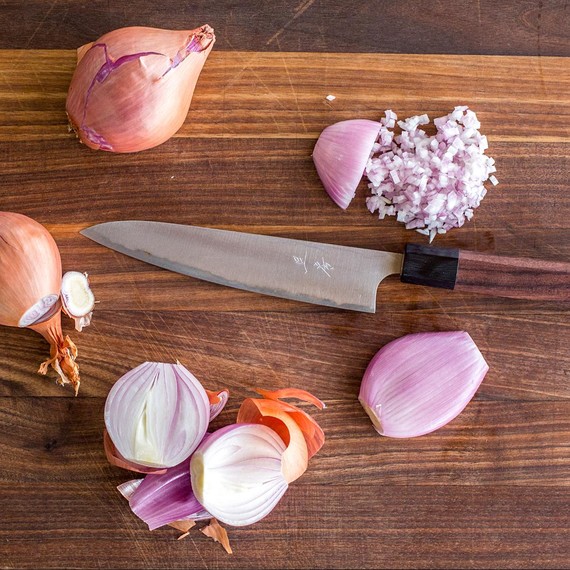 It's easy to think that chefs have superpowers, what with their flashy skillet-flipping, ultra-clean-and-organized workspaces, and zippy slicing and dicing skills. But here's the deal: They don't. Chefs are people too -- they just have a lot of practice. Through that practice they develop quick tips and tricks for doing everyday things in the kitchen faster and easier. How I mince shallots today is one of those methods I perfected after lots of trial and error. We use shallots a lot here at ChefSteps in our cooking. If I can mince a shallot like Superman, so can you. Here's how:
1.  Cut off a bit of the root to get rid of the majority of the stringy, woody stuff, but don't slice the entire base off. You want to keep part of the base intact so it holds the shallot together as you start to mince.
2.  Slice the shallot in half lengthwise. Peel off the paper.
3.  Place one half of the shallot face-down on the cutting board.
4.  With the root facing your left hand and your knife in your right hand (or the opposite if you're a lefty), cut the top of the shallot off.
5.  Make horizontal slices starting near the cutting board, and moving up, but do not slice all the way to the base; leaving the base intact holds the shallot together. Slice as thick as you want your mince to be.
6.  Then make vertical slices.
7.  Using the fingertips of your left hand, bunch the sliced shallot together and mince, beginning at the tip and moving toward the root.
8.  Repeat steps 3 through 7 with the other half of your shallot.
Voila!
Watch this quick video to see all the steps in action, then use your perfectly minced shallot in a light, bright vinaigrette or an earthy mushroom duxelle. Heck, once you learn this technique, you'll want to use minced shallots in everything. So get to work!