Why wallpaper?
When it comes to hiding imperfections on your wall, wallpaper (and wallcoverings in general) is more effective than paint. Plus, these days, removing and replacing wallpaper is relatively easy. As Liza Clark of Clark and Clark Interiors points out, nothing is permanent unless you make it that way! These days, there are so many renter-friendly, easily removable wallpaper options.
Compared with regular paint, wallpapers come in a wider variety of patterns and designs, providing you with more customizable options. Although wallpaper can initially cost more than paint, it's more cost-effective since it lasts longer. Wallpaper can stay on your wall for up to 15 years, some even longer than that!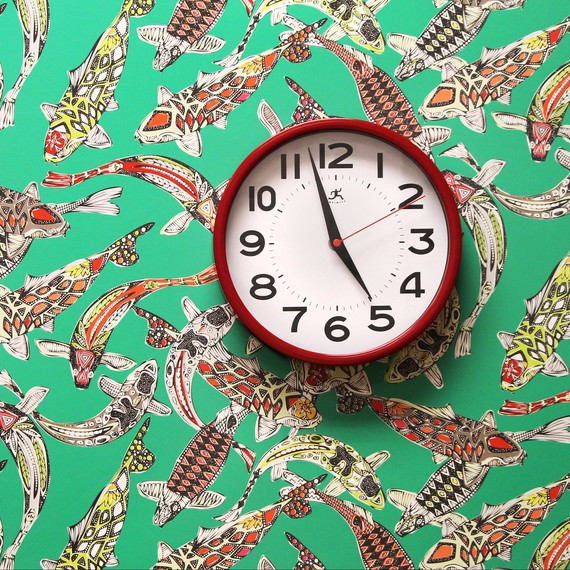 What types of wallpaper are there?
Location will influence what type of wallpaper you need, and there are a few different kinds to choose from. For instance, if you plan to apply wallpaper in the kitchen, you want something stain-resistant and washable. For wallpapers in a playroom, nursery, or kid's room, you need one that can withstand scrubbing. Bathroom wallpapers need to be moisture resistant, and so on. There are generally three kinds of wallpaper; here's the breakdown:
Prepasted
These types of wallpaper are precoated with adhesive. That means you don't have to cover it with wallpaper paste when installing. All you need is to apply a bit of water or prepaste activator to activate the dry paste film.
Nonpasted
Also known as dry-back wallpapers, nonpasted wallpapers do not come with prepaste so you have to apply an adhesive when sticking it to your wall. Tip: Use the wallpaper paste recommended by the manufacturer.
Self-adhesive
As its name suggests, self-adhesive wallpapers have their own adhesive, often a sticky film. Because of this, they do not require an activator. Self-adhesive wallpapers are like stickers -- each strip has its own backing, which is removed when installing the wallpaper.
What scale do I need?
The scale of the pattern is everything! According to interior designer Lynne Clark, "you should never be afraid to go against what you have seen in other similar spaces. Most often, people will go too small. Sometimes you really do need a small-scale paper. But even if you are doing a powder room, a larger scale can be really good looking and chic."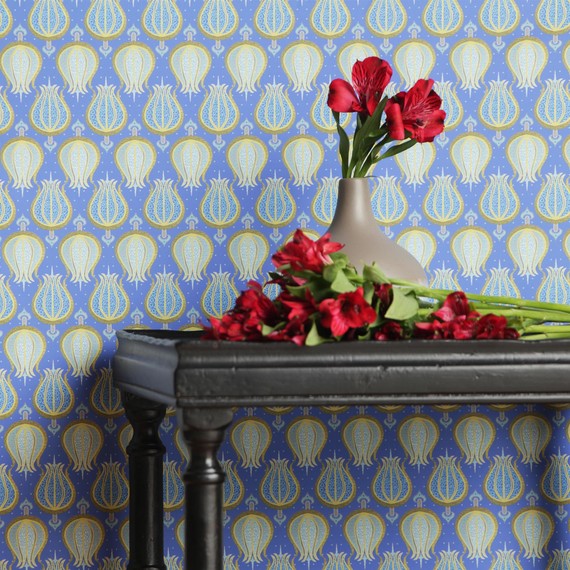 What colors should I use?
Start by considering the room's furniture, size, floor, and accent pieces for ideas. For instance, if you have cool-hued  furnishings, steer away from wallpapers with blue undertones and go for something complementary instead. To make the room seem larger and provide a warm atmosphere, go for light colors. To make a bold statement and add a bit of drama, there's nothing wrong with choosing a bold color.
Liza Clark says, "When choosing colorways for wallpapers, determine if you want the papered area to be the focal point, something stunning sitting in the background, or just an area that settles to the backdrop but still gives life to the space. Then from there start choosing your colors." She also says to be wary of primary colors (red, blue, yellow) because they have a way of stealing the show. Instead, go for a colorway that has bold and soft colors. A commonly overlooked factor can also be the room's natural and artificial light source. This light can sometimes drastically change the appearance of your wallpaper, so always order a swatch first to test out how the color looks with the lighting in your room.
How do I choose a pattern?
It's necessary to look at the pattern not only for aesthetic reasons, but also because it can influence the ease or difficulty of the application. Frequently repeated patterns can be useful for hiding wall blemishes. However, keep in mind that these patterns will present a bit of an added challenge when you start lining up the edges of each panel. According to Liza, another key factor is to be aware of geometric patterns that can either be too busy or just right. The tighter the pattern the more busy it becomes to the eye. A good rule of thumb to remember: Horizontal patterns make the room look wider, vertical makes the ceiling appear higher. Liza suggests to go online and try to find examples of the wallpaper implemented in a room "before finalizing your decision. Get a better idea of what the repeat is like on a wall -- as opposed to imagining what it's like based on the 12"x12" sample in the swatch book."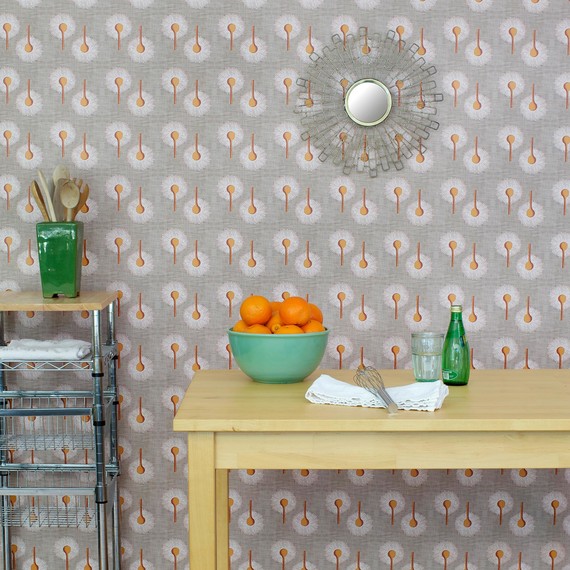 Should I use a textured paper?
Don't be afraid of texture! It can also be a clever way to hide nicks and bumps on your wall. Adding texture also allows you to go more neutral in color and still have the space look visually engaging.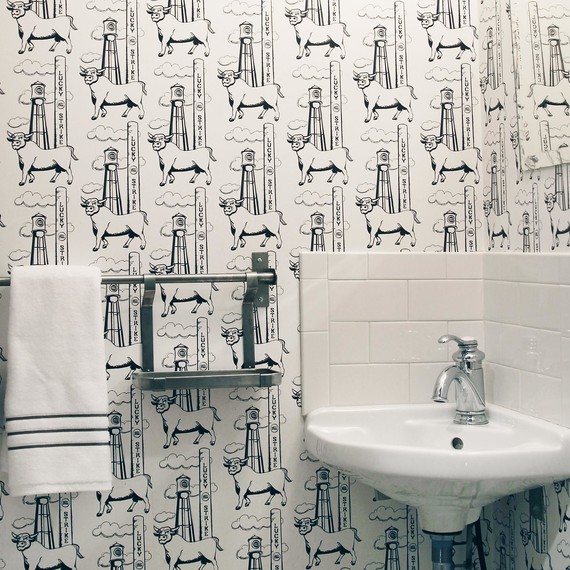 What are the biggest wallpaper trends right now?
•  metallics and metallic accents
•  graphic patterns
•  texture and embossed wallpapers
•  large English florals in updated colors like fuchsia, orange and citron
•  large scale black and white
•  abstract and water color prints
•  dip-dyed or ombre
The bottom line: Go with what you like and don't be afraid to break the rules!
I'm on a budget, how can I cut costs?
Wallpaper isn't all or nothing -- doing just one accent wall can make just as big a statement. You could also try wallpapering below the chair rail or a papering a backsplash. If you're scared to dive in, purchase a more forgiving wallpaper like a peel and stick version, and hang it yourself!
Do I need a wallpaper installer?
This will partly depend on the type of wallpaper you're using. Many of the "peel-and-stick" versions are simple enough to install yourself if it's a relatively small room and you have a partner working with you. If you're using a complex repeating design in a larger room or if you're using non-pasted paper, try to fInd a skillful hanger, especially if you aren't experienced in hanging wallpaper yourself.
If you decide to go for it yourself, keep in mind that matching the seams is key! Especially if you have a complex seamless repeat. If it isn't done well, the paper can potentially look cheap and sloppy. Nobody wants that!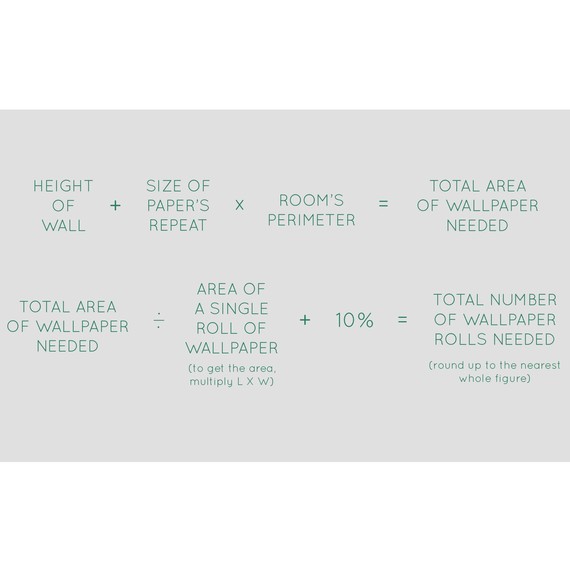 How do I know how much I'll need?
Warning, you're gonna have to do some math! To estimate how many rolls of wallpaper you need, just grab some paper and a pencil, and follow the formula above. Some sites, like Spoonflower, Lowe's, and others will offer a handy roll calculator.
When measuring your walls, always round up. Rounding your measurements will give you extra paper to work with. Always order two to four more rolls of paper for waste and overages. Mistakes will happen whether you're a professional or not, and stores will sometimes discontinue a certain style, so you'll be glad later if you get extra paper now.
Wallpaper designs by Sharon Turner, Su Schaefer, Shelly Penko, Janiece Senn, Jennifer McManus, Caroline Okun, Deanna Bliss.