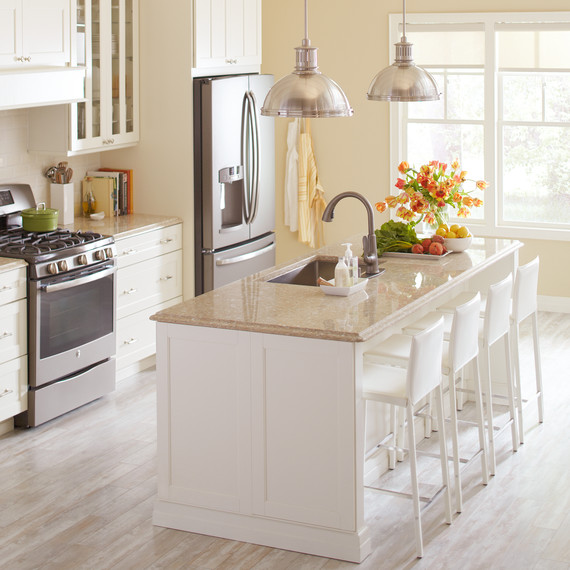 FIRST STEPS
"It all starts with a dream," says Sarah Fishburne, the director of trend and design for The Home Depot. She advises customers to do their homework: Get familiar with what's in the market, start clipping inspiration photos, and start saving money!


Once that's done, "... make an appointment with a kitchen designer. A designer will point out things you wouldn't have thought about, like kid-friendly organizational pieces, two dishwashers if you're a busy family, or banquet seating." A designer, she says, can help customers fill in the blanks of their kitchen design, and really get the kitchen they want and deserve.
KNOW YOUR PRIORITIES

Make a list of needs and wants. If you make a list of things you have to have versus things you can live without early in the process, it will really help with your budget later on, advises Fishburne. Most important, understand the flow of your kitchen -- or the "work triangle" -- and the lighting! Says Fishburne, "A lot of customers forget about lighting. There are so many ways to light [a kitchen], and you want a well-lit kitchen. Lighting can really elevate a kitchen design."
GET INVOLVED
Be involved in every step of the kitchen redesign process, so you know exactly what you're getting. "It's a big deal," says Hallie Lenwai, a Home Depot kitchen designer in Honolulu. "[Your kitchen] will affect your life two to three times a day for the next couple of years, so you're going to want to love it when you're done."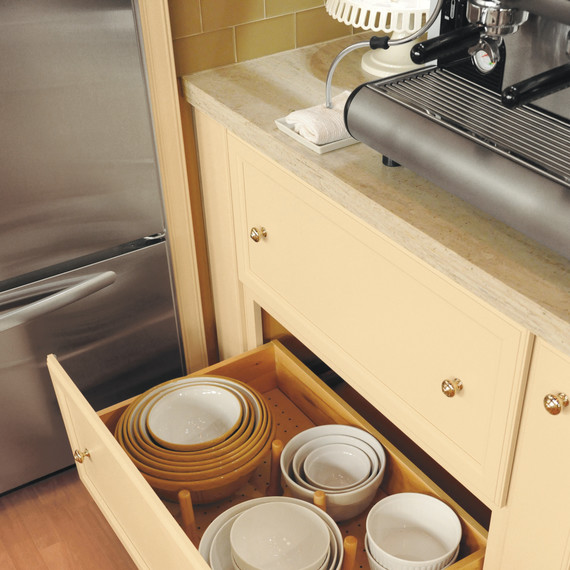 DO IT NOW
When asked which piece of advice she always gives to customers, Cathy D'Ascenzo, a Home Depot kitchen designer in White Lake, Michigan, says, "Non-buyer's remorse: Don't allow it to happen." A lot of times, consumers scrimp on budget and miss out on features they later regret not purchasing. She explains to go ahead and spend the extra money now for organizational pieces people often overlook, like rollout drawers, because it can be harder to add them later.
Kim Sullivan, a Home Depot kitchen designer in Middletown, Rhode Island, agrees. "Most accessories are installed already in the cabinets, so it can be more expensive [to add them] down the road."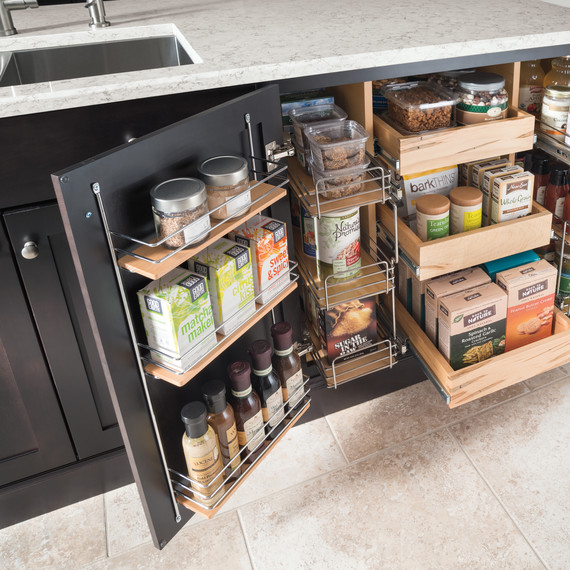 DEAL WITH SMALL SPACES
Sarah says the key is to maximize your vertical space. "[Being] well organized makes small spaces function better. Taller cabinets and super cabinets [from the Martha Stewart Living line] are super space-saving pieces."
Hallie seconds that. "Be thoughtful about the type of cabinet you're using. Get the most out of your storage, like adding more drawers to create easier access."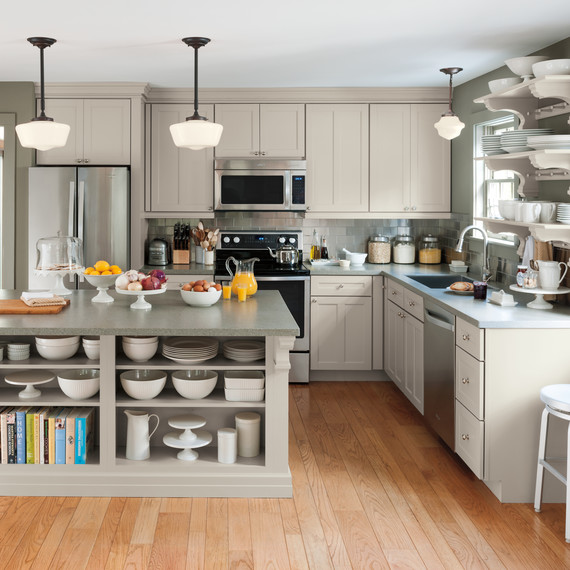 TREND ALERT!
When asked about what's big in kitchens right now, Fishburne says open floor plans are on her radar. "And invisible kitchens," or kitchens designed to effortlessly transition into a living or dining space, she says.
Cool colors, like whites and grays, are hot on her list as well, like the Sharkey Gray cabinets from the Martha Stewart Living line. She says using like colors and then tying the look together with a contrasting or textured backsplash is definitely a trend she is seeing.
"People want a more modern look without being too harsh," Lenwai concurs. "[They] want a sleek look without being medicinal or clinical."
As a general rule, advises Fishburne, rooms that are lighter in color feel more open.
For more about the Martha Stewart Living kitchens line, or to schedule a design consultation, visit The Home Depot today.