Meal planning takes on an even greater significance once kids are a part of your life. They need to eat every day at regular intervals, and we want their food (and ours!) to contribute to their well-being, while simultaneously expanding their palate. 
Ultimately, we're of the Michael Pollan/Jenny Rosenstrach school of thought and believe eating food made from real ingredients (that "your grandmother would recognize") sets our kids out on a healthy path. Try not to emphasize the "you should eat it because it's healthy" part -- it creates a false dichotomy between what we like versus what is good for us, and that's something you don't want to pass on to your kids.
Below are some useful tips that will get your kids to not only eat healthy, home-cooked food, but enjoy doing it!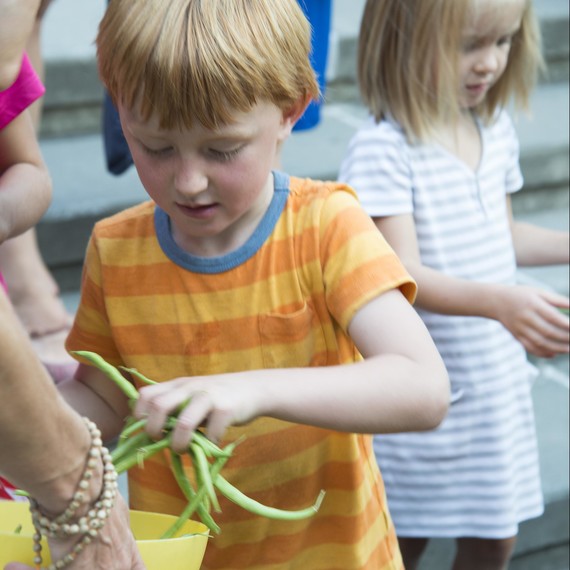 Enlist their help
Have your kids help you from start to finish -- not only will they be involved in the process of making food from an early age, but spending time in the kitchen together is lots of fun. Get them to prep the ingredients: Wash the soil off the greens, peel carrots with a Y-Peeler, etc. These are still exciting jobs for little hands, and having their help will make the cooking process go faster.
If your kids are too young to handle tools, they can still join in on the fun. Just pressing the "on" button on the food processor feels like cooking to our two year-old, and that's how pesto became a regular guest at our table. And speaking of pesto, go ahead and make it with any and all greens you have on hand, including kale, spinach, carrot tops, and random herbs.
When in doubt, have them help set the table, or clear the dishes. Setting and clearing the table involves so many little tasks that there's always something for everyone.
Serve the soup in a bowl or mug of their choice
It seems inconsequential, but presentation is everything. If you're anything like me, you might have acquired a random collection of bowls and mugs of all different shapes, colors, and sizes over the years. Play around with portion sizes! Our kids are inclined to try almost any food that's served in an egg cup or espresso mug. Sometimes we give them the biggest bowl we have, with just a drop of soup, because it looks goofy.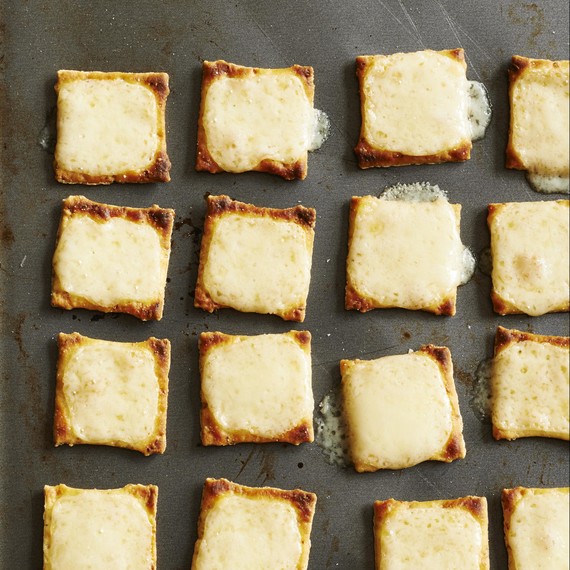 Personalize it with some toppings
This is key. This goes for everything, but it works especially well when it comes to soup. All our kids have a favorite topping or garnish, whether it's grated cheese, tortilla chips, croutons, cut-up hot dogs, or Sriracha (true story).You can also include an unexpected topping in addition to the classics. We like to use up leftover popcorn on soup. It feels like a big treat at dinner! Setting out a few prep bowls with these everyday winners eases the whole meal process because they know immediately that there's at least one thing on the table they love. As long as there's a bit of the good food on that spoon, it's a win.
Anything interactive will make it more fun. We encourage dunking in our soups! A grilled cheese sandwich that's been cut into batons or croutons, an uncrunched chip, or melted cheese crackers can hold a lot of soup and make eating it more fun!
And finally, start a soup club!
Get together with your neighbors and friends and eat soup from a different cook once a week. Food always tastes better when someone else makes it, and our kids look forward to eating a soup that was prepared and delivered like a present. When we deliver soup to each other, we always share details about the soup in an email or text ahead of time. Read it with your kids, so they know what they're eating and what went into the making of the soup.
Photography by Annie Schlechter.