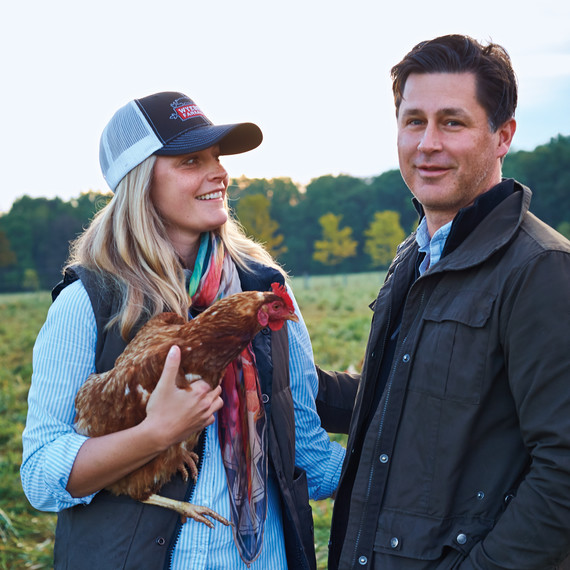 A picture may paint a thousand words, but a book can paint a whole new picture. For Dean Carlson, reading Michael Pollan's "The Omnivore's Dilemma" completely transformed his perspective from that of a bond trader thinking of a land investment to that of a farmer ready to dedicate his life to sustainable agriculture.
Carlson has created a complete ecosystem at Wyebrook Farm, in Honey Brook, Pennsylvania, less than an hour's drive from Philadelphia. He purchased the property in the winter of 2010, when the area received more than 70 inches of snow. "I wasn't sure exactly what I had," he told me when I visited. "But once it melted, I realized there was a hidden gem in this special place -- beyond the craftsmanship of the beautiful 18th-century stone buildings." He ended up creating a farm that people can visit to enjoy the scenery and a meal -- and in doing so, make a true connection with the place where their food is raised.
On my first trip to the farm, I saw that Carlson has done that and more. He produces remarkable meat and fruits and vegetables using sustainable farming practices that reduce natural-resource usage. The pasture-based system mimics natural ecosystems to maximize ecological diversity, rather than relying on the chemicals usually present in modern agriculture. His motto is: If you want to know where your food comes from, go to the source.
His partner in both life and business is Emelie Ehn Carlson, his Swedish-born wife. They met in 2012 when she (a vegan at the time) visited the farm from New York City, hoping to learn more about responsibly raised meat. "It was either the delicious spare ribs or the host that compelled her to fall in love with Wyebrook Farm," says Carlson. "From the day we met, she's made Wyebrook better." Her influence is evident in the Scandinavian-chic environment, with stylish touches tastefully layered into the restored buildings. She has recycled resources, using the original flooring to make a dining-room table and chairs, for example, and padding the benches with fluffy white shearling pelts, some of which are from the sheep raised on the farm.
From spring through fall, visitors can come to the farm to eat at the cafe, shop at the market, and experience any number of public events, including dinners with visiting chefs and bluegrass shows. The butcher shop, with its impeccable meat cases (and reasonable prices), stands on one side of the market, providing old-fashioned service and the expertise that comes from knowing how each animal has spent its life. Local produce, artisanal pantry items, and cookbooks are available, too. The whole setting overlooks a sweeping vista on the farm's south side.
The cafe is manned by Andrew Wood, who is also the current chef at the restaurant Russet, in Philadelphia. He has a seasonal and sustainable ethos that aligns with Carlson's. This "American Francis Mallmann," as Carlson calls him (referencing the Argentine fire master), cooks with nose-to-tail mastery and a deft hand, incorporating local grains as well as vegetables and herbs from the kitchen garden. "It's rare to be able to offer meat cuts and cooking techniques that are almost never seen if you don't have access to whole animals," says Wood. "We honor the pigs, steer, chickens, lambs, and ducks raised here." That shared attitude is at the heart of Wyebrook.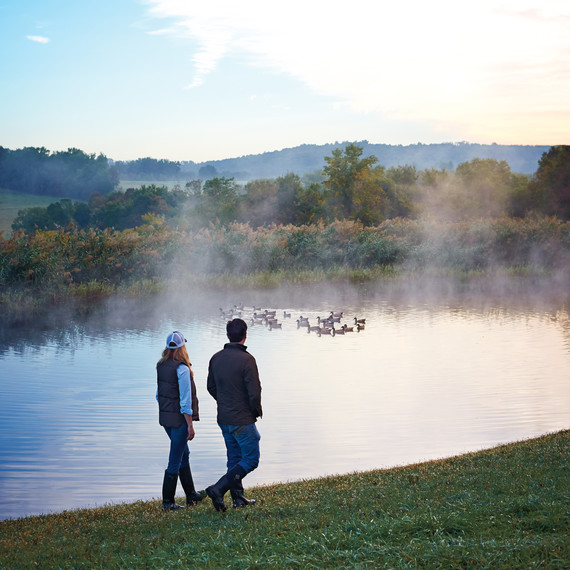 Aside from the beauty of the surroundings, what struck me immediately was the serene inner beauty Carlson and his wife possess. Their kindness and gentle nature permeate every corner of the farm: the land, its livestock, its staff. The entire life cycle of the natural food is treasured and respected every day in this place, where the owner, farmer, gardener, butcher, and cook are continuously talking to one another. This is one conversation that others should join.
To plan a visit, go to wyebrookfarm.com. "Field & Feast: Sublime Food from a Brave New Farm" by Dean Carlson with Ian Knauer and Andrew Wood, will be published in fall 2015 by Burgess Lea Press.