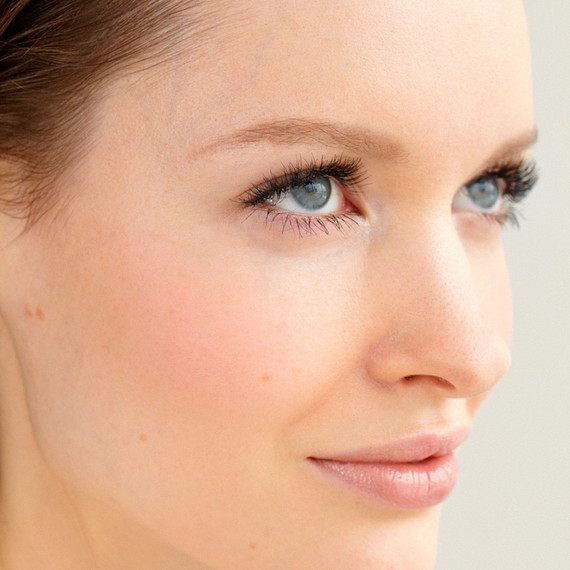 My mascara runs and gives me "raccoon eyes!"
Beauty Hack: Blot the mascara wand lightly with a tissue before applying to lashes. The excess will end up on the tissue instead of on your face. Sometimes mascara will run due to the structure of your eyes or if your lashes are too long (a grade-A problem!). When this occurs, simply wipe away the errant mascara and that should resolve the issue. If it's a recurring problem, pat translucent powder onto your lashes on top of the mascara. This creates a barrier and will prevent smudging. Another option is to switch to a clear mascara, if all else fails.
I don't have time to apply makeup in the morning.
Beauty Hack: A proper makeup routine should take no more than five minutes. My beauty equation is the same for everyone: Perfect your complexion and then play up your best features. Perfecting your complexion no longer means a full face of foundation, concealer, and powder. Today you can apply either a BB Cream as you would a moisturiser (the tint will hide imperfections) or apply concealer where needed on the face, blend, and go! Use a multiple product (i.e. blush, lip stain, and eyeshadow all-in-one) to bring out eyes, cheeks, and lips. Then add mascara and GO!
I didn't have time to wash my hair and it looks awful.
Beauty Hack: Pull hair back into a ponytail or bun, add hair gel or anti-frizz serum to sleek down flyaway hairs and no one will know it's a bad hair day in disguise. If this isn't an option for you, try a dry shampoo or baby powder. Sprinkle a bit of powder or spray the shampoo along the roots of your hair and brush it through. You hair will look refreshed. It's important to follow the directions for the dry shampoo so that you get good results.
I removed the wrong hair(s) from my eyebrow and now there's a gap!
Beauty Hack: Resist the urge to keep plucking to correct the issue! This will only make your brows thinner and prolong the recovery. Intead, choose an eyebrow filler that's a shade or two lighter than your brow hair color. Do not just fill the gap. Fill the entire eyebrow so that the result looks uniform. After filling in the brow, brush through it with a small brush. This removes the excess product and blends what's left behind so you have natural-looking eyebrows while your real hairs grow back.
I applied too much eyeshadow-blush-bronzer, etc.
Beauty Hack: If you applied too much color or a color that overwhelms you -- there is no need to wash it all off and start again. Simply blend away some of the excess color with a cotton pad and then pat some translucent powder onto the offending area. The powder will take the edge off the color and soften it dramatically. This is a great trick for many makeup mishaps: Brow filler that's too dark or too warm, bronzer that looks too orange, blush that's too bright, and so on.
Blush or lipstick that looked better at the makeup counter.
Beauty Hack: My foolproof test for lipstick and blush is on your eyes! For lipstick, dab the color on the crease and blend it back and forth. For blush, sweep the blush across your eyelid or crease. If the color looks good on your eyes, it will look good on your lips or cheeks. If the color doesn't look good on your eyes, it's the wrong color for you, period.
My makeup disappears by lunchtime.
Beauty Hack: There are two reasons makeup won't stay put: One, you're not setting your makeup with powder; or two, there is nothing for your makeup to adhere to. If you are simply dabbing eyeshadow directly onto your skin, for example, it may not stay in place for long. Apply a concealer or shadow base from lash line to brow bone first, set it with pressed powder, and then apply eyeshadow, and you'll find it stays on until you take it off! Setting foundation, tinted moisturizer, or concealer with powder will also hold these products in place and give your blush something to adhere to. Your makeup will stay in place for hours!
I want to wear red lipstick, but I'm scared it will look overwhelming!
Beauty Hack: If you want to try a bold color, but it's outside of your comfort zone, opt for a sheer formula or a gloss. Both look bright, but are sheer when you apply them. You'll get a pop of very wearable color without overwhelming your features. Also, a bright red gloss on top of your favorite lipstick shade is a great way to turn any daytime lipstick into your favorite new evening look!