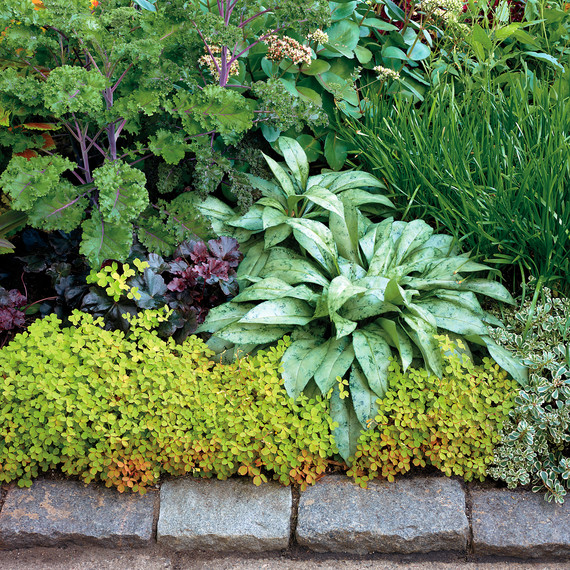 1. Check your local laws before you plant the strip in front of your home. Some cities and homeowners' associations have restrictions and design rules. Also contact your utility companies before digging.
2. Dig down 18 to 24 inches. Then place a layer of roughly half compost and half soil. Mound the soil blend one to two inches below the top of the curb. (You'll need to leave that room for mulch later.)
3. Use tough-as-nails perennials like ornamental grasses, sedges, coreopsis, and salvias, as well as annuals that establish quickly.
4. If you live in Zone 6 or lower, avoid shrubs that can be damaged over the winter by salt and intense cold.
5. Create combinations that look appealing as you view the length of the strip.
6. Avoid rampant spreaders along the edges to keep the sidewalk clear.
7. Top-dress with a granulated organic fertilizer or dehydrated manure. Cover with mulch. Apply liquid fertilizer, such as fish emulsion, from time to time when you water.
8. Instead of using a sprinkler, hand-water sunny boulevard strips frequently to compensate for the heat and root competition.
Endres filled the strip in front of his home with purple-stemmed 'Redbor' kale, two kinds of sedum the low-growing 'Tricolor' and flowering 'Matrona'), dark-burgundy Heuchera 'Obsidian,' and silvery Pulmonaria 'Majeste.' Orange-chartreuse Oxalis 'Molten Lava' grows along the edge.
A Garden in Every Pot