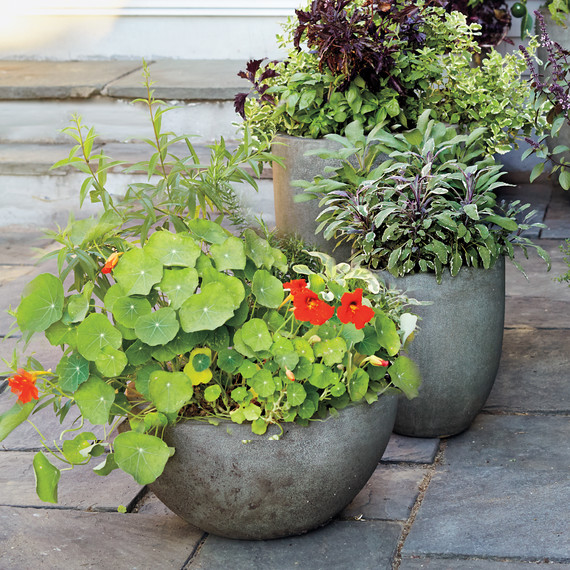 An eclectic range of herbs and spices is capable of flourishing in any small space, as can a variety of small tomatoes; hot peppers, including habanero chiles; and edible flowers, like nasturtiums. (Cucumbers and squashes require more space.) If you're a beginner, you can't go wrong with rosemary and thyme; both thrive with little maintenance. If you're fanatical about a particular herb, grow multiple varieties. If basil is your thing, grow African blue basil, Italian basil, and Thai basil -- you'll be amazed at the nuances in flavor. Seeds often take weeks to establish, so start with seedlings for quicker access. Here are the four steps to starting a container garden:
1. Pick a pot
Whatever type you choose is fair game -- terra-cotta, stone, plastic, resin. We chose pots of varied shapes but the same color for a unified look. Just make sure your container has drainage holes (you can drill your own easily if your pot isn't clay or stone). Vegetables and tomatoes grow best in pots of at least 12 inches in diameter. As for depth, hot peppers prefer at least 12 inches; cherry tomatoes, at least 18 inches. Herbs aren't picky, so anything with drainage holes should do.
2. Find a sunny spot
Your pot should receive six to eight hours of sun each day. Herbs and produce do best outdoors, but if the container must stay inside, keep the room cool. Either way, keep the pot slightly raised on wooden panels or bricks to promote drainage, says Ryan McCallister, head gardener at Martha's farm in Bedford, New York. (If the pot has a hole on the side near the bottom, you won't need to raise it.)
3. Add potting mix
Reserve garden soil for growing plants in the ground. Instead, use a potting mix, or soil that is specially designed for containers. (Here's how to make your own.) Start by placing fabric or broken ceramic over the drainage holes; this keeps soil from falling out. Moisten the mix, then cover the bottom of the pot with it.
4. Start planting
Read the plant tag (or ask your nursery) to find out the space needed between each seedling. Then loosen up the roots and suspend them in your pot to figure out how much more dirt you need. (Cover the roots, but let the leaves appear just above the surface.) Add enough soil so it's level and an inch shy of the container's rim. Pat down the soil firmly, then add enough water that it starts to drain through the holes. (For tomatoes, you'll need stakes to hold the stems up.)
Learn more about growing containers of herbs, vegetables, and edible flowers to elevate your everyday cooking.
Get Our Best Recipes for Cooking from Your Container Garden