Many cooks have a recipe they're known for -- a go-to dish that's been made so many times, the recipe is ingrained in their minds. As a chef, I cook every day and love to experiment with new sauces, cooking techniques, or rare ingredients. My friends and family are wonderful recipe testers, but no matter how fancy I get with new and different dishes, I still always receive requests for my banana bread crumble muffins. 
Lately, I've been bringing the muffins wherever I go. They're a perfect hostess gift, brunch addition, and thank-you gesture. Even my young nieces adore them and sold them at their school bake sale last month!
Banana bread is a classic that can be made year round -- it is super versatile. Depending on my mood, I'll make banana bread, banana tea cakes, or banana crumble muffins from the same recipe, even though cook times vary. A batch of muffins generally bakes in about half the time as a standard loaf. You can watch them closely and know they're ready when they're tender or a toothpick inserted into the center comes out clean.
When I make my banana muffins, I modify this excellent banana muffin recipe from Martha Stewart and make it gluten free by substituting Cup4Cup for the all-purpose flour in a 1:1 ratio. I also add a sweet crumble topping that takes only a few minutes to master, but really elevates the dish for beautiful presentation.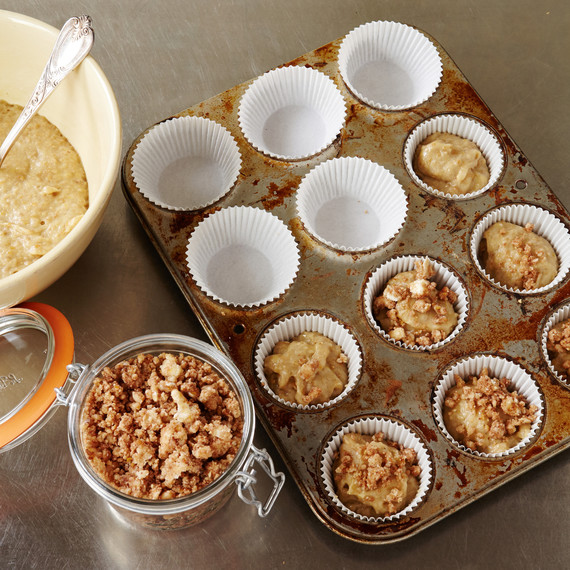 Lena Kwak's Gluten-Free Streusel Topping
Ingredients
-  2 tablespoon unsalted butter, cold
-  ½ teaspoon ground cinnamon
-  ¼ cup Original Cup4Cup flour or Wholesome Cup4Cup flour
-  2 tablespoons brown sugar
Directions:
Make the streusel topping by mixing together the brown sugar, flour, and ground cinnamon. Mix in the butter with your fingers until the mixture resembles coarse sand. After filling the muffin liners with batter, sprinkle the batter with topping evenly before baking.
Watch the video below for another delicious gluten-free recipe!