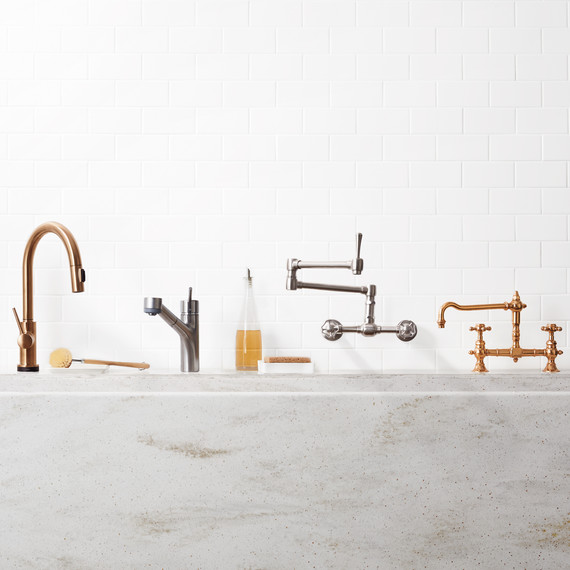 Products featured from left to right
One, two, or no handles?
Two-handled faucets have an appealing traditional look; one-handled options allow you to regulate water temperature with one control; and motion-sensing and touch options can free up your hands entirely.
Trinsic faucet with Touch20, in Champagne Bronze, $672, deltafaucet.com
How high should it be?
Think about what's going into the sink as well as what's behind it to determine the right faucet height for you. High-arc options (8 to 10 inches above the sink) provide more clearance, which is ideal for cleaning and filling tall pots, while low-arc designs (like this one, at 6 1/2 inches) suit a sink that's in front of low-hanging cabinets.
Talis S 2-Spray faucet, by Hansgrohe, in Steel Optik, $389, homedepot.com
How many holes does it need?
If you're keeping the same sink, make sure the new faucet system you choose matches up with the holes already in it. Faucets need anywhere from one to four holes in the deck. (Of course, if the model is wall-mounted, no holes are required in the deck.)
Articulated dual-swivel spout, in Brushed Stainless Steel, $1,675, jaclo.com
What's your style?
Just as important as function is form. Would you like the faucet to blend in with the overall look of the kitchen (i.e., a streamlined faucet for a minimalist space)? Or are you looking for something that stands out? "I love the juxtaposition of a traditional faucet in a sleek, modern kitchen," says MSL home editor Lorna Aragon.
Julia two-hole bridge kitchen faucet, in Unlacquered Brass, $1,735, waterworks.com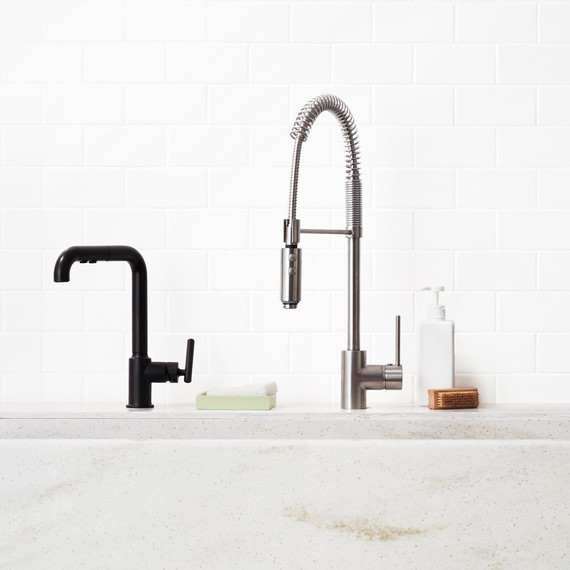 Products featured from left to right
What finish do you prefer?
Inexpensive and easy to care for, chrome is the most popular choice. Nickel is a warmer metal but pricey. Anything brushed hides fingerprints. Oil-rubbed bronze offers a traditional look. Brass is back in style, while black is a rising trend. You can experiment with mixing different finishes in your kitchen, but matching them is always a sure bet.
Purist single-hole faucet, in Matte Black, $675, us.kohler.com
Is a sprayer on your must list?
Sprayers are great for rinsing the sink, cleaning the dirt off vegetables, watering potted plants, and myriad other household tasks. But if you don't want another hole for a side sprayer, consider a faucet with a pull-out (far left) or pulldown (left) sprayer.
Modern Architectural Side Lever Pro pulldown faucet, by Rohl, in Polished Chrome, $1,349, faucet.com
Do you want filtered water?
If so, would you like a small filtration faucet that sits to the side, or an all-in-one, like the model shown below? (For filtered water, turn the left knob; for unfiltered, turn the right.) Keep in mind: Filters are installed under the sink and can take up storage space.
GROHE Blue Pure, by GROHE, in Starlight Chrome, $979, grohe.com