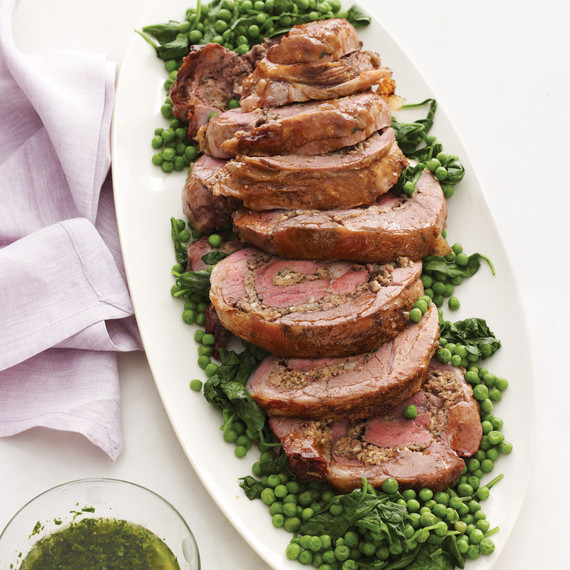 It's an annual affair. Lamb and artichokes, both abundant at this time of year, will always be destined for spring romance.
This festive meal brings the pair together like never before. Steam eight globe artichokes, and you'll yield not only a big pile of leaves to serve with a luscious dipping sauce as an appetizer, but also eight plump hearts. Use them as the foundation for a delicate stuffing for a boneless leg of lamb. The stuffing has a few other harmonious ingredients, including Parmesan cheese, pancetta, and mint, all pulsed into a paste using a food processor. Spread it on the lamb, roll the meat into a tidy bundle, and secure with string.
Seasonal eating provides a tasty and thrifty option -- this is a great time for lamb. Ask your butcher to bone and butterfly the leg for you. (Don't forget to take the bone home. Roasted lamb bone can be the basis for delicious soups and stews.)
As a strategic move for a big feast, prepare the lamb up to four hours ahead, so you can just pop it in the oven a couple of hours before dinner. I love to serve this glorious roast on a bed of steamed peas and baby spinach -- also seasonal celebrities. Offer roasted new potatoes alongside and you'll have a feast fit for a celebration of spring.
The Menu