This summer, take some time for yourself and enjoy the most summery of drinks -- a watermelon martini. Our recipe is easy, fun, and will impress even your pickiest cocktail-loving friends. But, before we jump into it, let's stop for a moment and talk semantics. See, the name is something that the afforementioned cocktail-loving friends might have a problem with if they are cocktail nerds like I am.
The martini is a cocktail that suffers from an identity crisis -- it is simultaneously one specific drink with great historical ambiguity and also any number of potation, called such only because of the Prohibition-era glass in which it is served.
Let's talk briefly about the original (or some variation thereof). The martini as a cocktail recipe came to be sometime toward the end of the 19th century, and although we've seen many recipes emerge over the years, at its core a martini is dry gin with dry vermouth. The ratios have altered greatly to accommodate the tastes of the times, but originally is was two parts gin to one part dry vermouth, with a dash of absinthe -- stirred with ice and strained into a cocktail glass. The garnish was a lemon twist. 
Probably a century after the name was coined, "martini" became a blanket term for any cocktail served up in a martini glass -- especilally one using gin or vodka as the base spirit. That brings us to the watermelon martini today. This playful summer cocktail can be made using either vodka or tequila. When tequila is used, this cocktail technically becomes an awesome watermelon margarita -- if that's not killing two birds with one stone, I don't know what is. The addition of bitters lends a wonderful depth and complexity that complements all of the flavors in this drink and brings the fruity notes back down to earth. There's also a hint of spice, but feel free to omit that if you're sensitive to the heat.
So, there you go. A bit of know-it-all information you can use to show off to your friends. But really, as if this delicious cocktial wouldn't have done it!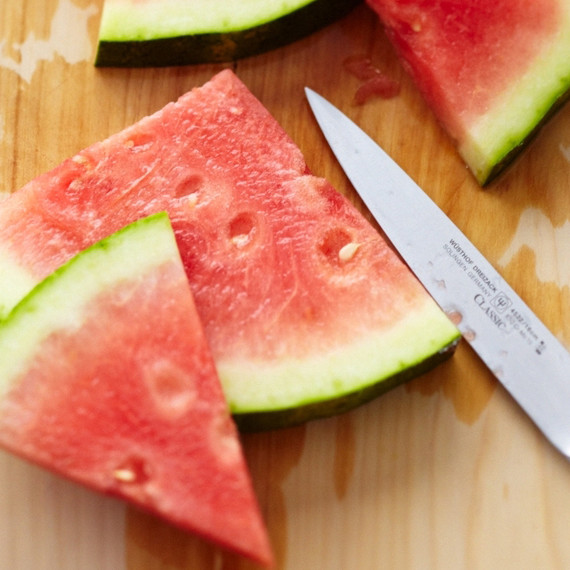 Ingredients:
- 1.5 oz hanabero- infused vodka or tequila
- 2 oz watermelon juice**
- .75 oz orange curacao 
- .75 oz fresh lime juice 
- 3 dashes Hella Smoked Chili or citrus bitters
Directions:
For this cocktail, you can infuse your own vodka with habanero peppers, or buy a similar version from a liquor store. Infusing spirits with habanero pepper is easy to do but requires a thoughtful approach. When slicing the pepper either wear rubber gloves or promptly wash your hands after handling. To make the infused vodka, slice one habanero pepper and add to 16 oz of vodka or tequila. Start tasting after about two hours. Your spirit should have a nice kick to it after 4 or 5 hours. You can accelerate this process dramatically by using more peppers or less spirit or both -- but remember that you can always add spice, but can never take it away.
Watermelon juice is pretty easy to find at most grocery stores (cold-pressed is best), but it's even better if you make your own. If you don't have a juicer, cut a small watermelon into pieces, take out the seeds, and discard the peel. Add to a blender or food processor and blend until it's pureed. Strain through a fine sieve lined with a cheesecloth. Refrigerate until ready to use.
To make the cocktail, combine all the ingredients in a cocktail shaker with ice, shake vigorously for 8 to 10 seconds and strain into a martini glass. To garnish, use watermelon pieces -- you can cut them into almost any shape you can dream up!